[29-09-2016@11.29.13(IST)]
Already there is a web site for St.Jude's college,but it is not regularly updated and upgraded with useful informations.This is the right time the collge shoud be more transparent and informative to the community.

[27-09-2016@00.44.27(IST)]
why we don't have website for st. Judes college.

[06-06-2016@15.43.20(IST)]
College Automation work in progress, implemented IMPRES ERP software package.

[9-4-2015:16.46.5(IST)]
it is a good college in coastal area ...

[14-7-2014:21.22.10(IST)]
Congratulations. I happened to read this article just today 14th July 2014. But better late than never. I appreciate the good effort and not many things are false to the fact; in fact very few. BUT IT GIVES A VERY GOOD AWARENESS. TRUTH WILL PREVAIL. GOD BLESS THE VENTURE.

[20-11-2013:0.15.45(IST)]
Could anyone please update the current affairs in SJC Thoothoor..

[29-1-2013:11.56.50(IST)]
Few days back, the Court issued a judgment by approving Fr Vincent as the Secretary of St.Jude�s College. By this judgment, the college administration will be again given back to the Society.

Since Fr. Vincent got this order in favour of him, other division of the management board started acting against it. As part of it, they organized for a meeting of all BCC unit leaders from Thoothoor forane that held in vallavilai few days back, but no public decision could be taken as people had diversions of opinion on this matter.

[12-9-2012:16.30.27(IST)]
The influence of non mukkuva caste is increasing in St. Jude�s college in the recent days. The non-mukkuva community people clever-fully made the government to take over the college. It is shameful that some priests and some staffs from our own community are supporting this.

[9-5-2012:22.9.53(IST)]
Anyone can wait. However, as concerned community members, we should restore the college for the benefit of the community of Thoothoor and Colachal Vicariate, sooner than later.

Dear Priests, Please do not help those who want to destroy the college for the sake of cheap pride and selfishness. Just like the laity, you will also stand in front of God for His judgment.

Dear Friends of St. Judes� College

If you are starting a 2nd phase (from the phase 1: creating awareness of the issue) to an Action-based Plan to resolve the issue, I would say start it only if you can succeed. This action should be guided like �the mother of the real baby� in king Solomon story and grow the college for the future generations.

Purpose of the 2nd Phase:
Our efforts must add value to the teaching and research activities of the college. Through a Community Outreach Programme, the college facilities should be made available for economic development of all villages it originally supposed to serve. This can be done if there is a dispute or not. Our actions should be governed by a code of conduct and professionalism. This will be applied to teaching and support staff as well.

As concerned members of the community, we ought to find out the real reason why the college is run by the government. Is it only because of management dispute, or it is due to some other reason? Let history be a lesson for us too. What was the reason the previous facilities of the present SJC was made available to Latin Catholic Mukkuva community? Rev. Fr. Borgia and other good-hearted people must have thought this through when they initiated SJC. Now after about 25 years later, issues such as finance, staff pay and matters related to self-financing are surfacing. Before we propose any solution, we need to find out what are the problems?

First: Through this study, when we should find out the real problem. The new breed of management (weather it is run by Priests, laity, or a combination) will ensure that the college continues to do the academic part while acting as an engine for local economic development.

Two: We should make use of the facilities of the college as an engine of economic development for our villages. Without interfering the academic side of the college, we can train and facilitate job creation and economic development in Marine Tourism, Wind Farm, Value-added fish processing, and many more. This may be undertaken with an entrepreneurial spirit encouraging those who have the will to succeed. Who knows, we may be able to support financially SJC to run more academic courses.

Third: We should think hard and serious through a series of public conferences and discussion group to establish such a Community Outreach Team. This team should build legitimacy to the movement by selecting community minded individuals and select a steering committee to manage the process.

If you can do that, I am willing to support your efforts. May God bless your efforts!

[8-5-2012:7.11.34(IST)]
Is it necessary to wait till 2017. What the diocese and administration is doing

[2-5-2012:19.41.57(IST)]
St. Jude's College is a Christian Institution and may be for the time being it is under the government control. But I believe that a time will come when all the evil doing and problem creating lecturers and professors will retire and go away from college (may be the latest is 2017) so that the college will be rescued and once again become a mukuva college. I can see one thing obviously in all the comments above. The mukuvas outside the college feel so much that it is a mukkuva college. But some Mukkuva teachers working in the college dont even realise that they are mukuvas and they got their job only because they were mukuvas. Their silence is the real problem to the college and encouraging the non mukkuvas to create all problems. The influence of non mukkuva staffs in the college administration should end for the college to come back completely to Mukkuva's hand.

[29-2-2012:15.31.9(IST)]
Please save St.Jude's college. One group purposefully created the salary problem and gave the college to the govt. NOW ST.JUDE'S COLLEGE IS A GOVERNMENT COLLEGE. WE DONT HAVE ANY RIGHTS TO SAY THAT ITS OUR COLLEGE. Why u people r keeping quite by just giving comments. ACT. do something.

[17-1-2012:10.52.44(IST)]
Union is strength otherwise...... Where is my judes??...

[17-1-2012:9.50.10(IST)]
This college problem will not be solved unless both the bishops intervene and come for an amicable settlement. Both the bishop's have to consider the local demands during the settlement.

[16-1-2012:2.16.56(IST)]
'and people are hoping for a inclusion of laymen soon into the General body.'. Which people???

[15-1-2012:12.29.29(IST)]
As per Maria's request, I publish the following status.

In the first week of 2012 a few Thoothoor Forane priests first entered into the college. The college premise was surrounded by police force and striking forces. Later a few Colachel vicariate priests including Fr. Vincent supposed to be the approved secretary of the college came to the college. But they were stopped by the police stating that there would be law and order problem. Later Colachel A.S.P came to the police station and called both the parties and listened to their complaints. He said to take an amicable settlement in this matter.

The December month college staff salary bill that was sent to the Joint Director of Collegiate Education for approval turned back as the bill was not signed by the approved Secretary. The college staffs are disappointed by this.

Also, the case on inclusion of laymen into the general body is to be heard on 19th January in Court, and people are hoping for a inclusion of laymen soon into the General body.

[11-1-2012:20.2.13(IST)]
Yepdi irunthe college ipdi aayidichu my dear friends...

[7-12-2011:21.3.43(IST)]
Thank God,better late than never,at least now some of you have understood the fact that NO COURT CAN DICTATE THE COLLEGE MANAGEMENT TO GIVE MEMBERSHIP TO ANYONE WHETHER HE BE A LAYMAN OR A PRIEST. It is the the sole discretion of the society which runs the college, to decide who all are to be given membership. Even people with legal background needed such a long time to understand this basic fact, is a really a shock and surprise to hear about.

[6-12-2011:12.6.37(IST)]
means we are not members? what is that society? should we join to society????? only priest are the society? please explain more about society.

[6-12-2011:5.1.11(IST)]
It is not due to free comment, it is the habit of our community, we always forget the issues, if it is kept in cold storage.
Another reason is we wont share all the details because of ego.
This issue can be tackled only by joint effect and it cannot be solved through Court in thee present scenerio. The reason behind it is very simple we are not members of the society, who is controlling the college.

[28-11-2011:20.39.28(IST)]
Could you please publish the details about the current status.

[28-11-2011:12.19.59(IST)]
See,what i said on 28.09.2011 is true. Without free comment, now thoothoor.com is dead.

[9-11-2011:19.32.48(IST)]
Jude's college issues are dealt secretly now giving preference to include laymen in the Latin Catholic Fishermen Educational Society. A few steps are:
1. A case is filed in the court in this regard.
2. A group of people approaches priests of Thoothoor Vicariate and convince them the need of including laymen. Meanwhile one of the priests brought to the notice of the group that the Marine Engineering College,TVM moves forward with the help of Laymen. A NICE INDICATION.
3. Recently the District Registrar conducted inquiry including layman regarding the college issues. Which is the indication that the laymen inclusion request is getting recognition and focus. It's a happy news to the laymen.

[8-11-2011:17.52.33(IST)]
The Comment section in Thoothoor.com seems to be dull and lifeless without the comments and arguments of persons like Brain Stormer.

[5-11-2011:21.46.0(IST)]
Any one know the current situation of College Adminisration, Please Share here

[1-11-2011:9.12.35(IST)]
Kanyakumari now at Tamilnadu. Thoothoor ferona at Tvm. Good fun. We people sleeping at home. Some priests doing business with us.

[26-10-2011:22.47.43(IST)]
I don't understand why this problem is not resolved for years even though the management is full of priests. How can such priests solve people's problem when they are not able to solve an institute problem? Priest should behave like model for the society. What is the message these priests are passing to the society by this kind of power fight?

Such problem in a Christian Institute is a shame for the whole Christianity. What is the actual problem in our College? Money, Power, Property, or what else?

[21-10-2011:6.34.8(IST)]
The below two announcements came in ThinaThanthi Paper on 18th and 20th October 2011. These announcements clearly shows the latest status of the disputes within the college management.
18 October 2011 (on Page 5 of ThinaThanthi Nagercoil Edition):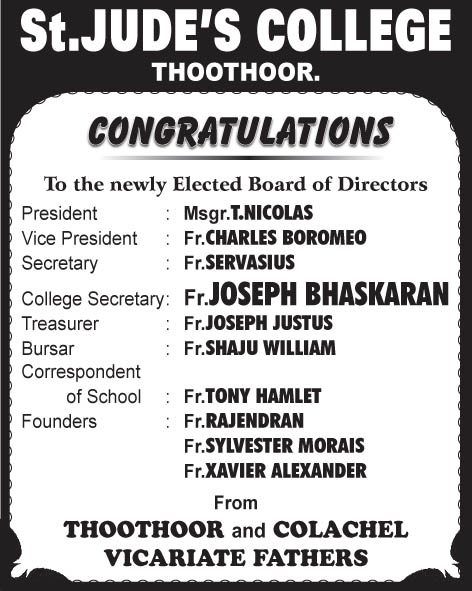 20 October 2011 (on Page 3 of ThinaThanthi Nagercoil Edition):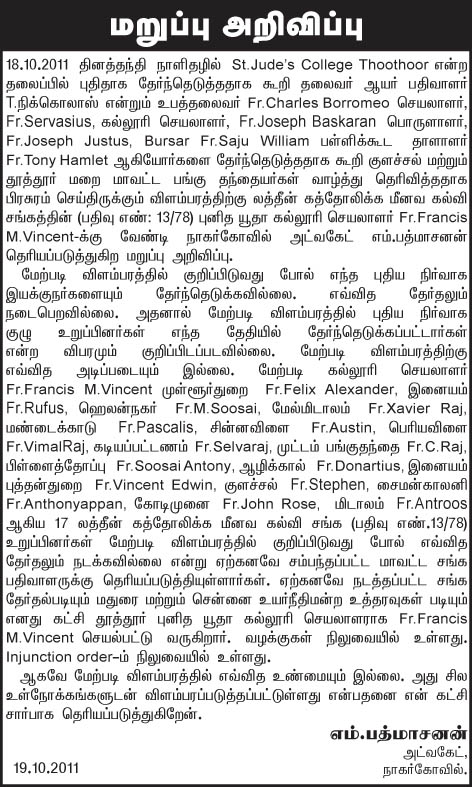 [20-10-2011:22.52.18(IST)]
Today there is a public notice published in daily thanthi on behalf of Fr. Vincent stating that no such meting was held.
As it is suggested or reported in the feed back. The kottar diocese is expecting representation from each parish from Azhikal to Mulloorthurai.
Rev. Fr. Vincent also have the same view.
It may be root cause of the problem.
It is a good move to include Fr. XA and Fr. Morais in the board so that the accounts from them can be obtained.
Regarding the layman representation only the General body of the association can pass a resolution and make amendment in the bye-law and laying procedure for selection.
So it is advisable through proper movement, we have to approach the board to propose such amendments.
Now let us allow the members of the society to make a positive steps to solve the problem.

[19-10-2011:18.20.53(IST)]
In a meeting that happened few days before, new 10 members Board of Directors was proposed which includes 4 priests from Thoothoor forane (Fr.Nicolas, Fr Joseph Bhaskar, Fr.Shaju William, Fr.Tony Hamlet), 3 priests from Colechel forane (Fr.Servasius , Fr.Charles Boromeo, Fr.Joseph Justus), and the 3 founder fathers from Trivandrum diocese (Fr.Rajendran, Fr.Sylvester Morais, Fr.Xavier Alexander). The new board of directors are trying to get this proposal approved by law.

Meanwhile Colachel forane priests have raised objection over this proposal as they have only 3 members in the 10 members Board of Directors.

[9-10-2011:19.32.43(IST)]
Dear Mukkuvan USA,someone has filed a suit asking representation for the laymen in the GB of the college.You can help to file more writ or can join as party in the given case.So that the case will become very strong.

[7-10-2011:14.30.49(IST)]
Adv. Edwin Jerome,
Your statement makes sense. Do you have access to the By-law of LCFES? Did someone share with you? Understanding that I have from so far discussion is most of us (the outsiders) want to have a hibrid of Layment and Clergy in the governing board so as to increase transparancy, creativity and dynamism. Unless, we have the Bye-law will we be able to make any strong proposal to those who can listen to people's voice? If no one who have a copy of the By-law is ready to share, is there a way to get a copy from the Registrar Office where the Society is registered in?

[6-10-2011:22.18.48(IST)]
I think we are discussing like the people sitting on the road side discussing about the UN resolution and giving guidance to Obama .
Please take steps to look forward for futher actions.
A few email were circulating but nothing is yielding any result.
A few reporting that they have some relevant documents but they are reluctant to give the copy of the same. Without the documents we cannot go further.
Without relevant documents, how can we blame others or how can we ask the authorities for the change as we propose.
Please try to share the documents for taking further steps.
Whatever be the case the priests will join together to safeguard their community and they are well versed in divide and rule policy.

[5-10-2011:9.56.41(IST)]
Brain Stomer, you are saying
Layman participation will add more fuel to the trouble and will in no way solve the college issue. Those laymen who are in the board of St.Xaviers Engineering college are share holders who has invested money in the college. SJC is a run by a society whose members are priests.

Brain Stomer,

This statement really hurts the layman. How lay man participation will add fuel to the trouble. That means you agree that there is problem in the college.

In all our parishes the village administration is done by parish committe which includes laymen and a priest. layman in the committee does not creat any problem.

Refer to the byelaw clause 11 (b).

[29-9-2011:8.46.8(IST)]
In the LCFE Society bye law there is a clause no.11 (b) under which layman can be included in the General body of the society. So there is no need to get the support from Fr. Vincent. Instead we can try with this clause. Some people are trying!!!!!

May be layman being the shareholders were included in St. Xaviers. We all know the Jude's College was bought by our priests only with the money collected from fisher folk. Of course the founder fathers struggled a lot so as the lay men too. The college got its affiliation for the fisher folk not for priests folk.

[29-9-2011:6.4.20(IST)]
Decision: Remove both Fr. Xavier Alexander and Fr. Vincent from the management board and form a new governing body.

Action: A new governing body has been proposed, in which Fr. XA is also a member in the name of he was one among the group of founder fathers.

So the decision is 100% Comedy.

[28-9-2011:7.22.4(IST)]
It was our decision to oust both Fr.V and Fr.Xa from the college. Fr.X will leave the college only after Fr.V quits. Anyhow, me and you are going to do nothing except merely writing here.

Layman participation will add more fuel to the trouble and will in no way solve the college issue. Those laymen who are in the board of St.Xaviers Engineering college are share holders who has invested money in the college. SJC is a run by a society whose members are priests.

What would be the criteria for the selection and inclusion of laymen. Those backing Fr.V alone are too eager about laymen participation.

[27-9-2011:22.25.13(IST)]
Dear Friends
I go with the suggestion of well wisher. I am ready to talk with Fr. Vincent and the present Board Members.
I sought some documents from some well wishers, If the documents are ready then we can have a meaningful talk.
So I request the interested beneficiary of the college may send private mail to me or they can ring me. My mobile number 9444162199, email Id edwinjerome@gmail.com

[27-9-2011:15.6.4(IST)]
edwin jerom sir 'if you are sincere you can work for the laymen get included in the general body,you might also get the full support of Fr Vincent. thank you

[24-9-2011:1.23.4(IST)]
Now we should stop accusing each other. Our aim should be to run the college smoothly. As I said we cannot discuss all the actions through web site. So like minded has to share through email or through phone and we can move further.

[23-9-2011:9.50.59(IST)]
Edwin sir please take leadership. Please publish your contact details. Also please update the status of our mission to keep everyone on the same page. We are proud that you are going to lead the battle. I'm with you.

[23-9-2011:9.31.34(IST)]
To the views of Truthchallenge, I strongly advocate participation of parish lay representatives. Because college is for the lay/community people and not a center for the priests to earn money and fight for positions. Priests are requested to maintain their respects and reverence and their commitment to the God and people.
Please meditate on the Bible passages Mathew 7: 20-23.

[23-9-2011:9.8.1(IST)]
Dear Mukkuvan,
Mr. Edwin's stand is right. Now we are planning for coming together to think and work. But in the mean time publishing wrong information would disturb the visitors and readers of Thoothoor.com.

Edwin Sir your latest statement is 100% right.
We all (active commentators of this issue) need a common platform. I think Mr. Franco Carmel is active in this matter. So please contact him. I am much pleased with his active approach and send him some plans too.

[23-9-2011:8.6.32(IST)]
How will select they'll non-priest representatives, if there is election I want to contest, someone please share details on election.

[23-9-2011:7.21.13(IST)]
The college disputes have now entered into a new state. There are mainly two teams in the college.

Team-1: Fr.Vincent team wanted to have priests and beneficiary representatives from parishes in the administration board.

Team-2: Fr.XA team wanted to have only priests in the administration board.

Truth: Administration board with only priest is proven as a failed pattern in St.Jude�s college. At the same time, administration board with priest and beneficiary representatives is proven as a way-to-success pattern in St. Xavier�s engineering college that Kottar diocese runs.

think People THINK !

[22-9-2011:23.38.52(IST)]
Dear Edwin Jerome Sir,

Why don't you bring all individuals under one umbrella and work towards SJC's development? Raise your voice against the corrupts first. If you think reformation should start from individuals then educate them, make them aware of the issues.

[22-9-2011:22.30.39(IST)]
Please don't make thoothoor.com as a platform for fighting or spreading roomer.

[22-9-2011:21.3.0(IST)]
Brain stormer, can you please e-mail your number.. carmel.franco77@gmail.com

[22-9-2011:7.57.6(IST)]
Dear admin,
At least for this article please do edit the comment and publish so that the commentators will concentrate on SJC.

See how the Madras court observe the college issue. After Saturday's incident in the college, Fr. Xavier Alexander stated in the court telling ' Fr. Vincent agreed to hand over the position of secretary on Saturday, but on Monday he refused to do so... So kindly give an interim order'

The judge replied ' Don't you know there is Form VI procedure. Until another secretary gets aproval he must continue else the workers in the college will suffer and who will be responsible for the college in the meantime. He returned to the college Wednesday.

The priests were telling Fr.Xa left the college obeying the gb meeting. Is it not a lie?

[22-9-2011:0.21.54(IST)]
God, please save our college from all these fight between 'Servants of God'

[22-9-2011:0.11.27(IST)]
From this discussion, it is clear that the college money or some other fund or their own fund is used by both priests to grab the power as it is in Indian Politics.
Good, the other thing is a few laymen are going to be included in the Board.
We can expect the supporters of the powerful priest will be there to vote for the resolution proposed by the said powerful priest and hence once again it will be in chaos and anarchy.
So it is the time, we have to take action.
So I request the like minded people volunteer to discuss further course of action

[21-9-2011:22.25.11(IST)]
Please look at the well wishers advise and stop attempt from personal attack in the guise of other names and dare to reveal yourself then you will not tell a lie.

Let us work together to develop this community college.

[21-9-2011:20.22.58(IST)]
Friends,
I see lot of personal attacks here... its not the time for personal attacks and keep pouring our anger on someone. Its time to think and react. As Mukkuvan requested lets prepare a plan and move together.

[21-9-2011:17.25.3(IST)]
I am here neither to support Vin. nor to justify XA. I am for the motion to remove both XA and Vin from SJC because both of them are strong hindrance for the development of SJC. Whether, these two leave the college or not, the flow of cash through them and during their tenure must be subjected to a third party auditing.

The comment, posted by CHRISTUDAS,THOOTHOOR is false and fabricated. As invited by Vin, four fathers came to take over charge not knowing the tricks of Vin. But they never expected that Mr.Vin will use others to humiliate these servants of God by using un-parliamentary words.

They insulted Fr. Nicolas by forcing him to get up from the chair in which he was sitting and then by himself occupying the same chair, and asking Fr.Nicholas to go out.

Whether a priest is good or bad, anyone who hurts a priest - the Representative of God- either by his words or actions will learn the Lessons of Life before his death. This is an unwritten Spiritual Law of Nature.

[21-9-2011:8.4.10(IST)]
Dear Mukkuvan, NY,
I am not willing to publish the dirty tactics played by Fr.Xa. because I ate with him. He was one of my spiritual father. Please post me your email to me I will write the dirty tricks he plays. You read it enquire it and then publish it through any source. My email id is thoothoorfred@gmail.com.

Again Fr. Vincent and group has already passed a resolution in the generalbody to include layman representatives from the parishes. Discussions are still going on among the priests in thoothoor forane and the bishops have to agree for that.

Don't worry mukkuvan anna, we are not deviating from our goal. Some process for layman inclusion is going - most probably within this week.

[20-9-2011:22.47.31(IST)]
Dear Frederic,
I don't know who you are, also I don't know whether you are working in SJC or not. I'm glad that you are working for the welfare of mukkuva community. In general I personally know many people benefited[gifts], thats what I mentioned. My comments were and will be always against the corrupts. Can you please post what trick fr.xa played, so that everyone like you [the affected people] will come forward. Only if we are aware of the issues we can find a resolution. I'm more than happy to extend my support to you to fight legally and get back into the college.

I've a doubt, are we not deviating from our goal??? So lets focus on getting things done. Edwin sir, Franco anna, Maria anna, Fredy anna, Cloud anna, brain stormer anna and everyone... Lets put up a plan and move accordingly. Even if the first step in the plan is to wait for the priest to resolve themselves, lets prepare the plan and move forward.

NB:Somewhere I read the below quote by Mr.Obama 'It's time to fundamentally change the way that we do business in Washington. To help build a new foundation for the 21st century, we need to reform our government so that it is more efficient, more transparent, and more creative. That will demand new thinking and a new sense of responsibility for every dollar that is spent.'

The same applies to our college as well, Transparency, efficient & creative management.

[20-9-2011:22.7.56(IST)]
Dear Mukkuvan, Fr.Vincent is stern in his stand only till recoverying college money. Do you know I was appointed by Fr.J.G.Jesudhas in 2008, March 22. Ever since I work for the welfare of the college. But because of the trick played by Fr.Xa I had to stand outside the college but work legally for the college.

[20-9-2011:19.47.22(IST)]
There is a big group working very silently to attain orders from court to audit SJC accounts by one delhi based accounting company. Once they receive the orders they'll tear the masks of corrupted.

The below message is for everyone who were bribed. 'Please return all gifts, money, motorcycle, small plants, paint, iron rod, bricks, cement, books, pen, pencil, umbrella, dresses, stolen funds, stolen NCC dresses and shoes, stolen food, etc etc'. Give back the money you received for doing malpractice in admission procedure as well. Once the audit begins, you can't escape. Some professionals may also be part of the audit team.

Lets list the corrupts here and show their real face to the society. While doing all these, lets not deviate from our goal, eradicate corruption in SJC and promise a better and bright future for the mukkuva youths and childrens.

[20-9-2011:6.45.45(IST)]
The reason Fr.Xavier Alexander got himself away from college issue is because he is legally not eligible to interfere into the college administration as per the court standing order. There is nothing to smell Fr. XA�s good will here.

The reason Fr. Vincent got himself involved in college issue is because he has given the college administration rights as per the standing court order.

[19-9-2011:21.6.5(IST)]
My suggestion is to remove both Fe.XA and Fr.Vincent. Fr.XA may be the founder. If they continue due to the ego and vengence, they will creats unnecessary problem.
Now we need the management of the college has to run smoothly. If these two priests are there in the Board then they will create unnecessary problem.
If I am right Fr. Vincent and Fr. XA jointly forced Prof. Wilfred to resign.
Now I dont want to discuss what has happened in the past.
The Bishop's of Kottar and Trivandrum diocese has to intervene and conduct the General Body Meeting and has to select the new Board and New Secretary for Both College and the Society.
If the priests in the Society do not take action, then we can convene a meeting of the beneficiary of this college and decide further course of action.

[19-9-2011:20.39.13(IST)]
Dear Brainstomer if you know that Fr.Vincent or anybody gave in writing in the general body meeting on 17.09.2011 they should have produced it to the Police officer. I say this because Christudas wrote that they could produce no documents.

Dear Edwin,
You are again stating to remove the priests. It shows that you don't know to judge the people. Had you known then you would have answered my question WHAT WAS WRONG WITH FR.VINCENT?

[19-9-2011:18.54.38(IST)]
Dear Brain Stormer
It is very easy to remove these priests. We intellectuals should not curse the priests.
I am remembering the past, when myself and late Mr. Don Bosco went to meet Fr. Pete Borgia, when we were students of Christian College, where I was ill-treated by a lecturer from Maths department and requested him to take steps to buy this college.
One Late Mr. F. K Poulose, who gave enthusiasm and co-operation and with the help of Jeppiar this college got affiliation as well as aid from the government.
The priests of both the diocese almost begged to raise the funds. Of course we have to say thanks to the Malabar syrian catholic diocese they withdrawn themselves from the bid and provided their priest as Principal for this college.
So, the priests did good for us. Because of our ignorance a few priests take advantage of it.
Let them pass a resolution in the GM to settle the problem.

[19-9-2011:16.35.5(IST)]
Mr.Edwin Jerome
Yes I have enough knowledge about the problem in SJC. To solve it, once for all, I too was of the opinion that both Fr.Xavier Alexander and Fr.Vincent must be removed from administering SJC.

[19-9-2011:16.19.57(IST)]
19.09.2011 Today The Episcopal vicariate for Tamil Region Fr.Nicholas, Thoothoor Vicar Forane Fr. Joseph Bhasker, Fr. Tony Hamlet parish priest Eraviputhenthurai and Fr.Saju William Parish priest Chinnathurai went to the college Secretary room and asked him to leave. Fr.Vincent refused to go out. Some staff intervened. The police rushed into the college and asked the episcopal for any records of removal of Fr.Vincent from his secretaryship either by gb or by bishop. No documents could be produced. So the inspector asked them to come with records. Thus the issue ends.

[18-9-2011:23.5.13(IST)]
Brain Stormer
You know all the problem of the College and our parish. Still you are providing information on piece meal.
Why cant you submit your view on this problem and your suggestion on it.
Thanks, well wisher if, the priests fails to solve the problem amicably then the beneficiary has to think and take action on your way.
Let us give opportunity to take an amicable settlement.

[18-9-2011:21.7.16(IST)]
in the light of all the discussions going on,is this not a high time for the public to take the reign of this college?

[18-9-2011:15.29.54(IST)]
Thanks Mr. Cloud for the valuable information.
Can you post the next date of the meeting?.

[18-9-2011:13.53.0(IST)]
Our parish priest also attended the meeting.

[18-9-2011:11.38.35(IST)]

In the meeting some points were brought out for discussion.
What is the resolution for the expelled staff from thoothoor and other coastal parish (12 teaching and 5 non-teaching). These staff were not allowed to sign in the attendance register but all were asked to work without salary. This is the reason for the unrest in the college. But No resolution.

As per the sketch plan of bishop Founder fathers will be considered as honorary members without membership in the general body or Board so no voting power. Contrary to this, Founder fathers were promised to be members with voting power. Ratio of Board members were according to the bishop's plan 9+9 in the general body, 5+5 in the board but founder fathers were included so it becomes 12+9 and 8+5 . Contrary to Bishop's vision. Fr. Francis M. Vincent and Fr.Xavier Alexander were asked to step down from their position but both refused because of the above contradictions.


So the matter would be brought to the knowledge of bishops to be finalized.

[18-9-2011:8.30.34(IST)]
Through one of my friend I came to know about this issue. I'm happy to see some of your involvement and willingness to give back to the society. At the same time I'm surprised that none of the other organizations like enthurai, pwa etc haven't registered their comments or communicated this to it's members. I believe yet they aren't aware of this. To be frank I don't know how I can be helpful to you in this issue. I feel sorry for the same. I'm ready request Fr.Xavier Alexander to resolve this issue, but I do not have his contact details. Can someone please provide me his contact details?

[17-9-2011:17.54.37(IST)]
Dear Mr. Cloud
What I have published is the gist of the petition filed by Rev. Fr. XA before the Hon. Madras High Court in the Writ Appeal.

[17-9-2011:16.22.43(IST)]
Thank You Mr.Cloud For Latest Updates. We are eager to know the Updates of Upcoming Events too

[17-9-2011:16.14.12(IST)]
The long awaited day has come for Thoothoor College but it has passed like cloud without rain. General body meeting was conducted in the College campus. 7 priests from Thoothoor forane, 9 from Colachel and Fr. Xavier Alexander and Fr. Rajendran attended the meeting. Discussions went on to reduce the members of General Body as well as Board of Directors. Since the priests could not come to a conclusion regarding the reduction of number of priests and Secretary, the bishops are expected to finalize the matter. more details will follow.

[17-9-2011:14.31.14(IST)]
I would Agree with Cloud, Regarding to Appointment of other caste candidate issue,
If we want to appoint any staff temporarily, better to appoint from Our Community, else the same problem will be repeated again and we have to struggle for retaining our rights

[17-9-2011:8.47.49(IST)]
3.During his period, it is said to be mismanagement and misappropriation of funds and hence the Board of Directors of Educational Agency removed Rev. Fr. Francis M Vincent from the post of Secretary of the college and suspended his primary membership on 17-3-2010. This decision is not yet challenged in any Court of Law.

Edwin Sir,
This sentence is written by you. I hope you are trying to find answer to my question
Could you please explain the mismanagement and misappropriation of fund by Fr. FM. Vincent. So that some body can question it to Fr.Vincent.

Dear Anna Franco
I do condem appointing staff from other caste, but can mukkuva prove that opportunity was denied to him/her.

**** When we are waiting for the govt. appointment for a Post, what is wrong in appointing other caste members temporarily for one or two years? It is to reduce the number of other caste members. Because during the one month reign of Fr. Xa as college secretary a proposal from non mukkuva was proposed that is ' Fr. Stephen was a Nadaar. So if a professor of Nadaar retires the place must be reserved for Nadaars'

[17-9-2011:0.13.35(IST)]
Dear Friends,

It is very much moving to see the spirit and participation of our people to march towards a better destiny. Sometimes we happen to be very sensitive and blame a section of people when there are only few wrong doers. Let�s not blame the Priests and Bishops in general as all of them are not bad. But certainly there are few those who have not understood the service they are called for and fail to exhibit the qualities expected from them. There are quite who have sacrificed their life for the Kingdom of God. We have examples among us too � some are not with us now and have few living examples as well. Just for an example today�s St. Jude�s College is the fruit of few those who had dream before 3 decades. They all are Priests.

Being St. Jude�s a college established for the welfare of Fishermen community and the community people contributed significantly for the establishment I am not sure if we can call ourselves as the owners of the college whereas the Members in the �Society� (Latin Catholic Fishermen Education Society) owns the ownership. No laymen are the members of the Society yet, I believe.
Our concern here is the mismanagement of some of the Society members and the College is not serving the community with the pace the world is changing and some of the Members those who are liable to extend the due service are not serving in the way it is expected. We want this to be changed and want this Society to be run by unpolluted people. Being an outsider, how can we make that happen? Do we have the right to disqualify the Society members? Adv. Edwin Jerome can correct if it is not correct by Legislation. How we can help to eliminate? How it can be corrected? When a selected team of people run a Society and they are not doing good, can outsider come and command? We can advice them and they don�t listen we approach their parents to instruct them to do good. Here Bishops of both Trivandrum and Kottar Dioceses (both are from Fishermen Community) should be approached to unite the existing Society members and modify the Society By-law to accommodate one layman each from all the villages of both Thoothoor and Colachel Ferona. They will have to be chosen by the respective Parishes for a particular period of time and they will represent every village in the Society. Thus we will have a hybrid of laymen and clergy participation and that will eventually take the Society to a transparent and committed one. This is my humble thought. I strongly hope this Fact Finding and Fact Sharing exercise being led by Thoothoor.com will take us all there.

[16-9-2011:21.15.28(IST)]
Now I feel a little bit happy because of these priests we are going to unite.
Let us wait for some more days and We can move further by have a closed circuit discussion or through net conference by like minded people.
There is a lot of flaw, which has to be discussed by like minded people and have to take decision.
Now, Let us watch their movement.

[16-9-2011:9.57.57(IST)]
I do condem appointing staff from other caste, but can mukkuva prove that opportunity was denied to him/her. In my understanding only if we don't have enough resources we recruit staff from other community. I've a stupid question what our Rev.Bishop is doing when these so called priests are fighting one another. Who gave money to these priests to spend for court and advocate. If i were in Bishops place, I would have kicked these priests out. We cannot post messages here and wait till we realize things are not in our control. The college is for mukkuvar, I would say a big group of people from eight villages should gather somewhere and discuss this issue and resolve it by all means. No priest should be invited for the meeting. I literally lost belief in bishops and priests. Here we the children of eight villages may have to protest this. Can someone share these priests telephone number? I wanna ask them whether they are really servents of God or not. Wth is happening with them. Today I called tvm bishops house to enquire about this, the answer I got was strange. College issues should handled inside college, not in bishops house. Lesson I learned from this issue 'do not believe any priests'. I'm going to start a mission of creating awareness among all mukkuva. I want my fellow people feel the college is our asset and not created by any of the so called priests. Waiting anymore will not bear any good. Anyone joining hands with me please e-mail me carmel.franco77@gmail.com.I can share the ideas I've to spread awareness. I'm from a very poor family and I got into a good job only because of SJC, and I want the college under mukkuvar for my brothers and sisters to study. Dear admin if you are removing this comment then it's a shame on you to call mukkuvan.

I don't have money still I'll take loan and spend to make my people realize the college is ours, we are the management and not you. We designated you just because we believes you are servents of God. Now we know the truth and you are not needed anymore and please get the he** out of the college and do not adress yourself as mukkuvan.

[16-9-2011:8.38.50(IST)]
Dear Edwin sir,

St. Jude's college is the property of Latin Catholic Fisherman Educational Society. But Priests from Thoothoor forane did not mind to attend the general body election on 30.07.2009. The gathered priests including Fr. Xavier Alexander chose office bearers according to that Form VII got approved from District Registrar. Later either to creat problem or to creat peace Fr. Xavier Alexander set a Parallal Society called 'Latin Catholic Educational Agency' in which he included the priests from Pulluvilai forane! and got a new form VII approved. Meanwhile Fr.Vincent keeping the resolution of the Generalbody obtained a Secretaryship - But Fr. Xavier Alexander with the consent from his parallal society obtained a secretaryship Which lasted for only one month, Had it been genuine, then the Director of Collegiate Education must not have cancelled Fr. Xa's secretariship and allowed Fr. F.M. Vincent to continue as Secretary.

I would be very happy if you can get the details of the following:

1. Could you please explain the mismanagement and misappropriation of fund by Fr. FM. Vincent. So that some body can question it to Fr.Vincent.

2. why the validity of the meeting of 26.4.2010 is questioned. is it because lake of quorum.

3. Fr. FM Vincent says appointment of non community member in the college was the key issue between Fr.XA and Fr.FM.. NB.More than 40% of our teaching staff is from non mukkuva community. Can you find any other community college with such ratio.

4. Any idea about Society FUND.


Please don't think I am supporting Fr.Vincent. I want the college to grow. These are all the games may be of nearby college and near by non mukkuvas.

[15-9-2011:22.46.43(IST)]
The Tamil translation of this article is now available.
Please use the additional link available at the top to access the Tamil version.

[15-9-2011:22.7.36(IST)]
The gists of the petition filed by Rev. Fr. Xaviour Alexander is as follows:

1.St. Judes College, Thoothoor is managed by Latin Catholic Fishermen's Educational Society, Thoothoor.
2.Rev. Fr. Francis M Vincent was appointed as secretary of as per the resolution in meeting held on 11-12-2009.
3.During his period, it is said to be mismanagement and misappropriation of funds and hence the Board of Directors of Educational Agency removed Rev. Fr. Francis M Vincent from the post of Secretary of the college and suspended his primary membership on 17-3-2010. This decision is not yet challenged in any Court of Law.
4.Meanwhile in another one meeting held on 26-4-2010 removed Rev. Fr. Xaviour Alexander. The validity of this meeting is questioned .
5.Rev. Fr. Francis M Vincent filed a Writ Petition before the Madurai Bench of Madras High Court and is numbered as WP(MD) 4191 of 2010 and obtained interim order based on the interim order he got order to function as secretary of the college.
6.Rev. Fr.Xaviour Alexander filed a petition to implead him as a party in the above writ petition and obtained an order vocating the interim order on 30-4-2010. ( It was told that obtained order on 11-6-2010 from the directorate of collegiate education suppressing this fact)
7.Rev. Fr. Francis M Vincent filed a suit in the vocation court (DM Court, Nagercoil) O.S. No. 84/2010 . in the IA No. 301/2010 and obtained an order to maintain satus quo. (Fr.FV as secretary of college).
8.Rev. Fr.Xaviour Alexander filed a Writ Petition before the Madurai Bench of Madras High Court WP(MD) 7684 of 2010 challenging the order of directorate of collegiate education. This writ Petiton and the [etition filed by the Rev. Fr. Francis M Vincent were dismissed
9.The CRP filed by Rev. Fr. XA and others also dismissed with the direction to dispose the pending case in the trial court by the end of April 2011.
10.The collector of Kanyakumari District conducted a peace talk but it failed and so the direct payment was ordered on 4-8-10. But based on the Directorate of collegiate Education order Rev. Fr. Vincent became the secretary
11.W.P18 102 of 2010 filed By Rev. Fr. Xavier Alexander before Madras High Court in this WP a MP is filed for interim remedy, where it stated to set aside the order of the Directorate of collegiate Education till disposal of the pending suits.

[15-9-2011:21.21.37(IST)]
It was told that more than Rs. 43 lacs is received as fee from students every year and the expense of the college per year is not more than 20-23 lacs the remaining amount is not accounted properly and the auditing is not properly done. There was an allegation that the principal in colluded with the management diverting fund. This is also a cause of the problem in the management.
Recently a strike led by Prof. Marison of History department held in the month of August 2011 for not paying the salary to more than 10 staff from our community, who were working in self finance departments.

[15-9-2011:21.15.20(IST)]
UGC allotted more than 50 lakhs for the construction of Lady's Hostel 2009. In August 2009 Rs.30 lakhs was allotted. At that time Fr. Vincent was only selected as College Secretary but approval was not obtained from the Educational Department. Meanwhile the Principal with the consent from the society secretary fr.xa, utilised the amount for the construction of the same. On the Jude's Day the foundation stone was laid. The construction was done without consulting the College UGC commission. The amount was allotted for the first floor of the hostel. But the work remains incomplete and also there is no transparency in the account, a few members of the commission did not sign in the accounts. So it is not yet audited and submitted to the UGC,Delhi. Therefore, the rest of the amount is still kept pending in the UGC office.

[15-9-2011:15.24.3(IST)]
Dear St.Jude's College visitors,
The general body meeting will be held on 17.09.2011. I was wrongly informed about the day of the meeting.
Let us hope the new office bearers there to be chosen will have the courage to get the money and accounts from previous office bearers.

[15-9-2011:12.19.10(IST)]
I got the petition copy of the appeal filed by Fr. Xaviour Alexander. I will produce a gist of it in my next message. Please dont publish any notice.
Something worse is going on. Let us wait and see.

[15-9-2011:11.0.26(IST)]
I'm not sure what's going on with the priests. Ego or whatever Its good for them to rollup thier tails and openup ways for my fellow mukkuvas to come up in their lives. If priests create more scene, they'll regret for what they've done. Many people are not aware of this issue, especially vallavilai, marthandanthurai, neerody, poothurai, etc.. Not even .1% of mukkuvas are aware of this issue. I'm going to personally call my friends and form a team to protect our college. If you can share some info on the Latin catholic education society will be great. I appreciate the admin of thoothoor.com and other fellow mukkuva to take this issue to another level for a resolution. If enthurai & other mukkuva web admins happen to see this, please spread the word and let's all join our hands together and protect SJC. I'm planning to print notice and distribute it after Sunday mass in every parish, any thoughts? Let's unite all small fisherman orgs to find a resolution. The college doesn't belong to kakka, kuruvi or kuyil. SJC is mukkuvar's college. Let's spread the word. I'll e-mail a soft copy of content to Mr.Edwin Adv. Whoever wants please get a copy from him and print atleast 2500 copies for your parish. If possible we can organize a rally to bishops house and ask Bishops whether things are happening with his knowledge. Saathippom vanga!!!!!

[15-9-2011:8.25.57(IST)]
Dear friends
The Latin Cathaolic Fishermen Education Development Society, the owner of the college is going to take decision on 20th or 21st of this month.
Now we got enough evidence. We are not the member of the association but we may be the beneficiary.
I think the Cloud and the sjc or none other than the college administrators.
They also participated and gave their suggestion and uploaded valuable evidences.
The writ and the petitions are filed in Madurai Bench of Madras High Court.
Now let us keep mum till they take decison.
Let us be a silent spectator for a while and we can discuss it further in our private mail.
my email id is edwinjerome@gmail.com.
We can discuss our actions and come out with a solid proposals, if they fail to take proper actions.

[14-9-2011:15.21.8(IST)]
Thanks for uploading the order.
We humbly request you priests, please run the institution for the benefit of the people.

[14-9-2011:14.11.6(IST)]
visit the link to see the college secretary
http://uploading.com/files/245c461f/secretary%2Border.pdf/

[14-9-2011:12.21.45(IST)]
copy of approval of secretaryship of Fr. Francis M. Vincent. visit the link...
http://uploading.com/files/61m2ff68/secapp%2Bpg1.doc/
http://uploading.com/files/e7m26mc7/secapp%2Bpg2.doc/
http://uploading.com/files/29cd7a5c/secapp%2Bpg3.doc/
http://uploading.com/files/b1dd9145/secapp%2Bpg4.doc/

[14-9-2011:9.6.25(IST)]
Respected Edwin sir,

As a advocate reputed what is your opinion on the petition filed by Fr.xa? With the influence you have can you please get a copy of the petition filed in Chennai high court as you are the only advocate striving for mukkuva community development. We need your precious help in this matter. Only people like you can save mukkuvar in kanyakumari dist. If possible can you please work with admin to post the petition's content. Also if you can lead the case against it we are ready to share the expenses as well. Please as a leading mukkuva advocate save our people.

[13-9-2011:19.12.51(IST)]
I hope tomorrow we can see in the the petition filed by fr.xa. In the court Fr. xavier Alexander was ordered to attend the general body meeting to be held on 21.09.2011 at St. Jude's College Campus. Because the honourable court observed that if a problem persists between two person they can solve it from the society. Let us see what the general body decides.

[13-9-2011:18.17.41(IST)]
Dear Edwin, As you mentioned in your earlier comment �Without going thru the petition, we cannot come to the conclusion�, So would request you to get the details of the petition filed in Chennai high court and publish over here. It may be helpful to all thoothoor region people who are living in across the world can easily understand the seriousness of this issue. Please!!!

[12-9-2011:11.17.17(IST)]
A very tough task dealt in short. Whenever someone loose their college administration power they elave the college without submittign teh proper account. This happened in all previous cases. Is this justifyable?.

[12-9-2011:9.45.3(IST)]
Heartfelt admiration to this website for publishing this article correctly and boldly. The information in this article is significant and valuable, for which I can imagine the underlying effort, well done team. Solution comes possible only by knowing truth.

[6-9-2011:14.35.56(IST)]
Attention : Fr Xavier Alexander & Fr Vincent - If you happened to see this site (Thoothoor.com & its Messages) please bear it in your mind that you both are priests from Mukuvar Community that means you are only the messangers of Lord Jesus Christ. The Bishops of Trivandrum & Kottar can not solve this problem any more. The growth of St.Jude's College and status of Mukuvar Community is in your hands. Please you both sit together (without any third parties involvment)and come to a conclusion for the wealth & welfare of the college and the Mukuvar community and make sure that you both are real messangers of Lord Jesus Christ the only son of GOD.Please bear it in your mind that you both are totally responsible for any damages to St Jude's College and Mukuvar community and one day you are very much answerable to our Lord.

[6-9-2011:14.22.56(IST)]
Fr Borgia must be cursing these irresponsible priests.

[6-9-2011:6.36.59(IST)]
Thoothoor college is in deep trouble and peril mainly because of a few teaching staff from a in Thoothoor college. These so called lecturers never show commitment to complete the syllabus before semester exams and do all the politics to kill their time.

[6-9-2011:1.11.3(IST)]
Thanks for publishing this article, Is there a team working to get the college back to all 'Mukkuvaas'. If so please share the information with us. I want to be part of it and I want to give atleast the college back to my community. I'm one the thousands of mukkuvas who benefited by St.Judes college. In my +12 my score was not big enough to get BE admission and my family couldn't affort fee for pvt colleges. I tried Bsc.Comp science in NMCC marthandam college which is aided by govt, and my application got rejected and personally I know 4 persons with very low marks than me belong to the community which runs NMCC college got admission for Bsc comp. Nowhere else I got admission, finally our community college St.Judes college saved me. I studied maths major and later got into one of the professional institution and I'm in USA now. I cannot imagine we losing st.Judes college because of immature behaviour of some priest. If there is a group working to save the college I'll join them, if not lets come together and save the college for our younger generation from these immature priests.

If we loose the college, forget the fast growth of mukkuvar community.[I apologize if my words did hurt someone, still the issue is very serious.]

[5-9-2011:19.12.1(IST)]
Thanks for publishing this article,
Only now we came to know about the issue clearly
I think few people played vital role in splitting up the management and those are not mentioned in the article.
I hope there are some controversies in admission procedures for our community students; I request the Research team to fetch little information about those issues too. It will be helpful for retaining our rights.
Let�s stay together to protect our rights in College issue. St. Jude�s College is our Property, we have to save it

[5-9-2011:13.30.48(IST)]
Hello Robin, Its realy worthable if you share the valuable names as per the term in the article.
'� Please help us by sending your views and corrections to this article, so that we can achieve a genuine article that pronounces the truth behind all issues in St. Jude�s college. Send your comments and suggestions to the email admin@thoothoor.com'

[4-9-2011:23.1.33(IST)]
If I am right, Rev. Fr. William was the treasurer in the college.

[4-9-2011:19.0.5(IST)]
some valuable names are missing from the founder members, who were really worked for the college.

[4-9-2011:12.19.2(IST)]
Good Team Work, if the Tamil and Malayalam Versions avail means it will be more use full for all those who don't understand English.
Lets hope the 'Know The Truth' will make real change and Help all our Children who come across the collage.