Delegate Message
New office bearers and executive members have been selected for NLT

-


Added @ 12-09-2022@08.24.03(IST)

The Annual General Body meeting of Netaji Library Thoothoor was conducted on 10th September with main agendas such as presentation of the annual account, presentation of the annual report, and selection of the new executive committee. The preceding executive committee submitted the accounts and annual report after which the new office bearers and the executive committee has been selected. Below is an announcement from NLT regarding the new executive committee.

The newly elected office bearers and executive members are President (Mr. John Britto. B), Vice President (Mr. Donas.S) General Secretary (Mr. Jemald Vincent), Secretary-Library (Mr. Sebash.G), Secretary-Sports (Mr.Christin.B), Treasurer (Mr. Maria Sajen.M), Joint-Treasurer (Mr. Thadeuse.D), and executive members (Mr. Victor. D, Mr. Sanju, Mr. Anthony Raj, Mr. Suresh.M, Mr. Milton, Mr. Antony Xavier.T). The participants of the general body meeting thanked the preceding office bearers and executive members for their good work and welcomed the newly elected office bearers and executive members.

URL-2: https://www.thoothoor.com/v5/dLoads/NLT/NLT-AGM-20 .....

| | | |
| --- | --- | --- |
| Rate this message! | | |

Comment/Feedback on this Delegate Message

[12-09-2022@16.39.53(IST)]
Dear NLT Members,

Please update their contact number also along with their names so that if we go for any sponsor we will contact them for directly. The names which mentioned not known most of them, so better to add their contact number this will be good.

This is my suggestion only....

You are invited to . . .
join the "what-next" evolution of the website!
2 DAYS LEFT

click here


What is New in Thoothoor.COM?
Thoothoor Parish page is updated !

ENLARGE GO


St.Thomas Community Hall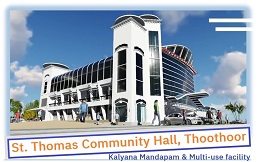 Parishes in Thoothoor Forane




Our Location Map