Delegate Message
A good reference to recall our forgotten tradition - Neithal Word Dictionary

Back

-


Added @ 15-10-2020@00.00.16(IST)

Prominent Neithal writer, Kurumpanai C. Berlin is publishing his 21st book titled, 'NEITHAL CHOLLAGARAATHI' meaning Neithal Word Dictionary. In this book, the author is bringing together all the forgotten or fast disappearing traditional information that were popular until recently among the Neithal people who are spread across the coastal line of Tamilnadu. These collections include traditional slogans, customary songs, customary games, proverbs, entertainment practices, details of fishes, various diversities, equipment for the living and for earning, common glossaries, and many other historical collections which are intimately related to our parents or grandparents or ancestors.

NLT's 2019 Netaji Award winner, Mr. Berlin must have put a lot of effort to bring together such a wide variety of information in one book. Please book your copy by contacting him over his phone/WhatsApp number (9443558685) which costs Rs.350/- per copy. You may please feel free to contact him for booking or to share your opinion or suggestions.





Rate this message!


Visitor Comment is DISABLED for this

The reason could be one of the following

This owner(s) do not want to yield any visitor comment.
The comments for this may be collected in a different section or forum
This does not require any further visitor comments.




Comment/Feedback on this Delegate Message
* You are the first person to post a comment for this Delegate Message, thank you.


Policy on visitor comments...
Thoothoor.com visitors can post comments on delegate messages, articles, etc. Such comments are individual's personal view or feedback on that subject, and hence they need not be true or correct.
While adding a comment, please use only presentable words. Also do use your own name. If you want to hide your identity, you can use Guest as your name. Never use personally abusing words in the comments.
Visitor comments are reviewed by Delegate Administrators to verify its acceptableness in general.
Visitor comments are not the the view of Thoothoor.com. If you find any problematic comment, please report them to us immediately with specific details. We will act on such concerns in a timely manner.
For Thoothoor.com Terms of Usage, please check the 'Helps' page.


St.Thomas Community Hall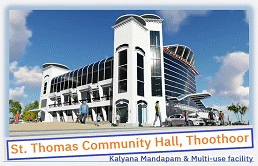 Parishes in Thoothoor Forane


Our Location Map