Delegate Message
NLT is launching 'Thoothoor Netaji Sports Academy' on Gandhi Jayanti

Back

-


Added @ 21-09-2020@11.32.23(IST)




Last Updated @ 21-09-2020@15.53.03(IST)

Netaji Library Thoothoor (NLT) is all set to start 'Thoothoor Netaji Sports Academy' on 2nd October to professionally train and guide football aspirants from Thoothoor in three categories such as Uunder-16, Under-14, and Under-10 with 25 participants in each categories. For this, NLT is conducting selection trials on September 25-27, 2020 in which boys from Thoothoor who have born in the year 2006 or later are eligible to participate. Those who are interested shall register their names by visiting NLT office along with their age proof document (aadhaar or school-id card) on or before Thursday, 24-09-2020. More details in the below banner.





Rate this message!


Visitor Comment is DISABLED for this

The reason could be one of the following

This owner(s) do not want to yield any visitor comment.
The comments for this may be collected in a different section or forum
This does not require any further visitor comments.




Comment/Feedback on this Delegate Message

[23-09-2020@17.37.19(IST)]
sorry.....plz ignore the below comment.
In the display template clearly mentioned that boys only eligible.

[23-09-2020@17.35.08(IST)]
Shall girls also attend the trial and eligible to join in the academy ?

[22-09-2020@14.10.37(IST)]
Good initiative from the NLT.....

This Academy initiated for Temporary or Permanent ?

Requesting the selection committee should go for the best and don't look for players who depend on someone....

Hopefully in the future our Thoothoor will get a good foot ball team.....

Policy on visitor comments...
Thoothoor.com visitors can post comments on delegate messages, articles, etc. Such comments are individual's personal view or feedback on that subject, and hence they need not be true or correct.
While adding a comment, please use only presentable words. Also do use your own name. If you want to hide your identity, you can use Guest as your name. Never use personally abusing words in the comments.
Visitor comments are reviewed by Delegate Administrators to verify its acceptableness in general.
Visitor comments are not the the view of Thoothoor.com. If you find any problematic comment, please report them to us immediately with specific details. We will act on such concerns in a timely manner.
For Thoothoor.com Terms of Usage, please check the 'Helps' page.


St.Thomas Community Hall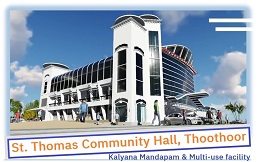 Parishes in Thoothoor Forane



Our Location Map