Delegate Message
Appu's Plastic Awareness Stall at Kuzhithurai Vavubali Exhibition

Back

-


Added @ 27-07-2019@15.03.08(IST)

Kuzhithurai Vavubali Exhibition 2019 begins on 18th July 2019. The main Religious Ceremony called as Vavubali falls on 31st July, which is a festival of giving "bhali karmam" (A Ritual) for ancestors which is held at the banks of the River Thamirabharani in Kuzhithurai. It concludes on 6th August, 2019. Apart from shopping stalls, nursery gardens, fun, entertainment and games, Government also sets up many stalls in the exhibition to promote their initiates. Government also gives these stalls to private individuals and organisations after thorough scrutiny.

Jency Das (Appu) from Thoothoor also tried for getting a stall in this exhibition to educate people on plastic usage. Based on Appu's earlier involvements in such social activities, he got a stall in the Government stall lane itself. In the stall, Appu displayed many valuable educational materials on plastic usage and as a highlight he also demonstrated alternate items to replace the major plastics that are used by people in large number. Appu is working as the Library Officer in Thoothoor Netaji Library. Let us congratulate Appu on such noble social activities.




Rate this message!


Visitor Comment is DISABLED for this

The reason could be one of the following

This owner(s) do not want to yield any visitor comment.
The comments for this may be collected in a different section or forum
This does not require any further visitor comments.




Comment/Feedback on this Delegate Message

[06-08-2019@14.39.15(IST)]
Congratulation!

[04-08-2019@11.51.05(IST)]
Congratulate Dear Bro

Policy on visitor comments...
Thoothoor.com visitors can post comments on delegate messages, articles, etc. Such comments are individual's personal view or feedback on that subject, and hence they need not be true or correct.
While adding a comment, please use only presentable words. Also do use your own name. If you want to hide your identity, you can use Guest as your name. Never use personally abusing words in the comments.
Visitor comments are reviewed by Delegate Administrators to verify its acceptableness in general.
Visitor comments are not the the view of Thoothoor.com. If you find any problematic comment, please report them to us immediately with specific details. We will act on such concerns in a timely manner.
For Thoothoor.com Terms of Usage, please check the 'Helps' page.


St.Thomas Community Hall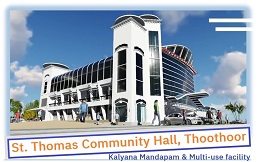 Parishes in Thoothoor Forane


Our Location Map