Delegate Message
Bichu's Trivandrum won the Winners Cup of 28th One Day Football Tournament of NLT

Back

-


Added @ 24-04-2019@12.19.44(IST)

Netaji Library in Thoothoor conducted the 28th One Day Football Tournament successfully. A procession was conducted from NLT building to the ground with horse and musical instruments. Mrs. Clemancial (Inspector, Crime Branch) hoisted national flag and the tournament convenor Mr.Elgin hoisted the NLT flag. Thoothoor assistant parish priest Fr. Jenisten lead a small prayer for the success of the tournament. NLT president Jemald Vincent delivered the welcome address. St. John's school students performed a Vandemadharam dance after the flag hoisting. Our Vicar Forane Fr. Andrews Cosmos started the matches by doing the first kick.

12 teams from 5 states played in the tournament and the teams entered the semi finals were Netaji Yellow, Portais Sporting Club Goa, Bichu's Trivandrum, and St. James Vaniyakudi. In the final match between Bichu's Trivandrum and Netaji Yellow, Bichu's trivandrum won with a goal score of 2-1 and won the winner's trophy of 28th One Day Football Tournament. The Southern Railway Head Coach Mr. Sounderrajan and Dr. Amaladhas distributed the trophies. The tournament ended by 10.45 PM with a vote of thanks address from NLT Treasurer Joseph Xaviour followed by the National Anthem.

The chief guest Dr. Madhavan Nair (former Chairman, ISRO) came at around 7 PM and stayed with us till 9.30 PM. The awardees of Netaji Awards, Helping Hands Awards, and Special Sports Award received their respective awards from Dr. Madhavan Nair. Dr. Madhavan Nair also encouraged the players by taking photos with them during the semi-final team line up.

Even though it was raining often, the tournament and all the associated events were executed successfully. NLT extend our sincere thanks to all our sponsors and those who have given donation generously. Photos of the tournament will be shared later.

URL-1: https://epaper.dinakaran.com/c/38944953

Rate this message!


Visitor Comment is DISABLED for this

The reason could be one of the following

This owner(s) do not want to yield any visitor comment.
The comments for this may be collected in a different section or forum
This does not require any further visitor comments.




Comment/Feedback on this Delegate Message

[28-05-2019@19.13.32(IST)]
Dear,


It's been long we are waiting for the tournament photo.

can anyone from the member can you share the tournament photos

[05-05-2019@19.17.59(IST)]
Dear Team,


Kindly share the tournament photos...

Policy on visitor comments...
Thoothoor.com visitors can post comments on delegate messages, articles, etc. Such comments are individual's personal view or feedback on that subject, and hence they need not be true or correct.
While adding a comment, please use only presentable words. Also do use your own name. If you want to hide your identity, you can use Guest as your name. Never use personally abusing words in the comments.
Visitor comments are reviewed by Delegate Administrators to verify its acceptableness in general.
Visitor comments are not the the view of Thoothoor.com. If you find any problematic comment, please report them to us immediately with specific details. We will act on such concerns in a timely manner.
For Thoothoor.com Terms of Usage, please check the 'Helps' page.


St.Thomas Community Hall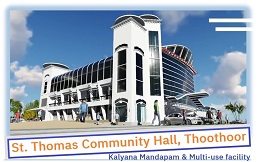 Parishes in Thoothoor Forane



Our Location Map