Delegate Message
NLT is planning diamond jubilee magazine, 'NLT RECALL', Help us with photos and info !

Back

-


Added @ 11-02-2019@10.23.40(IST)

Netaji Library Thoothoor is coming up with a diamond jubilee magazine to gather all NLT related events and activities since 1957. The RECALL magazine is very important to protect the long history of NLT.

We invite everyone from Thoothoor and all NLT well-wishers to take part in this important mission by sending every information that is related to NLT. Any old photos, any old information, any old activities of NLT, information about founder members, the story of the initial days….. like these, whatever information available with you, PLEASE SEND IT TO US. Don't worry about if the information is useful or not, you just send it, we will do the rest.

CONTACT PHONE: 04651-240826 (or) 8124747737 (or) 9845147058       (Email below)

Email-1: (Note: Email-id displayed here is script protected from web crawl programs)

| | | |
| --- | --- | --- |
| Rate this message! | | |

Comment/Feedback on this Delegate Message

[22-02-2019@15.34.23(IST)]
dear thoothoorian chennai , as of your wish- merry production already started doing the documentary about NLT . If you have any rare photos or video of NLT activities or sports etc.. can contact our library office or send it by email nlthoothoor@gmail.com

[22-02-2019@13.27.59(IST)]

[18-02-2019@13.58.18(IST)]
We proud to say that NLT has long standing service to native as well as neighbour villages in many ways of developments in the way of social & sports. All our expenditures will be depending on instant collections from well wishers. We would thankful to all of them.
But sorry to say that NLT doesn't maintain their own basic fund since for the future generation to carry out the same way of service. We shall maintain such fund out of all the member's subscription at least. It will make tremendous changes on creating more regular activities without hurdles.

[12-02-2019@01.34.37(IST)]
If possible please plan for short film 'Evolution of NLT'. This will help today's youngsters to know more about all the Hard work, all the sacrifices, all the sleepless nigthts and struggles of 80's, 90's youth.




St.Thomas Community Hall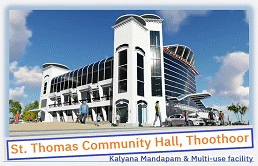 Parishes in Thoothoor Forane


Our Location Map