Delegate Message
NLT announced the teams for 28th One Day Football Tournament

Back

-


Added @ 06-02-2019@14.57.25(IST)

Netaji Library in Thoothoor announced the teams that are going to participate in the 28th One Day Football Tournament which is scheduled to be conducted on 21st April 2019, the Easter Day. The teams are Bangalore FC, Krishnagiri FC, Malappuram Sevens, Thoothukudi FC, Gymkhana Trissur, Kayalpattinam United FC, Bichus Trivandrum, St. Jame's Vaniakkudi, Udaya Parithiyoor, Present Heroes Thoothoor, Ultimate Heroes Thoothoor, and Future Heroes Thoothoor. NLT has put a banner in Thoothoor bus-stand regarding this. Click the below link for the bigger image of this banner.




URL-1: http://www.thoothoor.com/v5/ViewAlbumV2.asp?album=misc&pic=NLT-To .....

Rate this message!


Visitor Comment is DISABLED for this

The reason could be one of the following

This owner(s) do not want to yield any visitor comment.
The comments for this may be collected in a different section or forum
This does not require any further visitor comments.




Comment/Feedback on this Delegate Message

[25-02-2019@15.58.39(IST)]
Dear Nethaji Members,

Teams are very good and happy to see that from thoothoor we have 3 teams. My kind request that, don't go for any guest player from outside and now have much more players from thoothoor. And we all can believe that, they will prove and make thoothoor as proud.

[07-02-2019@21.33.22(IST)]
Team chosen is really good. We are waiting very good tournament this year. All the best NLT.

Policy on visitor comments...
Thoothoor.com visitors can post comments on delegate messages, articles, etc. Such comments are individual's personal view or feedback on that subject, and hence they need not be true or correct.
While adding a comment, please use only presentable words. Also do use your own name. If you want to hide your identity, you can use Guest as your name. Never use personally abusing words in the comments.
Visitor comments are reviewed by Delegate Administrators to verify its acceptableness in general.
Visitor comments are not the the view of Thoothoor.com. If you find any problematic comment, please report them to us immediately with specific details. We will act on such concerns in a timely manner.
For Thoothoor.com Terms of Usage, please check the 'Helps' page.


St.Thomas Community Hall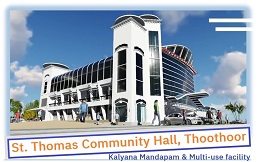 Parishes in Thoothoor Forane




Our Location Map