Delegate Message
70th Republic Day of India Celebrations at NLT

Back

-


Added @ 26-01-2019@19.12.56(IST)

Netaji Library celebrated the 70th Republic Day of India in a grand way. The founder member of prominent organizations such as CPO, KRYC, NLT, Mr. Oliver Joy sir who has served as a teacher for almost half century in various schools attended the function as a Chief Guest. Oliver Joy sir delivered a republic day speech, inaugurated the Neithal Rack, and released NLT Digital Annual-2019. Tamilnadu State Para Badminton Doubles Champion for the year 2019 Mr. Victor hoisted the national flag. Mr. Victor is working as SDE (Sub-Divisional Engineer) in BSNL Kanyakumari district Mobile division.

St. John's School students performed a beautiful Republic Day Special dance after the flag hoisting. Honourable Neithal Writers Mr. Muttom Walton, Mr. Kurumbanai Berlin, Mrs. Jaquiline Mary, Mr. Erayuman Sagar, Mr. Seack Nitto, and Miss. Stinu Robin attended the function. Of behalf of the Neithel writers, Mr. Kurumbanai Berlin and Mrs. Jaquiline Mary delivered speech.

After the function, the Chief Guests and Neithel writers had a meeting with NLT executives in which many plans and suggestions were discussed. NLT Executives made all arrangements for the event and people in good number attended the event that lasted for more than one and half hours. Photos in the below links.




URL-1: http://www.thoothoor.com/v5/ViewAlbumV2.asp?album=NLT-RepublicDay .....

Rate this message!


Visitor Comment is DISABLED for this

The reason could be one of the following

This owner(s) do not want to yield any visitor comment.
The comments for this may be collected in a different section or forum
This does not require any further visitor comments.




Comment/Feedback on this Delegate Message
* You are the first person to post a comment for this Delegate Message, thank you.


Policy on visitor comments...
Thoothoor.com visitors can post comments on delegate messages, articles, etc. Such comments are individual's personal view or feedback on that subject, and hence they need not be true or correct.
While adding a comment, please use only presentable words. Also do use your own name. If you want to hide your identity, you can use Guest as your name. Never use personally abusing words in the comments.
Visitor comments are reviewed by Delegate Administrators to verify its acceptableness in general.
Visitor comments are not the the view of Thoothoor.com. If you find any problematic comment, please report them to us immediately with specific details. We will act on such concerns in a timely manner.
For Thoothoor.com Terms of Usage, please check the 'Helps' page.


St.Thomas Community Hall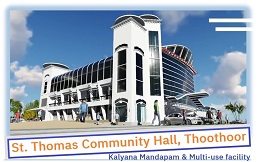 Parishes in Thoothoor Forane



Our Location Map