Delegate Message
NLT honoured Rev. Sister. Roshni on her Silver Jubilee Year

Back

-


Added @ 05-10-2018@00.11.51(IST)

Nethaji Library Thoothoor honoured Thoothoor St. John's School Head Mistress Rev.Sister.Roshni in the auspicious occasion of the silver jubilee year of her religious profession. NLT also thanked her for the relentless services in Thoothoor parish and in St.Thomas Forane Church.

Sister Roshni, who is a native of Adivaram in Kozhikode, recalls that she wished to become a sister while studying in 3rd standard itself. She was not well at that time and was very impressed by a nun who treated her for the illness. She stood strong in her wish even though there were objections from family. Sister Roshni was ordained as Sister on 24-06-1994 in the congregation of Sisters of St.John the Baptist. She started her spiritual service at Nagpur (Maharashtra) and after working in many other places, she came to Thoothoor in June 2013 as the Head Mistress of St. John's school. It is notable that 2 siblings of Sister Roshni are also nuns. Visit the given link for more photos.




URL-1: http://www.thoothoor.com/v5/ViewAlbum.asp?album=misc&pic=SrRoshni .....

Rate this message!


Visitor Comment is DISABLED for this

The reason could be one of the following

This owner(s) do not want to yield any visitor comment.
The comments for this may be collected in a different section or forum
This does not require any further visitor comments.




Comment/Feedback on this Delegate Message

[05-10-2018@15.00.03(IST)]
congrats rev.sr.roshni , may God bless you

Policy on visitor comments...
Thoothoor.com visitors can post comments on delegate messages, articles, etc. Such comments are individual's personal view or feedback on that subject, and hence they need not be true or correct.
While adding a comment, please use only presentable words. Also do use your own name. If you want to hide your identity, you can use Guest as your name. Never use personally abusing words in the comments.
Visitor comments are reviewed by Delegate Administrators to verify its acceptableness in general.
Visitor comments are not the the view of Thoothoor.com. If you find any problematic comment, please report them to us immediately with specific details. We will act on such concerns in a timely manner.
For Thoothoor.com Terms of Usage, please check the 'Helps' page.


St.Thomas Community Hall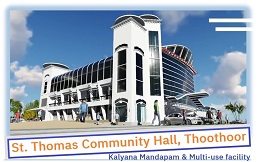 Parishes in Thoothoor Forane


Our Location Map