Delegate Message
NLT invites more people to join as Golden Member

Back

-


Added @ 28-08-2018@11.34.02(IST)

Until August 2018, 25 members have registered themselves as golden member of NLT. Golden member's multi-dimensional contribution to NLT includes giving suggestions to NLT through annual Golden Members meet, helping the day to day activities of NLT with a fixed annual subscription, perform as a self-styled supporter of NLT from wherever they are, and so on. NLT is wishing to reach 100 Golden members before the end of 2018. Golden members meet will be organised in the month of December. Those who are interested can please visit the below link to know more about it and join as a golden member. The list of current golden members is given in the second url, and the third url is the NLT Organization page contains more informations about the activities of NLT. Interested people can also send email to NLT (email-id given below).

Email-1: (Note: Email-id displayed here is script protected from web crawl programs)
URL-1: http://www.thoothoor.com/v5/delegates_message_fb.a .....
URL-2: http://www.thoothoor.com/v5/ViewAlbumV2.asp?album= .....
URL-3: http://www.thoothoor.com/org/nlt

Rate this message!


Visitor Comment is DISABLED for this

The reason could be one of the following

This owner(s) do not want to yield any visitor comment.
The comments for this may be collected in a different section or forum
This does not require any further visitor comments.




Comment/Feedback on this Delegate Message

[31-08-2018@19.01.27(IST)]
Dear NLT members you people are doing such a great things for our NLT but I don't think that this golden membership will not reach to all because as of now we need a good marriage community hall this is not yet completed and more years finished. Please take some initiative from your side and do something. Hope you all will understand that how people will get more struggles when they go other place for a marriage

Policy on visitor comments...
Thoothoor.com visitors can post comments on delegate messages, articles, etc. Such comments are individual's personal view or feedback on that subject, and hence they need not be true or correct.
While adding a comment, please use only presentable words. Also do use your own name. If you want to hide your identity, you can use Guest as your name. Never use personally abusing words in the comments.
Visitor comments are reviewed by Delegate Administrators to verify its acceptableness in general.
Visitor comments are not the the view of Thoothoor.com. If you find any problematic comment, please report them to us immediately with specific details. We will act on such concerns in a timely manner.
For Thoothoor.com Terms of Usage, please check the 'Helps' page.


St.Thomas Community Hall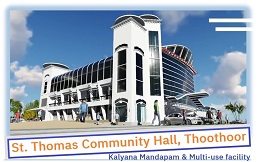 Parishes in Thoothoor Forane





Our Location Map