Delegate Message
A report on NLT's successful Road Safety awareness campaign

Back

-


Added @ 29-07-2018@20.14.31(IST)

The Road Safety awareness campaign of Nethaji Library Thoothoor ended successfully. Police special sub inspector Vipin Raj SSI flagged off the Motor Bike Rally at 5 PM from Thoothoor in which more than 50 motor bikes participated including Thoothoor assistant parish priest Rev. Fr. Jenisten, few police, and many youths. The rally passed through Chinnathurai, E.P.Thurai, Erayumanthurai, Poothurai and then reached Thoothoor at around 6.30 PM.

The awareness meeting started at 6.45 PM with Dr. Pazhaniyandi (Neorusurgeon from Kanyakumari Government Medical College), Fr. Rex Morais (Thoothoor parish priest), Mr. Sobhana Raj (Nithiravilai Police station SI), and Dr. Darwin Desious on stage. Fr. Rex Morais delivered the introductory speech, followed by a speech by Mr. Sobhana Raj. The Guest Speaker Dr. Pazhaniyandi delivered the awareness speech with a presentation on big screen. The short film 'Helmet' by Merry Production was screened in the big screen. Later, Fr. Rex presented the Memento of Honour to Dr. Pazhaniyandi, and Memento of Gratitude to the event sponsor Dr.Tony Oliver which was received by Dr. Darwin Desious. After the meeting, few selected short films on road safety were screened in the big screen for the people.

Many participants personally thanked Dr. Pazhaniyandi for his road safety messages and the detailed explanation about the head injury and its implications. Participants, Police, and the Guests appreciated Nethaji Library for this meaningful effort. More photos of this campaign in the below link.



URL-1: http://www.thoothoor.com/v5/ViewAlbum.asp?album=RoadSafetyCampain .....

Rate this message!


Visitor Comment is DISABLED for this

The reason could be one of the following

This owner(s) do not want to yield any visitor comment.
The comments for this may be collected in a different section or forum
This does not require any further visitor comments.




Comment/Feedback on this Delegate Message
* You are the first person to post a comment for this Delegate Message, thank you.


Policy on visitor comments...
Thoothoor.com visitors can post comments on delegate messages, articles, etc. Such comments are individual's personal view or feedback on that subject, and hence they need not be true or correct.
While adding a comment, please use only presentable words. Also do use your own name. If you want to hide your identity, you can use Guest as your name. Never use personally abusing words in the comments.
Visitor comments are reviewed by Delegate Administrators to verify its acceptableness in general.
Visitor comments are not the the view of Thoothoor.com. If you find any problematic comment, please report them to us immediately with specific details. We will act on such concerns in a timely manner.
For Thoothoor.com Terms of Usage, please check the 'Helps' page.


St.Thomas Community Hall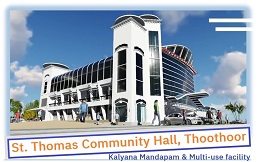 Parishes in Thoothoor Forane




Our Location Map