Delegate Message
General Body meeting of NLT on 4th July

Back

-


Added @ 20-06-2018@09.52.31(IST)

Nethaji Library General Body Meeting is scheduled to be conducted on 4th July 2018 at 5 pm in the NLT building. Selection of new office bearers for next 2 years is the main agenda of this meeting.

All NLT members and well wishers are requested to attend this important meeting without fail.

- Secretary, NLT


| | | |
| --- | --- | --- |
| Rate this message! | | |

Comment/Feedback on this Delegate Message

[25-06-2018@17.09.39(IST)]
Our NLT had By-Law, which was formed with the advice of Mr.G.Reymond sir, Mr.Sajin sir & Mr.Albaris sir during 1997, and was passed in General Body meeting. Now I heard that that By-law is not there in the Library. Since it is fundamental requirement of our prestegious Library, kindly request the Executive to prepare again the By-law on consultation with known people either from our native or out side or both of them.

[22-06-2018@15.58.11(IST)]
dear robin , sure we will add this in the agenda of general body meeting

[21-06-2018@11.21.33(IST)]
The below are my suggestions to the new committee to be selected then;
1. Advising Committee having a limited senior wellwishers shall be needed to get their guidance if any new programs to introduce. As NLT have computer & Wifi facilities, the Executive shall discuss with the advicing committee on video conference if anybody in out of thoothoor.

2. Needed to organise other sports as well, and to find out another optional building for sports activities as a separate wing of NLT.

3. to be provided more facilities for book readings & training programs for educated candidates for employments, and for our back bone fishermen for further developments of the job & the safety.

4. The NLT shall support along with parish committee & BCC leaders to conduct THOOTHOOR FEAST' more effective as it is also one of our prestigious program.

5. to think about initiate on restart Ladies Library (Jancy Rani Library) in a separate building in a comfortable place and shall support financially as well as morally.


St.Thomas Community Hall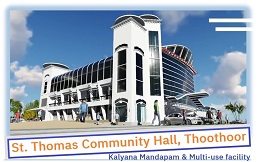 Parishes in Thoothoor Forane


Our Location Map