Delegate Message
NLT's 27th One Day Football Tournament details and the INVITATION

Back

-


Added @ 27-03-2018@11.01.58(IST)

All planning's for 27th One Day Football Tournament of NLT is concluded. Mr. Syrus will be the convener and Mr. Benish will be the Cashier for the tournament. Since this tournament is planned as a Tribute to Ockhi Cyclone victims, the following commitments are made by NLT.

The tournament (only this year) will be conducted as a 'Day' tournament with 8 teams.
NLT in association with Thoothoor.COM has launched a 'Passion of Ockhi' contests in 3 categories such as Poem Writing, Pencil drawing, and Idea Hunt submission. Details are already published in Thoothoor.COM and in the NLT Notice board. Some photos in URL-1
An 'Ockhi Gallery' will be setup in the tournament ground. This gallery will contain all Ockhi related memories and monuments. 'Passion of Ockhi' entries will also be kept in this gallery for viewing.

The 8 teams participating in this tournament are Gymkhana Thrissur, Ucharakadavu Malappuram, Bichu's Trivandrum, St.Nicholas Neerodi, St.James Vaniyakudi, SJYSC FC Tamilnadu, Present Heroes Thoothoor, and Ultimate Heroes Thoothoor. The first round will be knock out round, from which 4 teams will enter the league round. There will be 6 matches in the league round, from which the top two teams will enter the final. The tournament is expected to end before sunset.

On behalf of the NLT, the tournament convenor Mr. Syrus invites everyone to NLT's 27th One Day Football Tournament to enjoy the matches and to visit the Ockhi Gallery. The invitation and other details are attached below in URL-2.

URL-1: http://www.thoothoor.com/v5/ViewAlbum.asp?album=Tt .....
URL-2: http://www.thoothoor.com/v5/dLoads/NLT/Tournament% .....

Rate this message!


Visitor Comment is DISABLED for this

The reason could be one of the following

This owner(s) do not want to yield any visitor comment.
The comments for this may be collected in a different section or forum
This does not require any further visitor comments.




Comment/Feedback on this Delegate Message

[01-04-2018@03.34.32(IST)]
Dear shyjin, thanks for your message.
Yes, it is taken care. We have informed everyone that these changes are only for this year. Once again thanks for being our well-wisher.

[31-03-2018@21.11.19(IST)]
Dear Committee,

I didn't get any reply on the following comments, do you had any discussion about this, do i need to wait for any response from your side or i just leave this.....



[29-03-2018@09.55.38(IST)]
Dear,

Can any one give reply on my following comments....

[28-03-2018@09.49.31(IST)]
Dear All,

Thanks for your update on our Easter Tournament...

In that i have seen only 8 teams for this tournament, since we can understand that this tribute to cyclone victims.

Here i am suggesting an information that, if we planned to conduct the match like this, obviously the match will gets wind up as much before evening. But don't allow the police to give an information for conducting the same matches coming year since it's going to finish early.

If the police or any other people says that, we have to follow the same for every year then that will be the problem for us. so for this year we can conduct a match like this but from the next year on wards the tournament should go as like earlier tournament.

I hope you all understand what i am trying to say and if anyone have any suggestion on this you can put your comments as well

[27-03-2018@22.23.17(IST)]
Best wishes for successful tournament

Policy on visitor comments...
Thoothoor.com visitors can post comments on delegate messages, articles, etc. Such comments are individual's personal view or feedback on that subject, and hence they need not be true or correct.
While adding a comment, please use only presentable words. Also do use your own name. If you want to hide your identity, you can use Guest as your name. Never use personally abusing words in the comments.
Visitor comments are reviewed by Delegate Administrators to verify its acceptableness in general.
Visitor comments are not the the view of Thoothoor.com. If you find any problematic comment, please report them to us immediately with specific details. We will act on such concerns in a timely manner.
For Thoothoor.com Terms of Usage, please check the 'Helps' page.


St.Thomas Community Hall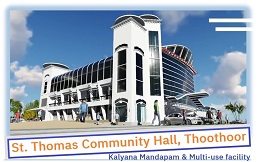 Parishes in Thoothoor Forane



Our Location Map