Delegate Message
NLT launched Talent Platform and Arts Platform

Back

-


Added @ 03-03-2018@18.10.05(IST)


Nethaji Library Thoothoor has launched another milestone initiate called 'Talent Platform' and 'Arts Platform'. Talent platform is a platform for inventions and start-up ideas where students and youngsters can demonstrate their creativity. Arts Platform is a platform for all type of art skills such as drawings, poems, photography, and so on. These platforms are open for anybody from any place, and interested people can approach the NLT office for the same. This is inaugurated by NLT President Mr Marlin Manto on 2nd March 2018. Sweets were distributed, and people gathered there have expressed their appreciation for this initiate.

The first creativity that is displayed in the Talent Platform is a full functioning Hydro Electric Power Plant by Benish J. In this plant, electricity is created from water and used for lighting the indicator light and the demo movements. People saw the entire process of how electricity is being created from water. Benish is a final year BE Mechanical Engineering student, and is son of Mr. Jesudhasan (Dhasayyan) and Mrs. Tharsilamma from Thoothoor.

The Arts Platform is featured with content from 3 demonstrators Rejala Mol (pencil drawing), Marshal Titto (pencil drawing), and Zerack Nitto (poem). Rejana Mol is also preparing to break an earlier record in pencil drawing and enter World Guinness record. Marshal Titto is a well known youth for his earlier Ockhi drawing for a theme 'Save Our Fishermen'. Zerack Nitto is an emerging poem writer and is also coming up a with Short Story book soon.

Visit the below link for the photos.

URL-1: http://www.thoothoor.com/v5/ViewAlbum.asp?album=NLT_TalentPlatfor .....

Rate this message!


Visitor Comment is DISABLED for this

The reason could be one of the following

This owner(s) do not want to yield any visitor comment.
The comments for this may be collected in a different section or forum
This does not require any further visitor comments.




Comment/Feedback on this Delegate Message
* You are the first person to post a comment for this Delegate Message, thank you.


Policy on visitor comments...
Thoothoor.com visitors can post comments on delegate messages, articles, etc. Such comments are individual's personal view or feedback on that subject, and hence they need not be true or correct.
While adding a comment, please use only presentable words. Also do use your own name. If you want to hide your identity, you can use Guest as your name. Never use personally abusing words in the comments.
Visitor comments are reviewed by Delegate Administrators to verify its acceptableness in general.
Visitor comments are not the the view of Thoothoor.com. If you find any problematic comment, please report them to us immediately with specific details. We will act on such concerns in a timely manner.
For Thoothoor.com Terms of Usage, please check the 'Helps' page.


St.Thomas Community Hall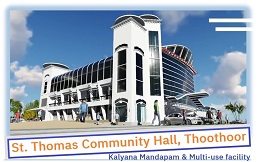 Parishes in Thoothoor Forane





Our Location Map