Delegate Message
NLT announced it's new Golden Membership plan

-


Added @ 23-01-2018@12.42.42(IST)




Last Updated @ 13-03-2018@14.30.30(IST)

NLT paid homage to Netaji on his 121st Birth Anniversary by hoisting the national flag in a simple function. On this day, NLT also announced its new Golden Membership plan starting 2018. Golden Membership is a new membership type introduced in addition to the existing Regular Membership. Golden Membership will be treated as a channel by which well-wishers across the globe can support NLT services by paying an annual subscription. The details of the Golden Membership are given below

Anybody from Thoothoor or married in Thoothoor can become a Golden Member of NLT by filling the registration form and paying the first-year subscription
Annual Subscription for Golden Member is Rs 1000/-
Registration as a Golden Member can be done in person during the office hours or by sending the registration form to NLT (Registration form and details are given in URL below)
Subscription amount should be paid before 31st Dec of every year. Payment can be made in person or by online bank transfer to NLT bank account
Golden members will enjoy the following additional benefits

A specially designed photo id card and vehicle sticker
A Plaque of Honour. This plaque is specially designed and can be easily enriched after each year subscription renewal by sticking the given year label
Golden Members Meet will be conducted once in a year during the Christmas season. Proposed suggestions (Golden Suggestions) in this meet will be handed over to the NLT executives for presenting it in the general meetings and take appropriate action
The list of Golden Members for the year will be published in Netaji Library

NLT invites all well-wishers to cooperate with this initiate and join as the Golden Member. Registration Form and all required details are given below (Both DOC and PDF formats for convenience). NLT also thanks Thoothoor.COM for its idea hunt event that helped them to come up with this new membership plan (Check IDEA-43 in the Idea Bank - click here).

URL-2: http://www.thoothoor.com/v5/dLoads/NLT/NLT_GMReg_F .....
URL-3: http://www.thoothoor.com/v5/dLoads/NLT/NLT_GMReg_F .....

Rate this message!


Visitor Comment is DISABLED for this

The reason could be one of the following

This owner(s) do not want to yield any visitor comment.
The comments for this may be collected in a different section or forum
This does not require any further visitor comments.




Comment/Feedback on this Delegate Message

[14-03-2018@23.26.53(IST)]
Hope this Golden membership enrich the quality of service of NLT.

[23-01-2018@18.57.04(IST)]
Very Good Initiative. Please analyze the pros and cons for golden members from other villages of thoothoor forane.

Policy on visitor comments...
Thoothoor.com visitors can post comments on delegate messages, articles, etc. Such comments are individual's personal view or feedback on that subject, and hence they need not be true or correct.
While adding a comment, please use only presentable words. Also do use your own name. If you want to hide your identity, you can use Guest as your name. Never use personally abusing words in the comments.
Visitor comments are reviewed by Delegate Administrators to verify its acceptableness in general.
Visitor comments are not the the view of Thoothoor.com. If you find any problematic comment, please report them to us immediately with specific details. We will act on such concerns in a timely manner.
For Thoothoor.com Terms of Usage, please check the 'Helps' page.


St.Thomas Community Hall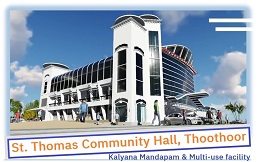 Parishes in Thoothoor Forane



Our Location Map