Delegate Message
TFFA Conducted its 1st Players Get-together Program

Back

-


Added @ 24-10-2017@19.54.39(IST)

Thoothoor Federated Football Academy (TFFA) has conducted its 1st player's get-together program on Wednesday 18th October 2017 at YEAR OF MERCY HALL in Thoothoor Forane House. Thoothoor Forane vicariate vicar Rev.Fr. Andrews Kosmos preside the Get-together program. Tamilnadu Cricket Player Mr. Anthony Das has been invited as a Special Guest and delivered motivational speech to the players for the hard work he applied in his successful cricket career. TFFA Discipline Director Mr. Sebash Carmel addressed to the players for The Growing Opportunities in Football as a Profession. NLT President Mr. Merlin Mento spoke to the gathering and mentioned the supports TFFA can provide to the aspiring youngsters.

Special gifts were distributed to all the TFFA players which was received from FIFA WORLD CUP - MISSION XI MILLION program coordinator to all TFFA players. TFFA Vice President Mr.Raegan Albernas (Tamilnadu Football Team captain), TFFA Secretory Mr.Dayrvin, TFFA Coaches and all 57 TFFA players were attended this program. The participants said, it was a great program to learn more about football profession. TFFA executives expressed their happiness about the success of the player's get-together program. Please see the program photos at URL 1.





URL-1: http://www.thoothoor.com/v5/ViewAlbum.asp?album=tffa_1stplayersme .....

Rate this message!


Visitor Comment is DISABLED for this

The reason could be one of the following

This owner(s) do not want to yield any visitor comment.
The comments for this may be collected in a different section or forum
This does not require any further visitor comments.




Comment/Feedback on this Delegate Message
* You are the first person to post a comment for this Delegate Message, thank you.


Policy on visitor comments...
Thoothoor.com visitors can post comments on delegate messages, articles, etc. Such comments are individual's personal view or feedback on that subject, and hence they need not be true or correct.
While adding a comment, please use only presentable words. Also do use your own name. If you want to hide your identity, you can use Guest as your name. Never use personally abusing words in the comments.
Visitor comments are reviewed by Delegate Administrators to verify its acceptableness in general.
Visitor comments are not the the view of Thoothoor.com. If you find any problematic comment, please report them to us immediately with specific details. We will act on such concerns in a timely manner.
For Thoothoor.com Terms of Usage, please check the 'Helps' page.


St.Thomas Community Hall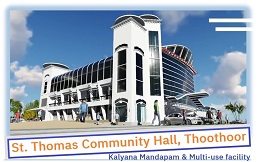 Parishes in Thoothoor Forane


Our Location Map