Delegate Message
Nethaji Hub across Thoothoor with automated services

Back

-


Added @ 03-08-2017@10.31.00(IST)

Nethaji Library Thoothoor has deployed Nethaji Hubs across different locations in Thoothoor. Nethaji Hub currently has two automated services such as purified drinking water and mobile charging terminals. The Hub is designed with a vision to add more beneficial services such as wifi and so on in future.

The Hubs are installed in four locations such as Ice Plant junction (Water&Electricity support by Jose Bilbin's House), Thoothoor Bus-stand (Water&Electricity support by NLT), Community Hall junction (Water&Electricity support by Sijin's House), and Govt Hospital junction (Water&Electricity support by Cruze's House). The four water filter units that were used in the Hubs are sponsored by Anil Jesudhas, Sijin – Bethal Cool Bar, USA Friends, and Good Shepherd Friends.

People from Thoothoor and other places expressed their utmost gratitude and appreciation to NLT for undertaking such an innovative service for the people. Total money spent on this is Rs 80,000/-. NLT would like to implement similar type of innovative and needful project. Your feedbacks are our strength, please register your feedback in the comment area or mail your feedback to the NLT email id below. Visit the below link for more photos.

Email-1: (Note: Email-id displayed here is script protected from web crawl programs)
URL-1: http://www.thoothoor.com/v5/ViewAlbumV2.asp?album= .....

Rate this message!


Visitor Comment is DISABLED for this

The reason could be one of the following

This owner(s) do not want to yield any visitor comment.
The comments for this may be collected in a different section or forum
This does not require any further visitor comments.




Comment/Feedback on this Delegate Message

[06-08-2017@16.44.33(IST)]
It is very good initiative from NLT. Thank you all involved in this project.

As stated in the information note to look for good initiative, I would like to bring every Thoothoorians attention that the situation of our native is very bad in terms of cleanliness. The amount of waste accumulating day by day is a serious threat to everyone. There are lot possibilities of contagious diseases due to this waste accumulation which may even affect our all future generation. I would request, rather urge NLT to take a leading part to initiate this noble cause (waste management) in coordinating with government local bodies and private sponsors.

Thank you

J.Babu

[05-08-2017@15.03.54(IST)]
Very good and Thank you Good Samaritans

[05-08-2017@09.54.13(IST)]
Dear All,

This is such a great effort and i thankful for the ideas which has brought up by the team and for the sponsors which make our village as proud.............

[03-08-2017@18.50.30(IST)]
Great Effort :-)

Hope to see many innovative ideas in our village and be a role model.

[03-08-2017@11.34.16(IST)]
Waste management is very essential now. Please come up with Ideas.

Thank you

Regards
J.Babu


Policy on visitor comments...
Thoothoor.com visitors can post comments on delegate messages, articles, etc. Such comments are individual's personal view or feedback on that subject, and hence they need not be true or correct.
While adding a comment, please use only presentable words. Also do use your own name. If you want to hide your identity, you can use Guest as your name. Never use personally abusing words in the comments.
Visitor comments are reviewed by Delegate Administrators to verify its acceptableness in general.
Visitor comments are not the the view of Thoothoor.com. If you find any problematic comment, please report them to us immediately with specific details. We will act on such concerns in a timely manner.
For Thoothoor.com Terms of Usage, please check the 'Helps' page.


St.Thomas Community Hall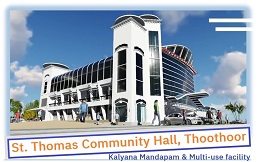 Parishes in Thoothoor Forane




Our Location Map