Delegate Message
KFDS joined hand with NLT to enhance the library services

Back

-


Added @ 08-07-2017@19.49.18(IST)




Last Updated @ 10-07-2017@16.59.01(IST)

KFDS (Kaniyam Fishermen Development Society) extended supports for many of the NLT (Nethaji Library Thoothoor) operations in which 3 of them are very significant. KFDS has offered to pay the salary for a librarian for life time. Apart from this, KFDS has donated Rs 50000/- to enhance the book bank collections and further donated a Book Rack at the cost of Rs 7000/-. These supports from KFDS will surely take the library services to the next level, because having an employed librarian will help standardizing all the library services especially the book bank service. NLT extends wholehearted thanks to all members of KFDS.

It is noteworthy that many organizations are coming forward to work with Nethaji library such as QTC (life time electricity bill), and TWA (In collaboration with QTC for implementing wifi project ). NLT also welcomes other similar minded organisations and people to join hand to fulfill other social/welfare plans and thoughts in pipeline.


Rate this message!


Visitor Comment is DISABLED for this

The reason could be one of the following

This owner(s) do not want to yield any visitor comment.
The comments for this may be collected in a different section or forum
This does not require any further visitor comments.




Comment/Feedback on this Delegate Message

[09-07-2017@15.24.28(IST)]
Great job done by KFDS. It will help a tremendous changes in our society soon.
Hope on other associations will join hand with NLT to look forward it's future vision.
More over, appreciate ITPET as it has similar vision to motivate the education related aspects.

Policy on visitor comments...
Thoothoor.com visitors can post comments on delegate messages, articles, etc. Such comments are individual's personal view or feedback on that subject, and hence they need not be true or correct.
While adding a comment, please use only presentable words. Also do use your own name. If you want to hide your identity, you can use Guest as your name. Never use personally abusing words in the comments.
Visitor comments are reviewed by Delegate Administrators to verify its acceptableness in general.
Visitor comments are not the the view of Thoothoor.com. If you find any problematic comment, please report them to us immediately with specific details. We will act on such concerns in a timely manner.
For Thoothoor.com Terms of Usage, please check the 'Helps' page.


St.Thomas Community Hall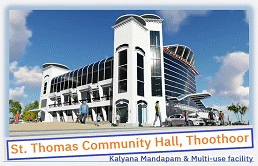 Parishes in Thoothoor Forane





Our Location Map