Delegate Message
VOTE OF THANKS from the Heart of NLT

Back

-


Added @ 17-04-2017@17.27.11(IST)




Last Updated @ 18-04-2017@06.48.18(IST)

Netaji Library Thoothoor takes pride in announcing that the 26th One Day Football Tournament was very successful with people's support and the spirit. NLT would not have achieved this without every single support we received. Thank you ONE and ALL.

Thanks to NLT members and well-wishes who worked hard in the last few weeks to make all the arrangements for the tournament. Special thanks to all our team sponsors, cash award sponsors, all special item sponsors, and cash contributors for contributing generously for the tournament. Thanks to Thoothoor parish committee, parish priests, and parishioners for all cooperation.

Thanks to all our beloved guests and the chief guest for making our tournament more meaningful. Thanks to the Police who gave us full support till the end to conduct the Tournament peacefully.

Thanks to all football players of Netaji teams, all participated teams, and the football fans, special thanks to Netaji Future Heroes (C team) for winning the tournament title by demonstrating good game.

Last but not least, thanks to the tournament committee and NLT office bearers for their time and commitment. Special thanks to the convenor Mr.T.Cyrus and his team for the commitment shown in conducting the tournament.

- Secretary, NLT


| | | |
| --- | --- | --- |
| Rate this message! | | |

Comment/Feedback on this Delegate Message

[24-04-2017@14.42.12(IST)]
It is very appreciable and innovative, the way in which every year NLT is conducting One day football tournament along with Thoothoor.com. Here i personally congratulate and thank every member of NLT and administrators of Thoothoor.com in proving your unity and our community spirit. Hope, this would be continued in the following years very successfully with grace of our Almighty.

[19-04-2017@15.15.17(IST)]
dear shyjin ,thank you for your wishes and encouragement , your suggestion about tamilnadu teams will be considered for the forthcoming tournament.May God bless you

[17-04-2017@21.28.47(IST)]
Dear All,

Congratulation for every one to make this event in a successful way and we are very happy to see the continuous successful journey for the last 26 years. Hope that the same team spirit and the effort of every one from NLT team will the make the same success in the forthcoming years..

Yesterday we have seen the video of the entire match and thanks for the live telecast.

I have a suggestion on the same - from next year team sponsors can also give some concentration towards team from Tamil Nadu, and we have good teams in our state, then that will also be a great.....

Once again congratulation and thank you all........


St.Thomas Community Hall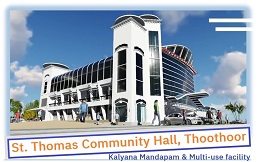 Parishes in Thoothoor Forane




Our Location Map