Delegate Message
Silver Jubilee year of NLT's Current Location

Back

-


Added @ 13-03-2017@20.18.08(IST)

Netaji Library Thoothoor kick started the silver jubilee year- building- celebrations of NLT's current location. On 13-03-1983, NLT reached 25th year. So NLT decided to relocate and construct the new building as the symbol of silver jubilee . Then parish priest of Thoothoor Fr.Peter Borgia inaugurated the new NLT building in the current location which was earlier functioning from other location-now it is old library street just 100 mtrs north west from current location. Senior NLT well-wishers recall the struggle they underwent in relocating NLT to its current location in which Fr. Borgia stood very supportive. Visit URL-1 for the photos from the sweet memories.

For NLT well-wishers, every single milestone of NLT is very important and adorable. Today, 13-03-2017, NLT remembering the work and sacrifices of our well wishers did on 13/03/1983 celebrated it by putting the announcement as a flex board and distributing sweets. Some photos of these activities in URL-2. NLT heartfully thank all those senior NLTians for their best work in building NLT as a symbol of our unity and a proud entity of Thoothoor!

URL-1: http://www.thoothoor.com/v5/ViewAlbumV2.asp?album= .....
URL-2: http://www.thoothoor.com/v5/ViewAlbum.asp?album=NL .....

Rate this message!


Visitor Comment is DISABLED for this

The reason could be one of the following

This owner(s) do not want to yield any visitor comment.
The comments for this may be collected in a different section or forum
This does not require any further visitor comments.




Comment/Feedback on this Delegate Message
* You are the first person to post a comment for this Delegate Message, thank you.


Policy on visitor comments...
Thoothoor.com visitors can post comments on delegate messages, articles, etc. Such comments are individual's personal view or feedback on that subject, and hence they need not be true or correct.
While adding a comment, please use only presentable words. Also do use your own name. If you want to hide your identity, you can use Guest as your name. Never use personally abusing words in the comments.
Visitor comments are reviewed by Delegate Administrators to verify its acceptableness in general.
Visitor comments are not the the view of Thoothoor.com. If you find any problematic comment, please report them to us immediately with specific details. We will act on such concerns in a timely manner.
For Thoothoor.com Terms of Usage, please check the 'Helps' page.


St.Thomas Community Hall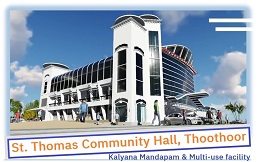 Parishes in Thoothoor Forane




Our Location Map