Delegate Message
Anti Intoxicants Movement (AIM) in ACTION!

Back

-


Added @ 28-01-2017@16.55.11(IST)

It is very shocking and disturbing to know the fact that usage of drugs in our coastal villages is significantly raising in the recent days. With the information available from various sources we can clearly understand that a countable number of youngsters from our region in the age range of 15 to 25 are connected to the drugs supply network and they are constantly consuming various forms of drugs. Now it is our community's responsibility to stop this before this network grows further and along with this find ways to rescue those who are already fallen to this disastrous practice. With this mission in mind, a team of responsible personals from our region has formed a movement named AIM (Anti Intoxicants Movement). Visit URL-1 to read an introductory note in tamil about AIM from Sagar (Erayumanthurai), the president of AIM. AIM has already released a documentary video titled 'BOTHAI ETHARKKU' (URL-4) to create awareness on this subject.

On republic day, 26th Jan 2017, an awareness bike ride was carried out by an AIM volunteer Mr. Rahul Vijo Vin (S/O Mr. Josepath) from Thoothoor. This awareness trip started from Neerodi at 7.30 AM where Neerodi parish priest Fr.Lucian blessed and flagged the travel. Rahul traveled through Neerodi, Thoothoor, Erayunmanthurai, Puthukkadai, Mulloorthurai, Enayam, Colechel, Muttom, Kovalam, and finally concluded his awareness travel at Gandhi Mandapam in Kanyakumari. During the travel, Rahul stopped at various locations to distribute an Awareness Notice (Notice copy in URL-2) and to collect public opinion on this matter. Later, Rahul said that there were unexpected supports for this cause from various parts of our coastal villages. Many people have alarmed that this problem slightly or moderately exists in their locality as well and urged AIM to spread their services to their locality. Visit URL-3 for the photos of the awareness bike ride.

Thoothoor.com wishes all success to AIM's mission. NLT planted a flex board and congratulated the awareness bike ride (photo in URL-3). AIM can be contacted by the phone number 9488705027.

URL-1: AIM – Introductory Note From Sagar, the President
URL-2: AIM Notice Copy – Awareness Bike Ride 26 JAN 2017
URL-3: Photos of the Awareness Bike Ride
URL-4: 'BOTHAI ETHARKKU' – documentary video by AIM


Rate this message!


Visitor Comment is DISABLED for this

The reason could be one of the following

This owner(s) do not want to yield any visitor comment.
The comments for this may be collected in a different section or forum
This does not require any further visitor comments.




Comment/Feedback on this Delegate Message

[01-02-2017@18.15.03(IST)]
So matter serious? I read some message some months back. Now matter in thoothoor.com so matter serious. Kudos to Sagar and all for initiate this matter and action . please this is very important.

[31-01-2017@00.43.37(IST)]
Action has taken late.But good initiate for our generation.

[30-01-2017@18.24.30(IST)]
This shocking news that people addicted for multiple types for drugs.

Policy on visitor comments...
Thoothoor.com visitors can post comments on delegate messages, articles, etc. Such comments are individual's personal view or feedback on that subject, and hence they need not be true or correct.
While adding a comment, please use only presentable words. Also do use your own name. If you want to hide your identity, you can use Guest as your name. Never use personally abusing words in the comments.
Visitor comments are reviewed by Delegate Administrators to verify its acceptableness in general.
Visitor comments are not the the view of Thoothoor.com. If you find any problematic comment, please report them to us immediately with specific details. We will act on such concerns in a timely manner.
For Thoothoor.com Terms of Usage, please check the 'Helps' page.


St.Thomas Community Hall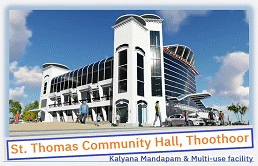 Parishes in Thoothoor Forane





Our Location Map