Delegate Message
NLT's Silver Jubilee Tournament'2016 - Logo Designing and Slogan Writing Contest

Back

-


Added @ 07-02-2016@22.42.53(IST)

The 2016 One Day Football Tournament of NLT will be the 25th Silver Jubilee One Day Tournament, and efforts are being taken by NLT to celebrate this as a greatest event. As part of this, NLT in association with Thoothoor.com is conducting a Logo Designing and Slogan Writing competition.

The winning Logo and Slogan will be used by NLT. During the tournament, the top 10 slogans and selected logos will also be presented in a flex board along with the creator's photo. The winners will be given trophies and cash award that is sponsored by a Thoothoor.com well-wisher.

Check the below banner for other details. Visit URL-1 to view this Banner in bigger size.





URL-1: http://www.thoothoor.com/v5/ViewAlbumV2.asp?album=misc&pic=NLT_To .....

Rate this message!


Visitor Comment is DISABLED for this

The reason could be one of the following

This owner(s) do not want to yield any visitor comment.
The comments for this may be collected in a different section or forum
This does not require any further visitor comments.




Comment/Feedback on this Delegate Message

[21-02-2016@19.58.44(IST)]
7 players, 1 heartbeat

[21-02-2016@19.34.45(IST)]
Small town,Big Dreams

[20-02-2016@18.33.52(IST)]
Talk with your feet, play with your heart

[20-02-2016@18.39.15(IST)]
Talent wins games , Teamwork wins championships

[14-02-2016@12.23.05(IST)]
An update:
We have received more than 10 logo and slogan entries so far. We have time until 22nd, ie 8 more days. Please participate in maximum.

[08-02-2016@07.12.38(IST)]
One team one dream, lets cheer for the silver jubilee of our soccer family from Thoothoor.

Policy on visitor comments...
Thoothoor.com visitors can post comments on delegate messages, articles, etc. Such comments are individual's personal view or feedback on that subject, and hence they need not be true or correct.
While adding a comment, please use only presentable words. Also do use your own name. If you want to hide your identity, you can use Guest as your name. Never use personally abusing words in the comments.
Visitor comments are reviewed by Delegate Administrators to verify its acceptableness in general.
Visitor comments are not the the view of Thoothoor.com. If you find any problematic comment, please report them to us immediately with specific details. We will act on such concerns in a timely manner.
For Thoothoor.com Terms of Usage, please check the 'Helps' page.


St.Thomas Community Hall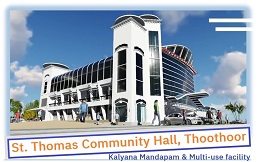 Parishes in Thoothoor Forane




Our Location Map