Delegate Message
Thoothoor Fest 2015

Back

-


Added @ 5-12-2015:16.20.48(IST)

Thoothoor parish is preparing to mark this Christmas a memorable affair. The reason this year is special because the golden days of Christmas celebration alongside the beach is back. Yes, our wide beach is back !. As announced in Tamilnadu state assembly in August 2014, new fish landing strips have been constructed in Thoothoor, which helped our beach to regain its old space and beauty.

To celebrate this beauty, Thoothoor parish has planned 3 days of celebration in Thoothoor beach on 28th, 29th, and 30th of December with various traditional games and fun. Some funs planned are Manal Sirpam, Mattai Panthu, Paanai Udaithal, Goli Vilayattu, Chutti Kambu, Swimming, Maram Thozhuthal and so on. Around 20 such traditional and other games have been identified for male and female. Each day will be concluded with various arts performance in the stage.

This celebration is named as 'Thoothor Fest 2015' and a logo of this event is released by Fr.Dyson, Thoothoor Vicariate Vicar. The Fest will be collectively organised by Thoothoor Parish Committee, Netaji Library, TFCYM, Jesus Youth, Baktha Sabai, Catechism Teachers, and other well wishers. Visit the link for few photos of the beach.

URL-1: http://www.thoothoor.com/v5/ViewAlbum.asp?album=Th .....

Rate this message!


Visitor Comment is DISABLED for this

The reason could be one of the following

This owner(s) do not want to yield any visitor comment.
The comments for this may be collected in a different section or forum
This does not require any further visitor comments.




Comment/Feedback on this Delegate Message

[31-12-2015:5.39.21(IST)]
After the fest 2015, please do not make the beach as a bar & restaurant. Request Thoothoor committee to take interest to our beach clean & neat.

[30-12-2015:12.9.24(IST)]
UPLOAD THE THOOTHOOR FEST 2015 PHOTOS AND VIDEO.

[29-12-2015:13.44.47(IST)]
keep our beach clean & neat for our genarations.

[28-12-2015:14.37.49(IST)]
As one of the member in the organising team, i want to share the detailed information about the program. As remembering the previous year misbehaviors, by some people, the organising team does not want to make the same problem again before Christmas. So we make the program after christmas with a peaceful mind. After christmas time every people must need some rest for a day. So we can't make it to 26th december. As we know 27th dec is a Sunday. The sunday contains 3 masses in our region. So we cant able to make the program on 27th dec. so we preffered the next 3 days. We know about our people, the peoples does not leave our village after christmas. Many peoples celebrate New year function and then only they can leave. by considering for the students, we again mention the program is just only for the 35+ aged. And by the new order that we received from the new S.P the THOOTHOOR FEST - 15 has been reduced for 2 days on 29th and 30th December. We are saying our deepest sorry for those who waited for this program... And we sure you the program make a deep change in our region....


THANKING YOU:-)

[16-12-2015:12.51.17(IST)]
People working from various city(Chennai,bangalore etc) are not available till 30th.

Can some one pass the information to the organisers.so that they can post pone the program dates if possible.

[16-12-2015:12.49.16(IST)]
it would me much greate ful if the program dates are preponed(26,27,28).please consider this and do the needful.so that every one from our village can attend and njoy the fest.

[7-12-2015:22.0.23(IST)]
added Again a Diamond stone in the Crown of Thoothoor. Congrats...
We got our Beach Back... Good.
How we are going to save the beach and it Beauty is a million Dollar Question?
We are enjoying the beach keep it for our kids and neighbors...
A Humble request for the organizers,Please lay a step for keep Clean and Neat THOOTHOOR Beach...

[7-12-2015:10.19.46(IST)]
Very good initiative.

[5-12-2015:22.13.21(IST)]
wow it is wonderful but I am not agree to held on 28th(Monday),29th(Tuesday) and 30th(Wednesday). On those days all the students who are studying out side of thoothoor and thoothoor people who are working outside .I mean chennai,bangalore and other district and states. All thoothor students and worker will come to thoothoor for Christmas celebration then they will go back join on 28th. Then why dont you plan to cover at lest on Saturday and Sunday then we can participate two days know. All are our bothers and sister only in thoothoor . So I request you to please just think about it and do our needful.
Here I didn�t mention about who are working in abroad cause if they come to thoothoor for Christmas celebration most of them get more than 10 days. So might not be affect them if they come.

[5-12-2015:15.40.5(IST)]
No words to compliment the Organizers,

Policy on visitor comments...
Thoothoor.com visitors can post comments on delegate messages, articles, etc. Such comments are individual's personal view or feedback on that subject, and hence they need not be true or correct.
While adding a comment, please use only presentable words. Also do use your own name. If you want to hide your identity, you can use Guest as your name. Never use personally abusing words in the comments.
Visitor comments are reviewed by Delegate Administrators to verify its acceptableness in general.
Visitor comments are not the the view of Thoothoor.com. If you find any problematic comment, please report them to us immediately with specific details. We will act on such concerns in a timely manner.
For Thoothoor.com Terms of Usage, please check the 'Helps' page.


St.Thomas Community Hall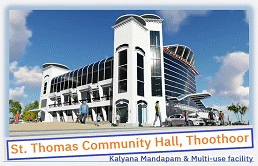 Parishes in Thoothoor Forane


Our Location Map