Delegate Message
KFDS Meeting Report (Resolution regarding the BEST TEACHER AWARD)

-


Added @ 11-11-2015:21.18.16(IST)

As planned earlier, KFDS (Kaniyam Fishermen Development Society) had conducted a meeting in the month of June to discuss the Best Teacher Award. Now after multiple discussions, KFDS has come to final stage of announcing the resolution regarding this. Please check the below meeting report attached.

URL-1: http://www.thoothoor.com/v5/dLoads/KFDS Report_16J .....

| | | |
| --- | --- | --- |
| Rate this message! | | |

Comment/Feedback on this Delegate Message

[8-12-2015:21.39.54(IST)]
Sirs
I would like to express my thoughts into this new phenomenon of decreasing enrollment and the English Education in our school. Having studied in the so called 'B' section, I give my personal experience and an alternate solution to this problem.
We the English medium students face/d discrimination not only from the fellow students of other sections but also from some teachers. We were treated as some aliens from outer planets and the small mistakes committed by us were extrapolated into grave crimes. Being in the minority, we had no avenue to express our grievances. I remember one of our teachers once told us, 'But for your top scores in the board exam, English medium would have been scrapped by now'. This English medium-non english medium divide has indeed created a fear factor about English among the non English medium students.
Added to this, I am sorry to say that 'English' was not taught as a language but as a 'subject' by teachers of all streams(Botany, Zoology, Science, Physical education...)except English. Nevertheless I wouldn't have been writing this had I not been groomed well. My heartful gratitude to all my teachers.
Coming back to the issue, Lets relook into the utility of Tamil medium in this contemporary era of globalised world?. Yes, I do agree the importance of mother tongue in value inculcation and better cognitive processing. But learning the Western knowledge of Gravitational theories and Genetic models in Tamil vocabulary ? The core of the subject matter would have been lost in the translation. The contemporary advancements in science are available in the Global language. Moreover from the utilitarian perspective, it is the English medium learning of Mathematics and Science that would do more good than the other. For example in their higher education which include Plus two and graduation. I personally think the below average performance in plus 2 when compared to SSLC can largely be attributed to this factor. i.e building fundamentals of science in Tamil during their formative years and learning Relativity and Biotechnology in English in their higher studies. Are we really preparing the students to have a bright future ? There are/were some bright spots here and there. But they are the exceptions and not the norm.
If we look into the arrear backlogs of our young engineering students, we would realise how difficult it was for them to cope with rigours of engineering. That doesnt mean that people who studied in English medium dont keep arrears and non English medium students are the failures. My point is Why dont we slowly shift to All English medium or a single section for Tamil and majority English which could help them in competing in a level playing field.i.e not spending much time in translation of thought process. This will create an ecosystem for better learning experience which 'Other' schools provide.
This is not the short term solution. This has to start from the 'Primary school'. Lets have a collaboration with that school and start the experiment so that within 4/5 years we could introduce the same in our school. These are simply my thoughts. Critical comments are welcome.

[6-12-2015:13.47.47(IST)]
Dear Well Wishers,
Gone are the days when the class rooms of Pius XI HSS Thoothoor overflowed with students. Nowadays, with fewer students, there is apprehension among the teachers about their future. It is pity to hear that only about sixty students joined for class VI this year. Number of students is getting decreased year by year. There are numerous reasons for this sorry state of affairs. The emergence of new English speaking schools in the neighborhood, the up gradation of a few already existing ones etc. are attributed to be major factors. In this critical juncture, the policy framers of our school must pay particular attention, at least, to regain the glory, the school is understood to have possessed once upon a time. Dedication, unselfishness, sincerity, punctuality, respect for elders, love towards the community etc are the civic virtues that the teachers of modern world are ought to possess to save today's student community. Why should students belonging to Thoothoor region prefer other English schools to Thoothoor School? Is it because of fascination towards English language? Don't we find fluent English speakers to teach English medium sections from our locality? Why can't the existing English medium in the same school be made effective? Are there any barriers with such teachers to stick to respective language and culture? Are there no effective mechanisms to control the unruly? Let us analyse the factors that are in the way of its progress. But for the school, our community would not have reached to its present height. It's high time, the Alumnus honour the teachers for the yeomen service they rendered for the betterment of the community.
The BEST TEACHER award, as mentioned by Mr.Espin of Chinnathurai, is an incentive and would never be a stumbling block to its growth. This is the beginning. Like KFDS Thoothoor, the well wishers belonging to different organizations can chalk out similar plans and programmes so that the views of the management are better revealed.

[2-12-2015:23.38.21(IST)]
The best quality of teaching does not come only from multi-storyed buildings, air-conditioned class rooms, sophisticated laboratories and a huge library with millions of books but from best and great teachers(Dr. Abdul kalam). In terms of business, the smartest sales men only can find the most valuable customers. Like that, the best teachers only can create the best students. Subsequently, more students will be attracted towards the school and enrolment can be increased year by year. Therefore, awarding of the best teachers at Pius XI Higher Secondary School is a system, programme, method or an instrument for improving the quality of teachers through identifying, appreciating and recognizing the teachers every year in the label of the best teachers by the school management with the support of an active Headmaster as well as co operative teachers and a sponsorship from the generous members of KFDS, Thoothoor. Moreover, it is not a financial aid or grant for a teacher but a motivation and encouragement for converting ordinary teacher to extra ordinary and a good teacher to become the best teacher. Therefore, gradually and eventually every sincere and dedicated teacher can try to get this prestigious award by showing outstanding performance. Moreover, the success of this marvelous effort is mainly depending on courage and commitment of school management including correspondent and managers for the betterment of future generation in the community.

[20-11-2015:22.52.33(IST)]
Please accept my congratulations for KFDS considering the suggestions on non-members and coming to a framework for awarding the best teacher awards. This is a very good example of accomplishing something with community support. I hope other non-profit groups follow the example set by KFDS.

[16-11-2015:10.27.5(IST)]
I strongly believe that the award can motivate and encourage the teachers to perform well, quality of the education can be improved further and also our community can become more responsible for the improvement of the school. My hearty wishes and sincere prayer for the grand success of this progressive and positive effort with a constructive purpose.
Results
Sarkari Naukri
Latest Notifications
Bank Jobs
Railway jobs

[15-11-2015:16.54.9(IST)]
Dear Mr.Espin sir,
Thank you very much for your sense of optimism.Your comments on each and every constructive programme deserve my praises and appreciation.Your eagerness to witness the elevation of the fishermen community to attain the zenith of its glory is well understood from your writings which appear very often in Thoothoor.com. Well done! Mr. Espin.

[12-11-2015:12.55.25(IST)]
I personally congratulate and thank each and every member of KFDS for being a sponsor to award the best teacher from our school. Really it can be a memorable milestone in the development of the school and a journey to identify, appreciate and recognize the best teacher every year. I strongly believe that the award can motivate and encourage the teachers to perform well, quality of the education can be improved further and also our community can become more responsible for the improvement of the school. My hearty wishes and sincere prayer for the grand success of this progressive and positive effort with a constructive purpose.

Thank you all . . . for your suggestions on the "what-next" evolution of the website!

WaTCH THiS SPaCe!


What is New in Thoothoor.COM?
Thoothoor Parish page is updated !

ENLARGE GO


St.Thomas Community Hall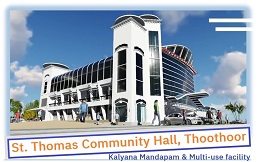 Parishes in Thoothoor Forane





Our Location Map