Delegate Message
ITPET Awards '2015 Announcements

Back

-


Added @ 2-7-2015:18.3.43(IST)

ITPET (IT Professionals and Engineers of Thoothoor) is giving academic awards for academic achievers at Thoothoor and Thoothoor forane level every year. These awards are distributed during St. Thomas feast mass on St. Thomas Day (July 3rd) . The list of shortlisted awardee's for ITPET Awards '2015 are given below.

ITPET Awards '2015
Award Title
Award Winner
Parents
Mark
Native
HSC 1st-Thoothoor Level
Ms.Joshiny Indhira
Mr.Jermans & Mrs Muthamma
1042/1200
Thoothoor
HSC 2nd-Thoothoor Level
Ms.Smarna
Mr.Sunil & Mrs.Sheeja
982/1200
Thoothoor
SSLC 1st-Thoothoor Level
Ms.Jenifer Mary Joseph
Mr.Mary Joseph & Mrs.Sarala
487/500
Thoothoor
SSLC 2nd-Thoothoor Level
Ms.Selciya Nayagam
Mr.Micheal Nayagam & Mrs.Akila
469/500
Thoothoor
HSC 1st-Forane Level
Mr.Jaxter P Jufflin
Mr.Paniadimai & Mrs.Rexalin Mary
1145/1200
Chinnathurai
SSLC 1st-Forane Level
Ms.Fridolin
Mr.Freddy & Mrs.Suja
495/500
Chinnathurai
SSLC 1st-Forane Level
Mr.Jughinson
Mr.Paniadimai & Mrs.Rexalin Mary
495/500
Chinnathurai


ITPET is giving these awards since 2006. All IT Professionals and Engineers from Thoothoor are part of ITPET. If you are an IT professional from Thoothoor but not part of ITPET yet, please send an email [Id : itpet.thoothoor@gmail.com] to join with it. To know more about ITPET, please visit the 'ITPET Page' at URL 1.


URL-1: http://www.thoothoor.com/v5/home_itpet.asp

| | | |
| --- | --- | --- |
| Rate this message! | | |

Comment/Feedback on this Delegate Message

[20-7-2015:18.57.0(IST)]
Why Kaniyam representative not share anything related for this award. When will they plan to issue this award. Is that 2015 - 2016 academic Year???

[8-7-2015:1.52.39(IST)]
The best teacher award distribution on 5th September is suitable for this award .

[6-7-2015:15.37.0(IST)]
Dear GUEST, THOOTHOOR.
I appreciate and thank your curiosity and interest to know about Best Teacher award. Regarding this matter, organization KANIYAM has been taking all serious effort, steps and responsibility with the guidance and initiatives of Dr.Sajeen for selecting the best teacher every year from pius xi H. S. School. In this process, KANIYAM has already conducted various level of meetings with all members, parish priests of chinnathurai and thoothoor, vicar Rev. Fr. Dyson, correspondent Fr.Rudulf and the new headmaster Mr. Benedict. I hope in very near future the best teacher will be selected and declared most democratically, fairly and scientifically.

[5-7-2015:13.5.7(IST)]
WE WANT T KNOW ABOUT BEST THE TEACHER AWARD

[4-7-2015:15.37.0(IST)]
Congratulation for the winners,, and expecting the same and better for the upcoming years.....

[3-7-2015:21.21.56(IST)]
Great congratulations to all award winners!
Dear all members of ITPET,
I personally appreciate and thank your marvelous effort to promote quality education through this awarding event every year. It is really a motivation and encouragement for the students as well as their parents to have a competitive spirit and the highest academic performance at the schools. Therefore in future other organizations from our area can come forward to extend their service for the betterment of our community in the field of education. However there is a room for expanding your service on our future generation to earn intellectual capital through an excellent education. Best of luck! and May our lord bless all of you! "Today, a man is able to sit in the shade of tree because another man plated the tree yesterday"

[3-7-2015:13.55.15(IST)]
St.Thomas Feast wishes to all and congratulation for all award winners.


St.Thomas Community Hall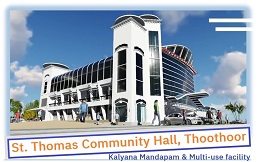 Parishes in Thoothoor Forane


Our Location Map