Delegate Message
Awareness program on Hygienic Maintenance of Fishing Harbors at NLT premises

Back

-


Added @ 29-5-2015:9.47.57(IST)

An awareness programme on Hygienic Maintenance of Fishing Harbors and Fish Landing Centers was conducted on 08th May '2015 at NLT premises. The programme was organized by Department of Fish Processing Technology, Fisheries College and Research Institute, Tamil Nadu Fisheries University, Thoothukudi and was funded by National Fisheries Development Board, Hyderabad. A total number 20 fishermen participated and benefited out of this programme.

Dr. P. Velayutham, Professor and Head, Department of Fish Processing Technology delivered the importance and Nutritive value of Fish, Spoilage of fish, Microbial contamination and public health significance of bacteria such as E.coli., Salmonella, Shigella and Vibrio, Need for hygienic maintenance of fishing harbor and landing centres, Ways and means of improving hygiene in landing centers/fishing harbors, Sanitation, Personal hygiene, Disinfection, Handling of fish from boat, India's export trend of fish, Hygienic handling of fish on deck, Cleaning procedure and chlorination level and Do's and Don'ts in landing centers.

Thoothoor parish priest Rev. Fr.Bebinson and Asst. parish priest Rev. Fr. Mendez distributed the training manual and certificates to the fishermen. Dr. P. Velayutham, Professor and Head, Department of Fish Processing Technology who is the Principal Investigator of this scheme welcomed the gathering. Mr.John Britto from Thoothoor offered felicitation address. Fishermen society members Mr.Christhu Dhas and Mr.Pushpanayagam participated in the training programme. Mr. Maria Dhasan, President of NLT proposed the vote of thanks.Please visit the awareness program photo in the below URL-1.

URL-1: http://www.thoothoor.com/v5/ViewAlbum.asp?album=NLT_Awareness_Pro .....

Rate this message!


Visitor Comment is DISABLED for this

The reason could be one of the following

This owner(s) do not want to yield any visitor comment.
The comments for this may be collected in a different section or forum
This does not require any further visitor comments.




Comment/Feedback on this Delegate Message

[30-5-2015:13.54.47(IST)]
less participants. Such useful meeting should happen in big hall with many participation that is good.

Policy on visitor comments...
Thoothoor.com visitors can post comments on delegate messages, articles, etc. Such comments are individual's personal view or feedback on that subject, and hence they need not be true or correct.
While adding a comment, please use only presentable words. Also do use your own name. If you want to hide your identity, you can use Guest as your name. Never use personally abusing words in the comments.
Visitor comments are reviewed by Delegate Administrators to verify its acceptableness in general.
Visitor comments are not the the view of Thoothoor.com. If you find any problematic comment, please report them to us immediately with specific details. We will act on such concerns in a timely manner.
For Thoothoor.com Terms of Usage, please check the 'Helps' page.


St.Thomas Community Hall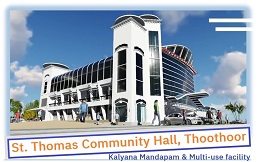 Parishes in Thoothoor Forane



Our Location Map