Delegate Message
NLT Yellow team won the title of 24th One Day Football Tournament

Back

-


Added @ 6-4-2015:9.5.55(IST)

NLT's 24th One Day Football tournament happened on the Easter Sunday, 5th April 2015, with huge audience support. Many teams from Kerela and Tamilnadu participated in the tournament. The 4 teams entered the semi finals are Trivandrum, FEBZ Dubai, NLT Yellow, and Vallavilai. In the semi final matches, FEBZ Dubai defeated Trivandrum (2-1) and NLT Yellow defeated Vallavilai (3-0).

In the final match, NLT defeated FEBZ Dubai (4-3) and won the title. Thoothoor parish priest Fr.Bebinson and asst parish priest Fr.Mentez distributed the trophies and awards. The internet live streaming of the tournament was done in www.thoothoor.com and Nila TV/Rajive TV live telecasted the tournament locally.


Rate this message!


Visitor Comment is DISABLED for this

The reason could be one of the following

This owner(s) do not want to yield any visitor comment.
The comments for this may be collected in a different section or forum
This does not require any further visitor comments.




Comment/Feedback on this Delegate Message

[17-4-2015:16.56.30(IST)]
great work done by NLT team.and really loved the way you have selected and offered chance to our player rather goin for guest.our player has proven once again their ability.congratz all the players and whoever given their support to made this tournament as a remarkable one.thanks guyzzz....way to go...

[13-4-2015:16.35.1(IST)]
Congratulation to NLT Executive Members, Sponsors and NLT team Player , If possible please share tournament photo's to the thoothoor.com admin to publish in our site.

[8-4-2015:18.18.37(IST)]
In the final match, NLT defeated FEBZ Dubai (4-3)... I saw the match and felt FEBZ Dubai didn't play well.

[6-4-2015:17.26.41(IST)]
Thanks for the great post.

[6-4-2015:15.29.20(IST)]
Congrats team...

[6-4-2015:12.59.14(IST)]
Congratulation for the winners, Runners and the participants.......

Congratulation for Nethaji committee that they didn't go for any guest player.... this is what people expectation....
This is way select the good player from our place and try to avoid taking guest player. we have good players in our Nethaji Football Team, and it doesn't matter win or lose, give chances to our players and they will do what you are expecting.
Thanks for all the sponsors and the supporters and special thanks to live web telecasting team and finally the audience.

[6-4-2015:12.6.18(IST)]
Thoothoorian champions forever.

Policy on visitor comments...
Thoothoor.com visitors can post comments on delegate messages, articles, etc. Such comments are individual's personal view or feedback on that subject, and hence they need not be true or correct.
While adding a comment, please use only presentable words. Also do use your own name. If you want to hide your identity, you can use Guest as your name. Never use personally abusing words in the comments.
Visitor comments are reviewed by Delegate Administrators to verify its acceptableness in general.
Visitor comments are not the the view of Thoothoor.com. If you find any problematic comment, please report them to us immediately with specific details. We will act on such concerns in a timely manner.
For Thoothoor.com Terms of Usage, please check the 'Helps' page.


St.Thomas Community Hall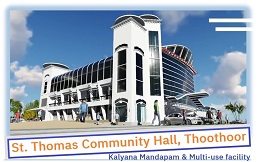 Parishes in Thoothoor Forane


Our Location Map