Delegate Message
NLT is all set for 24th One Day Football Tournament

Back

-


Added @ 27-3-2015:14.48.32(IST)

The Easter day giant One Day Football tournament of Nethaji Library Thoothoor will happen on Sunday, 5th April 2015. NLT members and well wishers are working on the primary arrangements for the tournament.

The 12 teams participating in this tournament have been finalysed. They are Malabar 7's, Kollam, FEBS Dubai, PFA Trivandrum, Udhaya Parithiyoor, Pitchus Trivandrum, Neerodi, Vaniyakudi St.Jame's, Vallavilai SAC, NLT Red, NLT Blue, and NLT Yellow.

Let us get ready for another prominent moment.


Rate this message!


Visitor Comment is DISABLED for this

The reason could be one of the following

This owner(s) do not want to yield any visitor comment.
The comments for this may be collected in a different section or forum
This does not require any further visitor comments.




Comment/Feedback on this Delegate Message

[19-4-2015:14.52.41(IST)]
Thanks friend for publishing tournament account details in NLT notice board. Can you also please arrange to make it visible to all..... many people / supporters are staying away from thoothoor

[18-4-2015:9.57.29(IST)]
The tournament account has to be displayed in the NLT notice board like previous years. Thanks for raising this query.

[17-4-2015:12.44.41(IST)]
Tournament over. Congrats Guys. All went good. We all forget about plus and minus now till next year.

Here some one rise a question that same team will play all the tournament. I also realise that now. WHY.

All fisher folks will motivated by the village name to get the donation. can NLT publish the accounts in media like Thoothoor.com. So we people away from the village come to know what is happening on our donation.

Atleast any one convey the message to them.

I will write more if it reach them.

Thank you

[14-4-2015:15.16.51(IST)]
concrats

[6-4-2015:1.44.46(IST)]
who won the tournament

[5-4-2015:21.43.50(IST)]
Supereeeeeeee ;-)

[5-4-2015:18.7.20(IST)]
Happy Easter

[3-4-2015:21.41.32(IST)]
* The team selection is good only. Same teams will not play all tournament. who ever have problem can bring teams. NLT will accept. Talking is easy. Doing is difficult. - THIS IS NOT THE CORRECT WAY OF REPLYING TO SUCH CONCERNS.

[2-4-2015:7.43.40(IST)]
The team selection is good only. Same teams will not play all tournament. who ever have problem can bring teams. NLT will accept. Talking is easy. Doing is difficult.

[1-4-2015:22.53.23(IST)]
It seems like Kanyakumari District VS Rest of Kerala. Hope teams registered with the name Kollam , Malabar etc atleast will not have players from local areas near thoothoor otherwise it spoils the tournament. What happen to teams like Pondicherry , Ooty , Chennai . I believe many from our native live in Bangalore as well .(Bangalore has got many good teams. )

[31-3-2015:22.34.44(IST)]
Very good and congrats. Is live available ? Why no information pushish about live?

[31-3-2015:13.11.36(IST)]
First of all thanks for continuing our football tournament in the time of easter celebration....
But for the previous years it was went with the standard football teams for the tournament, but now a days we are now concentrating on only tournament , but not the proper/quality participation teams inviting outside.

It would be great if any one please give an explanation on this and suggest how to get a quality participation team.

and very thankful for taking 3 teams from our place for this tournament, this carries the tournament for long.....

[28-3-2015:12.2.21(IST)]
Nice to see the 2015 tournament info. Thanks

Policy on visitor comments...
Thoothoor.com visitors can post comments on delegate messages, articles, etc. Such comments are individual's personal view or feedback on that subject, and hence they need not be true or correct.
While adding a comment, please use only presentable words. Also do use your own name. If you want to hide your identity, you can use Guest as your name. Never use personally abusing words in the comments.
Visitor comments are reviewed by Delegate Administrators to verify its acceptableness in general.
Visitor comments are not the the view of Thoothoor.com. If you find any problematic comment, please report them to us immediately with specific details. We will act on such concerns in a timely manner.
For Thoothoor.com Terms of Usage, please check the 'Helps' page.


St.Thomas Community Hall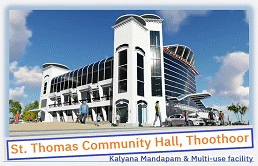 Parishes in Thoothoor Forane





Our Location Map