Delegate Message
TWA and NLT to create Civil-Service/TNPSC awareness for students

Back

-


Added @ 17-1-2015:11.49.12(IST)

In a joined meeting happened on 14th Jan, members of TWA (Thoothoor Welfare Association) and NLT (Nethaji Library Thoothoor) had discussed various proposals and thoughts. The last combined meeting between TWA and NLT happened 4 years ago and after a long gap both organizations came together again now. 6 members from TWA and the NLT executives participated in this meeting and finally the following decisions have been taken.

1. Civil-Service and TNPSC awareness program will be conducted in the month of May on every year.
2. WiFi facility will be extended for 5 more streets in thoothoor.
3. E-Library feature will be created in NLT premise with the help of TWA.
4. Book Bank will be activated and to provide subscription facility for Civil Service and TNPSC aspirants.
5. New terms and condition will be prepared for players conduct.

Please see the joint meeting photo in the URL-1 below.

URL-1: http://www.thoothoor.com/v5/ViewAlbumV2.asp?album=misc&pic=TWA_NL .....

| | | |
| --- | --- | --- |
| Rate this message! | | |

Comment/Feedback on this Delegate Message

[26-1-2015:15.20.21(IST)]
Good efforts. Congrats.

[25-1-2015:1.4.39(IST)]
Ignatius,
Thanks for the meeting. Appreciating these 5 actions.

[17-1-2015:11.53.29(IST)]
On behalf of TWA, I thank all NLT executives to have joined meeting with us & and for all of your support. Thanks Mr.Ignatius for your efforts.

You are invited to . . .
join the "what-next" evolution of the website!
2 DAYS LEFT

click here


What is New in Thoothoor.COM?
Thoothoor Parish page is updated !

ENLARGE GO


St.Thomas Community Hall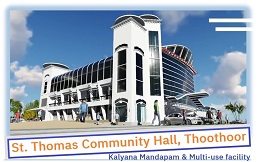 Parishes in Thoothoor Forane



Our Location Map