Delegate Message
Thoothoor.com on 14th year of Service

Back

-


Added @ 1-12-2014:14.54.55(IST)

As of today, 1st Dec 2014, Thoothoor.com is entering into 14th year of service. We are extremely happy about this attained accomplishment. According to the website statistics, the website is enjoying more than 150 unique visitors, more than 500 visitor sessions, and more than 1200 page views each day. We understand the seriousness of these numbers and we are prepared to live the challenge. At this moment, we extend our sincere thanks to all our visitors and well wishers like you, and wish you all goodness and happiness.

At present there are 3 members in the administrator team and more than 50 members in the delegate administrators team, both serving as lead contributors of this website (Refer 'About Us' page). I personally thank my colleaues Mr. Maria Jin and Mr. Thadeuse Dennis for doing well in colloborating the activities. We are also hunting for new people to the administrators team and the delegate administrators group. Interested people can please come forward and can also refer other capable and willing friends into our team of lead contributors.

The 13 years of journey became possible due to many people's encouragement and contributions. We thank everyone for giving us the best support to bring the website to its today's shape. They are the ones who give us the energy directly or indirectly to go further. As we evaluate the last one year specifically, I would like to thank few persons by calling their names such as Fr. Davidson (former Thoothoor parish priest), Fr. Bebinson (Thoothoor Parish Priest), Mr. Jenet Das, Mr.Jeen Felix, Mr. Mariadhason, Mr. Shyju Pathrose, Mr. Sanu Alexander, Mr. Anto Esthappan, Mr. Clancious C Regino, Mr. Gavaskar Innacipillai, Mr. Sanu Marthoma, Mr. George Herald, Mr. Amal Raj, Mr.Cruz, Mr. Frederic Esthoppen, Mr. Arul Seelan, Mr. Edwin Jerome, Mr. Johnson Franklin (Vallavilai), Mr. Justin Antony (Chinnathurai), Fr.Pankiras (Erayumanthurai), Mr. Espin (Chinnathurai), Mr. Francis Regon (E.P.Thurai), Mr. Vareethiah (St.Jude's College), Mr. Maria Vijayan, Mr. Jose Bilbin, Mr. John Britto, Mr. Albaris, Mr. Sajeen, Mr. Paulose Anto Xavier, Vallavilai.com, NLT, KFDS, TFCYM, TWA, QTC, ITPET, Lucana International CO. Ltd, and all other contributors for their genuine guidance and support at different time.

On account of the Anniversary, following initiates have been made.
- Hunt for new members into the team of administrators and delegate administrators.
- Decided to have monthly conference meeting between admin team members.
- A new poll titled 'Which is your Native Place?' is added to understand more about our visitors and to fine tune our direction and vision.

Once again on behalf of the team of administrators we wish you all success on this anniversary day.

regards
Xaviour


| | | |
| --- | --- | --- |
| Rate this message! | | |

Comment/Feedback on this Delegate Message

[7-12-2014:9.0.52(IST)]
What I like about www.thoothoor.com the most is its consistency in the service. This website is the first in our coastal and still active and energetic. Salute to the leaders of this website.

[5-12-2014:17.44.32(IST)]
Thank you for the excellent and uninterrupted service. It is really a great platform for collaboration and a valuable asset. I wish the Admin team may have the same spirit and good health to offer the continuously improving service in the years ahead.

[5-12-2014:12.29.50(IST)]
Congratzzzzz........ wish you all admin team to carry out this website for long time....

[1-12-2014:22.22.1(IST)]
Congratulations Team thoothoor.com

Firstly I appreciate the efforts taken by the administration team for bringing up this great website which portraits the real face our our community. Thoothoor.com is the only source for geniune local news for people away from home.I admire the decisions made by admin during tough situations. Hats Off dear Admin.
Am proud to be the part of Thoothoor.com

Wishing all Viewers,Sponsors,Developers, and Admin Team for achieving more miles in upcoming years.Without whom this website wouldn't be alive.

Merry X Mas and Prosperous New Year to All...

[1-12-2014:21.49.44(IST)]
Wish you all the best for your successful journey and new commitments; and Wishing Mr.Xaviour a very very pleasant happy birthday and may god shower all his blessings and love in this special day.

You are invited to . . .
join the "what-next" evolution of the website!
2 DAYS LEFT

click here


What is New in Thoothoor.COM?
Thoothoor Parish page is updated !

ENLARGE GO


St.Thomas Community Hall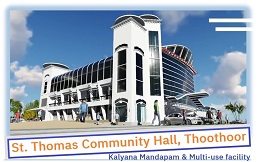 Parishes in Thoothoor Forane


Our Location Map