Delegate Message
NLT seminar for 10,+1,+2 students and parents

Back

-



Last Updated @ 25-10-2013:14.49.30(IST)

A free seminar is conducted by Nethaji Library Thoothoor for 10, +1, +2 students and parents on 15th Oct, 2013 in St. Thomas Community Hall Thoothoor. The core concept of the seminar is to discuss 'Student's psychological problem and Encouragement for the development of student's mental health'. The seminar went through successfully with overwhelming participation and the attendees shown good interest to listen and clarify their doubts. More than 200 participants for parents and students have attended this seminar. Thoothoor Parish priest Rev.Fr.Davidson preside the seminar and the seminar was conducted by Rev.Fr.Dr.Rudolf , a Psychiatrist. Most of the attendees mentioned that the seminar was very useful. NLT expressed their happiness about the success of the seminar. URL-1 contains the photos taken during the seminar.

URL-1: http://www.thoothoor.com/v5/ViewAlbum.asp?album=nltseminar2013

Rate this message!


Visitor Comment is DISABLED for this

The reason could be one of the following

This owner(s) do not want to yield any visitor comment.
The comments for this may be collected in a different section or forum
This does not require any further visitor comments.




Comment/Feedback on this Delegate Message

[12-11-2013:16.16.11(IST)]
nice!

[5-11-2013:14.47.32(IST)]
highly appriciatable,do initiate this kind of events frequently and make the most of it.

[2-11-2013:20.5.24(IST)]
EXELLENT EFFORT.AND EXPECTING THE CONTINUATION.

[25-10-2013:22.27.40(IST)]
Dear Guest and NLT,
CC: Thothoor.com, Vallavilai.com
As the Guest has written very clearly about our youth's problem in facing the ever increasing competitive world, it is our collective responsibility to help and guide our youth. When the thirst for knowledge was the problem, schools, NLT Thoothoor and St. Antony's Library, Vallavilai were created. While applauding the efforts of our seniors finding solutions to then problems, let us put a plan together a plan to address the present day problems. Today's youth are our future gems, and we should help them to achieve their lives dream. I see there are good-hearted people among our community with ideas and expertise to address this problem. Rather than each village finding solutions separately, let see if all eight (8) villages can formulate and implement similar programmes to address this pressing issue.

[25-10-2013:14.54.16(IST)]
Increasing Mental Health Problems Seen in Students on College Campuses.NLT promote the level of consideration into college level as well.

Though psychological and mental health problems have been a part of our social fabric for centuries, the past few years have seen a significant uptick in the reported occurrences of depression, bipolar disorder, and other similar ailments among college students. Some scholars suspect that this owes at least in part to improved pharmaceuticals: with proper treatment, more and more people who suffer from mental health issues are able to function at a high enough level to attend college. There are also questions when it comes to the pressure that modern students face, however. Increased competition and a still sluggish job market can leave many students vulnerable to feelings of futility, worthlessness, and hopelessness that can, over time, morph into more serious problems. The good news is that more and more colleges and universities are identifying this trend, and are looking for ways to help all students lead healthy, balanced lives. Many are still struggling to find the right equilibrium, though. Some academic concessions are necessary to help these students succeed, but this must be weighed against the need to prepare them for a future in what so often is a harsh and unforgiving outside world.

[23-10-2013:15.31.56(IST)]
Good to know such program, conducted by NLT.
Dr Johnson's suggestions are thought provoking.

[23-10-2013:12.10.25(IST)]
In future kindly inform the public one or two weeks before conducting these types of programs nearby schools as well parishes and some types of advertisement thank you well done

[23-10-2013:7.39.8(IST)]
I would like to congratulate those who had the wisdom to plan and implement this programme. I also read that Tamil Nadu State Council on Educational Research and Training (SCRET), with the aim of improving absenteeism in schools and learning disabilities, is implementing similar schemes. While I appreciate your effort, which could prove to be pioneering effort among our coastal village high schools, I like to make an observation about the some of the comments listed

Throughout my 25 years of life and work with governments, non-profit groups, and businesses, I learned one thing: it is always best to surround ourselves with more mature and more intelligent people than we are, to accomplish something in life. Please let us not make arguments like "whether chicken or egg came first." Nobody is going to win this argument of teacher or parent. We need teachers and parents to improve the personal and academic life of our young people, so we can be proud of them when they become somebody in their life.

[22-10-2013:16.42.40(IST)]
I am thankful to my own library friends and brothers, for their wonderfull initiative. Something is always better dan nothing. I think...

More dan de parents, a child be with de Guru. From morning till evening, five days a week. From the age of four to ......, Then who is responsible for the child? Is the student's parents or guru!
Why should the guru call de parents for students' faults? From whom the student form his behaviour more? When the less educated parents work for the the salaries of Guru, Why the Guru work again only for his own salary?
I think, something is in failure! Guru need to work for the salaries of their students. The failure of a student is the mistake of their Guru than students. I am so sad to see, my own young people suffer in Chennai..., even after a long year of studies!
So i suggest u to train de Guru. Is it impossible for a student from "....", to speak in english after his school studies! Is it not possible by our Guru? Then I thank well, Facebook for doing this. Nu, i remember our library for having a good role in de life young foodball players.
( I am sorry voor dis, if i am mistaken. I do not want to condemn anyone, but i try to find a new way. Of course, I am always thankfull to my Guru. )

[22-10-2013:10.11.2(IST)]
Dear Dr. Sajeen,
It is a very constructive idea to conduct further more number seminars forana level possibly for parents under the topics like GOOD PARENTING, POSITIVE MOTIVATION, VALUES OF EDUCATION etc. Like that, for improving the standard of teachers from our community, it would be better to conduct seminars and discussion on MODERN TEACHING METHODS, ETHICS OF TEACHING, LEADERSHIP QUALITIES, CLASS ROOM MANAGEMENT etc. A school is a joint venture between teachers and parents and its success is mainly depending on responsibilities of these two groups of partners. Moreover, this kind of programmes give opportunity for the people from different parishes to have get together as well as responsibility. Consequently the village-boundary differences could be dissolved completely and unity will be strengthened.
For the accomplishment this noble mission, NLT can be an ideal instrument to work with the support from parish priests, PTA and Alumni association of our school too. Best wishes!!!

[21-10-2013:20.3.32(IST)]
Dear Espin sir,
I thank you very much for your sense of appreciation.The parents play a pivotal role in shaping the mental attitude of their children.The school children are the gems of the future India.Considering that such seminars may help generate a reformed society slowly and steadily,we have decided to conduct a good number of similar classes covering numerous topics useful for the student community.If the neighboring parishes extend their cooperation, we shall think of holding them in the forane level. I solicit your valuable suggestions in this regard.

[21-10-2013:18.32.11(IST)]
Immensely happy about NLT's effort that they have put in for offering a seminar to address one of the most important needs of our people. They have carefully chosen a resourceful resource person who has a Doctoral degree in Psychology and rich experience. This is an example that NLT has tapped the resourcefulness of someone from the region (who knows the Psychology of the region from his childhood) for the benefit of the region. I wish similar sessions should be conducted in other villages as well.

A small suggestion on the banner design. It would have been better if the title of the seminar is mentioned in most prominent font than other labels.

[20-10-2013:22.0.26(IST)]
It is really a marvelous effort from NLT, because to promote quality education, the role parents at home is very essential and is being equivalent the role of teachers at the school. I personally appreciate, congratulate and thank the people who were being behind the success of this excellent programme, particularly Dr.Sajeen.

Policy on visitor comments...
Thoothoor.com visitors can post comments on delegate messages, articles, etc. Such comments are individual's personal view or feedback on that subject, and hence they need not be true or correct.
While adding a comment, please use only presentable words. Also do use your own name. If you want to hide your identity, you can use Guest as your name. Never use personally abusing words in the comments.
Visitor comments are reviewed by Delegate Administrators to verify its acceptableness in general.
Visitor comments are not the the view of Thoothoor.com. If you find any problematic comment, please report them to us immediately with specific details. We will act on such concerns in a timely manner.
For Thoothoor.com Terms of Usage, please check the 'Helps' page.


St.Thomas Community Hall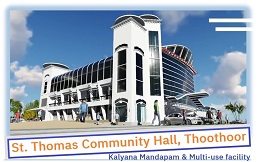 Parishes in Thoothoor Forane



Our Location Map