Delegate Message
Updates from NLT Executive Meeting happened on 6th Oct 2013

Back

-


Added @ 11-10-2013:14.44.20(IST)

Dear NLT Well wishers, Warm Greetings!

The executive members of the NLT found a pleasant evening on 6th of this month to discuss the furtherance of Netaji festival. They are pleased to announce the following for the information of the respectable friends of Thoothoor who are living around the globe.

With a view to bringing about sports man spirit and thereby quenching the thirst of the lovers of sports, Netaji comes out with its programmes slowly and steadily. The events that are to be conducted in connection with the feast include Chess, Carom, Kabaddy, Ring ball, Throw ball, Volley ball, Cricket, Badmintion(shuttle), Marathon, Cycle Slow Race, Tug-of-war etc.

Chess, Carom & Kabaddy (for school children)
Ring ball, Throw ball (for Young girls)
Volley ball, Cricket & Shuttle badminton (for young boys)
Marathon, Cycle Slow Race & Tug-of-war (for Adults)

Interested participants from all the parishes of Thoothoor forane will also be invited to take part in a few specific events. It was also decided to give training to Thoothoor participants of Indoor games. Selection will be made on the basis of this training. The months of October and November will witness a certain game. Mrs. Cementia and Mr. Dyarvin, the honourable Physical Directors, have given their consent to lead the team that conducts these events. The veteran artists of our village are consulted to stage a drama on this occasion. Measures have already been taken in this regard. Valuable prizes will be given to the winners.

To redress the grievances of some youngsters, we decided to buy magazines for the library permanently. Sufficient racks will also have to be arranged to provide safe and dignified environment for the readers. Yearly subscription for magazines may go around rupees 15,000/.To accomplish this, we need the support of our well wishers who are ready to sponsor the magazines. Further, we need sponsors for various events too. Kindly let us know your comments.

NLT is conducting an awareness class for the parents of school children from 10 am to 12 pm on 15th of this month at the St.Thomas Community hall Thoothoor. Rev.Fr.Dr.Rudolf, a native of Eraviputhenthurai and the parish priest of St.Nicholas Church Neerody has kindly consented to address the audience. He has secured a doctoral degree in Clinical Psychology and is an adept in this field.


Rate this message!


Visitor Comment is DISABLED for this

The reason could be one of the following

This owner(s) do not want to yield any visitor comment.
The comments for this may be collected in a different section or forum
This does not require any further visitor comments.




Comment/Feedback on this Delegate Message

[17-10-2013:1.29.4(IST)]
good effort. I appreciate all the sports events put forward to celebrate the events, but I have concern, I hope NLT is not only sports club, I believe it is also for arts, then why don't you add some arts competitions for school children such as easy writing, poem writing, drawing, speech competition ect. I think it will bring out the full image of NLT. all the best and God bless your efforts.

Policy on visitor comments...
Thoothoor.com visitors can post comments on delegate messages, articles, etc. Such comments are individual's personal view or feedback on that subject, and hence they need not be true or correct.
While adding a comment, please use only presentable words. Also do use your own name. If you want to hide your identity, you can use Guest as your name. Never use personally abusing words in the comments.
Visitor comments are reviewed by Delegate Administrators to verify its acceptableness in general.
Visitor comments are not the the view of Thoothoor.com. If you find any problematic comment, please report them to us immediately with specific details. We will act on such concerns in a timely manner.
For Thoothoor.com Terms of Usage, please check the 'Helps' page.


St.Thomas Community Hall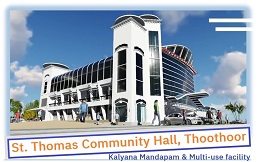 Parishes in Thoothoor Forane



Our Location Map