Delegate Message
NLT to celebrate Anniversary with 7 days programs

Back

-


Added @ 6-9-2013:9.8.22(IST)

Netaji Library Executive meeting is conducted this week in NLT building. The meeting was honored with the presence of Thoothoor parish priest Fr. Davidson. The ongoing activities and future plans have been discussed in this. Two decisions taken in the meeting were, (1) Awareness program for +1/+2 students and their parents on soft skills, (2) Seven days of NLT anniversary celebration with various programs from Dec 26th 2013 to Jan 1st 2014.

On behalf of NLT, I invite everyone to the anniversary. During these seven days we are planning to have different programs each day, for which suggestions and proposals are welcome from well wishers.


Rate this message!


Visitor Comment is DISABLED for this

The reason could be one of the following

This owner(s) do not want to yield any visitor comment.
The comments for this may be collected in a different section or forum
This does not require any further visitor comments.




Comment/Feedback on this Delegate Message

[22-9-2013:12.37.8(IST)]
Dr Sajeen , Any suggestion/Action plan taken for anniversary celebration ??

[11-9-2013:13.50.38(IST)]
Many ideas like kellapandhu, Donkey and Remin, and for ladies the age old programs are suggested. Please see what is required for the present generation. i agree the programs like carrier guidance, gk, debate, personality improvement, attending interviews, etc etc. totally, skill development programs

[10-9-2013:20.2.11(IST)]
While welcoming the valuable suggestions from the well wishers, I would like to seek their cooperation to make the proposed programmes a grand success.A detailed list of the sport events and various other programmes connected with the celebration will soon be published.Further, we solicit your fruitful ideas in this regard.

[9-9-2013:13.3.39(IST)]
Good to see the plan. Congratulations to NLT.

I suggest to dedicate one day for Thoothoor people staying outside Thoothoor. Let them and their children perform their talents (be in song, dance, musical play, some other show, etc) to all. May be some sports activities can also be conducted for such children. Nowadays children of such outside settled Thoothoorians are loosing their interest in our lovely native. Let such a dedicated day slowly change this.

[7-9-2013:21.12.32(IST)]
Good plan....Congratz to all Library Executives & Advise committee....This is our ultimate aim to reveal the service of our NLT. The suggestions of Sanu, Jonson, Alkias Antony are to be most considerable. Why should we not think about to form a big Reading facility with all kind of books availability within our Library to develop our society people in all fields. We can do will....this is the right time....

[7-9-2013:14.16.11(IST)]
Great DEcisions !!

[6-9-2013:22.8.56(IST)]
This is a very good idea, i am happy to hear that the Parish Priest was part of the meeting. about the 7 days feast. it would be good if this feast has a theme and based on that theme you can organize different events categorically for age groups and need to include events for all age groups, but the main concern need to village unity. may be this celebration would bring all the people of our village together. congrats to all that you are planning. will be with you in prayer.

[6-9-2013:19.31.13(IST)]
We have to give importance to academic and cultural activities for both men and women. Carrier Guidance, GK, Debate, song, speech all help our young boys and girls.

[6-9-2013:13.5.35(IST)]
Come on! Nethaji, Come On!
SuppeR! Gefeciliteerd!(Dutch)

Kindly add more programmes for our elder people. Especially for men, because women has Marian Cena anniversary, Matha Sabha Anniversary, Mother Teresa Sabha Anniversary etc.

For Elder Men: Cards(include all varities like Donkey, 3000, 5000, Remmi, 23, 7 cheetu), Uppu, Kella Pantu, solo, group song, family song, Family dance etc

For elder women: Fancy Dress, Family Fancy Dress(like tableau), Best Kook (a tasty curry, veg preparation), Vattu, Pulli Vithu filling around small pits in the sand, trowing and catching 5 small stones etc.

I suggest also rather than having competitions for all the people of our village, it would be nice to select age-sorts or some focused type. That means, Ýear of Elders' 'Year of Family' Year of Middle Age' 'Year of Children' 'Year of Youth' etc. Also also also also................

Policy on visitor comments...
Thoothoor.com visitors can post comments on delegate messages, articles, etc. Such comments are individual's personal view or feedback on that subject, and hence they need not be true or correct.
While adding a comment, please use only presentable words. Also do use your own name. If you want to hide your identity, you can use Guest as your name. Never use personally abusing words in the comments.
Visitor comments are reviewed by Delegate Administrators to verify its acceptableness in general.
Visitor comments are not the the view of Thoothoor.com. If you find any problematic comment, please report them to us immediately with specific details. We will act on such concerns in a timely manner.
For Thoothoor.com Terms of Usage, please check the 'Helps' page.


St.Thomas Community Hall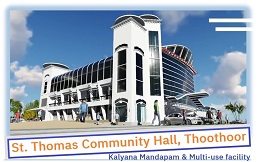 Parishes in Thoothoor Forane




Our Location Map