Delegate Message
List of NLT Office Bearers and Executives

Back

-


Added @ 3-8-2013:13.13.31(IST)

As per the information received from NLT President, Dr. A Sajeen, below is the list of NLT Office Bearers and executives who have been selected based on the decisions in the recent general body meeting.

The office bearers are Dr.A.Sajeen (President), Mr.J.Marydasan (Vice President), Dr. Mary Jerin (Secretary), Mrs. Rexaline Mary Eugine (Joint Secretary), Mrs. Freeda (Treasurer), Mr. Frederick (Librarian) and Mr. John Britto (Team Manager). The executive members are 1. Mr. Bosco, 2. Mr. Arpin, 3. Mr.Alwar, 4.Mr. Marydasan, 5.Mrs. Remibai, 6.Mrs. Suba, 7. Mrs.Amudha, and 8.Mrs.Jayamma.


| | | |
| --- | --- | --- |
| Rate this message! | | |

Comment/Feedback on this Delegate Message

[10-8-2013:14.58.58(IST)]
Wishes.
Selection may raise several questions in our people's mind. There should be plans to regain the reputation from the people.

[5-8-2013:21.27.11(IST)]
Wishes to all office bearers.
Hope on new members would encourage the youngsters towards education & social development. It would have more better if we add more Executive members from outside those are leaving in Chennai, Bangalore,Mumbai, other countries, etc. Hope on the unity of our parish to achieve more through NLT.

[4-8-2013:23.11.37(IST)]
i don't know what they their plans are?

[4-8-2013:11.44.20(IST)]
Congratulations and best wishes to the new office bearers of NLT. Please forget the differences and work together to eradicate illiteracy from our community and guide the future generation to accomplish their goals.


St.Thomas Community Hall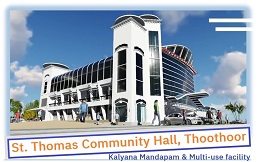 Parishes in Thoothoor Forane




Our Location Map