Delegate Message
NLT Invites all Football Fans to 22nd One Day Football Tournament

Back

-


Added @ 21-3-2013:22.43.30(IST)

On behalf of the NLT president, I cordially invite all football fans of Thoothoor and Neighbor villages to the 22nd One Day Football Tournament of Netaji Library Thoothoor which is to be held on 31st March 2013. Please consider this as a personal invitation and attend the tournament and experience the greatest momentum of football in our area.

The teams to be participated in the tournament are Malapuram AYC, Malabar 7's, Jai Hind Pulluvilai, Thindukal, Ulloor Trivandrum, Pondichery, Udhaya Parithiyoor, St.Jame's Vaniyakudi, Vallavilai SASC, NLT Blue, NLT Yellow and Nethaji Junior.

Visit the below URL for the tournament banner.

URL-1: http://www.thoothoor.com/v5/ViewAlbum.asp?album=mi .....

Rate this message!


Visitor Comment is DISABLED for this

The reason could be one of the following

This owner(s) do not want to yield any visitor comment.
The comments for this may be collected in a different section or forum
This does not require any further visitor comments.




Comment/Feedback on this Delegate Message

[17-4-2013:19.8.44(IST)]
dear commander, you have the rights to give commands but do not have rights make problems.

[17-4-2013:18.47.17(IST)]
hi fans our village did NTL foot ball tournament with a great success. through this year tournament our village's fame reached all over the world , through webcast, telecast,especially with chief guest too.

[11-4-2013:8.12.1(IST)]
We are eagerly waiting for the foto's and prize info.

[5-4-2013:19.16.37(IST)]
Thanks Christin. The tournament result is updated in the message scroll immedeately after the tournament. We are waiting for others details from NLT like guests attended, teams entered quarter final, teams entered semi finals, and other award details etc. Why cannot you take the ownership, collect the details and send it to us. We will be able to put the details only after we get the same.

[5-4-2013:17.43.39(IST)]
Dear Admin

The NLT tournament was over, but till the date didn't updated any tournament report and Photo.

[1-4-2013:21.7.37(IST)]
Sincere congratulations!!!! to NLT for grand success of one day football tournament. This mega event proudly highlights that the spirit of sport and football as well as the unity of the community.In this regard you are the ROLE MODEL to others. At this juncture,let me put a humble request for organizing another Cricket tournament in the next festival season with same spirit and unity to find out the most talented young
cricketers from the soil of fishermen for getting
opportunity to join IPL or even our national team in future.(remember that nothing is impossible for fisherfolks)

[23-3-2013:19.8.2(IST)]
hello good, this is sevens football tournament, normally the teams from tamil nadu(except NLT) never performs well. We are really happy with the teams & very much sure that this time also the tournament will become huge success

[22-3-2013:3.19.44(IST)]
Have done good job, appreciate your hard work but still not happy with teams. Would have been much better if there were few standard teams like Chennai and Ooty etc...

[21-3-2013:23.8.26(IST)]
what about web casting?

Policy on visitor comments...
Thoothoor.com visitors can post comments on delegate messages, articles, etc. Such comments are individual's personal view or feedback on that subject, and hence they need not be true or correct.
While adding a comment, please use only presentable words. Also do use your own name. If you want to hide your identity, you can use Guest as your name. Never use personally abusing words in the comments.
Visitor comments are reviewed by Delegate Administrators to verify its acceptableness in general.
Visitor comments are not the the view of Thoothoor.com. If you find any problematic comment, please report them to us immediately with specific details. We will act on such concerns in a timely manner.
For Thoothoor.com Terms of Usage, please check the 'Helps' page.


St.Thomas Community Hall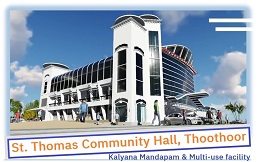 Parishes in Thoothoor Forane



Our Location Map