Delegate Message
Some Changes in NLT Office Bearers

Back

-


Added @ 3-3-2013:20.37.34(IST)

NLT meeting is conducted in NLT building today, 3rd March 2012. There were some changes done to the previously selected office bearers, as some of them did not show interest continuing in the position and also there were new proposals to add new members into the office board.

The new office bearers are Mr. Clarance (President), Mr. Mariadhason (Vice President), Mr. Jenet Das (Secretary), Mr. Alexander (Joint Secretary), Mr. Merlin (Treasurer), and Mr. Frederic (Librarian). Mr. Britto and Mr. Jegadheesh are selected as Sports Managers. Mr. Shabu and Mr. Darwin are selected as Coach. Mr. Sajeen, Mr. Maria Dhason, and Mr. Syrus were selected as the Football Team selection Committee.

Check the below attachment (URL-1) for complete list of office bearers, the Advisory committee, and the Tournament committee for 2013. Let us congratulate the new office bearers and wish them all the best.

URL-1: http://www.thoothoor.com/v5/dLoads/NLT_OfficeBeare .....

Rate this message!


Visitor Comment is DISABLED for this

The reason could be one of the following

This owner(s) do not want to yield any visitor comment.
The comments for this may be collected in a different section or forum
This does not require any further visitor comments.




Comment/Feedback on this Delegate Message

[12-3-2013:16.45.7(IST)]
Mr. Clarence is resigned from the President post.

[11-3-2013:17.11.58(IST)]
The office bearers decide what to do for all previous incidents. Send suggestion to them.

[11-3-2013:9.24.52(IST)]
Wont allow previously whoever played against thoothoor football team.

[6-3-2013:15.3.56(IST)]
Why TWA representatives names are not mentioned?

[4-3-2013:11.25.43(IST)]
Nallathu Nadntha Karai Nallathu....
Vaazhthukkal!!!

[3-3-2013:22.14.45(IST)]
Thanks to the wellwishers to sort out all issue's and refined the executives in a standard manner.

Policy on visitor comments...
Thoothoor.com visitors can post comments on delegate messages, articles, etc. Such comments are individual's personal view or feedback on that subject, and hence they need not be true or correct.
While adding a comment, please use only presentable words. Also do use your own name. If you want to hide your identity, you can use Guest as your name. Never use personally abusing words in the comments.
Visitor comments are reviewed by Delegate Administrators to verify its acceptableness in general.
Visitor comments are not the the view of Thoothoor.com. If you find any problematic comment, please report them to us immediately with specific details. We will act on such concerns in a timely manner.
For Thoothoor.com Terms of Usage, please check the 'Helps' page.


St.Thomas Community Hall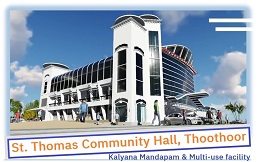 Parishes in Thoothoor Forane



Our Location Map