Delegate Message
Awardee's list for ITPET Awards'2012

Back

-



Last Updated @ 18-7-2012:18.41.7(IST)

ITPET (IT Professionals and Engineers of Thoothoor) is giving awards to academic achievers during St. Thomas feast mass every year. The list of shortlisted awardee's for ITPET Awards '2012 are given below.



ITPET Awards '2012
Award Title
Award Winner
Parents
Mark
Dept/Institute
Native
HSC 1st-Thoothoor Level
Joffe L
Mr.Lambert & Mrs Helen
1055/1200
Commerce, Pius XI HSS
Thoothoor
HSC 2nd-Thoothoor Level
Dareus C
Mr.& Mrs.Christopher
1008/1200
Civil, Pius XI HSS
Thoothoor
SSLC 1st-Thoothoor Level
Vejens Vishal Antony
Mr.& Mrs.Antony
444/500
Pius XI HSS
Thoothoor
SSLC 2nd-Thoothoor Level
Risony X Majisha
Mr.Xavier & Mrs.Marshella
437/500
Pius XI HSS
Thoothoor
HSC 1st-Forane Level
Chris Elakkia A
Mr.Joris Antony Xavier & Mrs.Jenoba
1137/1200
Maths,Alphonsa Matriculation school Nagercoil
Thoothoor
SSLC 1st-Forane Level
Ahila Mary A
Mr.Augustin & Mrs.Suseela
480/500
John Bonal Matric School Marthandanthurai
Neerodi
PhD
Punitha Shaji
Mr.Matthias & Mrs.Mariarthamma
-
Commerce
Thoothoor
PhD
Barwin Vino Robin
Mr.Aruldhason & Mrs.Starammal
-
Marine Biology
Thoothoor
PhD
Mary M
Mr.Mariathasan & Mrs.Paniamma
-
Tamil
Thoothoor
YEAR Award
Commerce Dept of Pius XI HSS for their differentiating performance in the 2012 HSC Public Examinations
Subject Centum *
Geethu
Mr.& Mrs.Siluvadasan
200/200 (Accountancy)
Commerce, Pius XI HSS
Poothurai
Subject Centum *
Joffe L
Mr.Lambert & Mrs Helen
200/200 (Commerce)
Commerce, Pius XI HSS
Thoothoor
Subject Centum *
Daniel J
Mr.& Mrs.James
100/100(Social Science)
SSLC, Pius XI HSS
Thoothoor


* Subject Centum Awards will be handed over to the Head Master of Pius XI HSS

ITPET is giving these awards since 2006. All IT Professionals and Engineers from Thoothoor are part of ITPET. If you are an IT professional from Thoothoor but not part of ITPET yet, please send an email (email-id given below) to join with it. To know more about ITPET, please visit the the 'ITPET Page' at URL 1.

Email-1: itpet.thoothoor@gmail.com (Note: Email-id displayed here is script protected from web crawl programs)
URL-1: http://www.thoothoor.com/v5/home_itpet.asp

| | | |
| --- | --- | --- |
| Rate this message! | | |

Comment/Feedback on this Delegate Message

[4-7-2012:18.46.48(IST)]
@Well Wisher : Forane Topper in HSC [Ms.A. Chris Elakkia] studied at Alphonsa Matriculation school Nagercoil and Forane Topper in SSLC [ Ms.Ahila Mary A] studied at John Bonal Matric School
Marthandanthurai.

[4-7-2012:17.20.36(IST)]
Forane level students in which school study?

[3-7-2012:21.31.8(IST)]
Great guys. These awards are motivation for student and ITPET doing good job.
One more point is forane level SSLC 1st (480/500) is amazing and unbelievable. Let God bless that girl to achieve more in future.

[3-7-2012:16.8.54(IST)]
As there is no introduction needed to the moon in the sky, so is to the ITPET and Thoothoor.com for their motivational service. Keep it up!!!!

[3-7-2012:11.21.21(IST)]
Congratulations to all award winners of ITPET-2012 including the prestigious year award winner. Special Thanks to all members of ITPET including administrator of Thoothoor.com for your support,encouragement and motivation to provide quality education on our community.I strongly believe and wish that your cooperation and service will be magnified year by year for the betterment and fast growth of our people.

[2-7-2012:21.38.13(IST)]
MY PARENTS....
HELPS WELL


St.Thomas Community Hall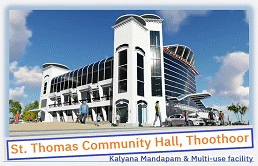 Parishes in Thoothoor Forane


Our Location Map