Delegate Message
Report of NLT's 21st One Day Football Tournament

Back

-


Added @ 10-4-2012:21.30.45(IST)

Udhaya Parithiyoor won the title of 21st One Day Football Tournament of NLT, amidst the tight competition between 12 renowned teams.

The tournament inauguration ceremony is started at around 9.30 in the morning by hoisting the National Flag. Dr. Albaris delivered the welcome speech. There were 12 league matches and each team played 2 league matches. The winners of league round were Netaji Yello, Udhaya Parithiyoor, Malabar Sevens, and Thoppu. In the first semi-final, Udhaya Parithiyoor defeated Netaji Yellow for 2-1. In the second Semi final, Malabar Sevens defeated Thoppu for 1-0. In the final match Udhaya Parithiyoor defeated Malabar Sevens for 1-0, and became the winner of the 21st One Day Football Tournament.

As usual the audience strength was huge, and they had a good time watching the game of their favorite teams and excellent game. Many guest visited the game including our MLA Mr.John Joseph, Kanyakumari District Sports Officer Mr. Siva Kumar, Fr. Sanu Ouseph, Fr. Ephreme, Fr. Steephan, Police High Officials, Senior footballers, and respectable well wishers.

The photos of Mr. Xavier (Driver), and Mr. G.Rhymond is opened in the stage by the parish priest in order to honor their contribution for Netaji Library and for the society.

The Prize Distribution ceremony was facilitated by Thoothoor parish priest Fr. Sanu Ouseph, Thoothor Panchayat President John, Police Officer Mr. Joseph, and Police Inspector Mr. Selvaraj. Dr. Sajeen delivered the Vote of Thanks to conclude the Tournament at around 10.30 in the night.


Rate this message!


Visitor Comment is DISABLED for this

The reason could be one of the following

This owner(s) do not want to yield any visitor comment.
The comments for this may be collected in a different section or forum
This does not require any further visitor comments.




Comment/Feedback on this Delegate Message

[28-4-2012:19.13.41(IST)]
Indian Football Team really missing one great player(Judes)

[27-4-2012:12.53.11(IST)]
good

[15-4-2012:17.53.54(IST)]
Congratulation NLT Admin. You people made success on 21st One Day Foot Ball Tournament. You people proved the UNITY of Thoothoor. God Bless you all.

[13-4-2012:17.47.24(IST)]
Can you Upload the tournament photos

[12-4-2012:23.47.1(IST)]
Congratulation of all participation team
Whom the best audience in the Tournament

[12-4-2012:23.42.9(IST)]
Dear Admin,
mention the Best player and top Goal of tournament

[12-4-2012:17.31.46(IST)]
CONGRATULATIONS...for udaya parithiyoor team members

[11-4-2012:23.19.1(IST)]
Congratulation to nlt for great success of nlt tournament 2012.

We did a fantastic in 21st nlt championship.

congratulation to selection committee of nlt for nlt A AND B team selection.

Nlt A team players delivered the rocking performance but unfortunately they had out of the competition before the finals.

'It's not easy, but we need to think positively. 'It's [nlt championship] not over. In football it's never finished,'

'Loose which wouldn't hurt me much because we had out of the tournament from the semi finals'.

Congratulation Nlt A guys.

NLT B team, Really the young guns has been displayed great football

which message the world that nlt football team has ready to face the fresh challenge from any football team in the world.

I'm proud of all our players for what they did in 21st nlt.

They've done well,It was a good moment for nlt.

It makes you realize when only the thoothoor players stay together, they become a team very easily.'

Now need to continue to win to get the maximum trophies we can.

[11-4-2012:18.29.32(IST)]
two league matches judes really rock... judes come back again for thuthur netaji team, CONGRATULATIONS JUDES..............

[11-4-2012:16.0.23(IST)]
21 years of quality offering by NLT for the people to showcase the spirit of sportsmanship is a great thing to mention.

You have honoured laymen on this great day for their contribution to the society. It is another good gesture.

[11-4-2012:12.47.10(IST)]
Congratulation to Udhaya Parithiyoor team.

Netaji should have taken this cup on this year. When Netaji were lead one Goal against Paruthiyoor that time JUDES should not go forward without taken his position of back.This is a problem of Nethaji lose the match in semi final against Paruthiyoor.if JUDES had taken his position of back no one defeat him.

Policy on visitor comments...
Thoothoor.com visitors can post comments on delegate messages, articles, etc. Such comments are individual's personal view or feedback on that subject, and hence they need not be true or correct.
While adding a comment, please use only presentable words. Also do use your own name. If you want to hide your identity, you can use Guest as your name. Never use personally abusing words in the comments.
Visitor comments are reviewed by Delegate Administrators to verify its acceptableness in general.
Visitor comments are not the the view of Thoothoor.com. If you find any problematic comment, please report them to us immediately with specific details. We will act on such concerns in a timely manner.
For Thoothoor.com Terms of Usage, please check the 'Helps' page.


St.Thomas Community Hall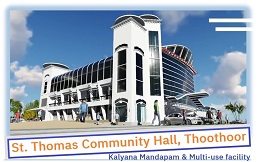 Parishes in Thoothoor Forane





Our Location Map