Delegate Message
NLT is all set for 21st One Day Football Tournament

Back

-


Added @ 27-3-2012:16.48.21(IST)

The Easter day giant One Day Football tournament of Nethaji Library Thoothoor will happen on Sunday, 8th April 2012. NLT members and well wishers are working on the primary arrangements for the tournament.

The 12 teams participating in this tournament have been finalysed. They are Palakkad AYC, Malabar 7's, Pulluvilai Jai Hind, Maduai, Trivandrum, Kozhikode, Thoppu, Parithiyoor Udhaya, Vaniyakudi St.Jame's, Vallavilai SAC, NLT Blue, and NLT Yellow.

Let us get ready for another prominent moment.


Rate this message!


Visitor Comment is DISABLED for this

The reason could be one of the following

This owner(s) do not want to yield any visitor comment.
The comments for this may be collected in a different section or forum
This does not require any further visitor comments.




Comment/Feedback on this Delegate Message

[6-4-2012:15.0.14(IST)]
FootBall carnival Vetripera Vazhthukal
Happy Easter

[6-4-2012:12.50.29(IST)]
All the best.
My humble request is to conduct it peacefully and the players has to abide the rules of NLT and decorum of the game

[5-4-2012:23.45.51(IST)]
All the very best for all participants

[5-4-2012:19.11.29(IST)]
hai friends relatives please come to NLT football stadium thoothoor,
The big match it's mean one day internationalnu chollittu nalkanakka ilukkuran but this one day foot ball match is one day happy,one day sad,one day fun,one day surprise,one day thrill all smiley's one day that's NLT one day sevens football tournament don't miss it. Mee tooo

[5-4-2012:7.18.15(IST)]
intha easter and football tournament nalabadia nadka en valthukal

[3-4-2012:11.26.30(IST)]
All the very best for Thoothoor Players and All other participants

[3-4-2012:4.20.15(IST)]
HI MR.JUDES,
HOPE YOU ARE DOING GOOD.
'DHADEUSE(JUDES) PLAYED LIKE A WARRIOR FOR ICF IN CFL'-QUOTED BY DECCAN CHRONICLE ON 11TH MARCH 2012.
WE ARE EXPECTING SAME PERFORMANCE FOR THOOTHOOR TEAM IN NLT FOOTBALL CHAMPIONSHIP WHICH YOU DID IT IN ONGOING CFL FOR ICF.
SO KEEP YOUR FITNESS LEVEL ON HIGH.
ADVANCE WISHES FOR GREAT SUCCESS WITH THOOTHOOR TEAM MR.JUDES.
BEST WISHES FOR ALL PLAYERS WHO ARE GOING TO PARTICIPATE IN OUR PRESTIGIOUS NLT FOOTBALL CHAMPIONSHIP.

[2-4-2012:17.9.7(IST)]
Dear dabu,
This year teams are good. All are well talented team.Dont think how far the team located instead of just think how the team will going to perform.You may be the witness for best tournament this year. Hearty welcome NLT - 2012 tournamnet. God bless you

[2-4-2012:17.3.27(IST)]
Dear Sherin,
can you pls share some bank account details for NLT-2012 tournament donation ? And also pls share the email id for acknowledgement for donated contribution ....Else pls inform us any other way to share donation. It is helpful for people stay away from thoothoor . Thanks God bless you.

[2-4-2012:14.33.16(IST)]
Its seems like kerala community oneday football tournament. all kerala teams and few teams from local. then how it is said as Kerala vs tamilnadu costal relationship tournament by NLT Thoothoor. Could have been much better......

[29-3-2012:16.54.35(IST)]
Wowwww... wannna b a part after a long time.. hoorreyyy

[28-3-2012:16.7.2(IST)]
ALL DE VERY BEST 4 ALL PARTICIPANTS

[28-3-2012:7.8.36(IST)]
dum dum dum
dum dum dum
NLT is rocking!!!

Policy on visitor comments...
Thoothoor.com visitors can post comments on delegate messages, articles, etc. Such comments are individual's personal view or feedback on that subject, and hence they need not be true or correct.
While adding a comment, please use only presentable words. Also do use your own name. If you want to hide your identity, you can use Guest as your name. Never use personally abusing words in the comments.
Visitor comments are reviewed by Delegate Administrators to verify its acceptableness in general.
Visitor comments are not the the view of Thoothoor.com. If you find any problematic comment, please report them to us immediately with specific details. We will act on such concerns in a timely manner.
For Thoothoor.com Terms of Usage, please check the 'Helps' page.


St.Thomas Community Hall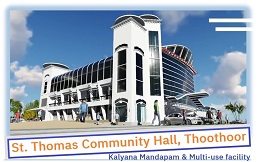 Parishes in Thoothoor Forane



Our Location Map