Delegate Message
Annual Meeting of KFDS (Kaniyam Thoothoor) on 7th Jan 2012

Back

-


Added @ 4-1-2012:21.57.45(IST)

Dear KFDS Members,

The annual meeting of Kaniyam Fishermen Development Society (KFDS) will happen at 5 pm on Saturday 7th January 2012. The ongoing activities and other plans will be discussed in this meeting. Hence I request all members of KFDS to attend this meeting without fail. Members can contact me for more details on this.

Thank you,
Mr. Jeen Felix (Sherrin), Secretary, KFDS.


| | | |
| --- | --- | --- |
| Rate this message! | | |

Comment/Feedback on this Delegate Message

[16-1-2012:21.24.50(IST)]
Could you guys ask the reason to the Ex Parish Priest and the committee members ? I can't digest 400 Year Old church record simply throw away for the current renovation.How and why the Vicariate Vicar approved this ??

[16-1-2012:21.17.3(IST)]
Dear Kaniyam Members: I want to inform one big issue which i saw in my recent visit in our native. I am very schocked for seeing the Foundation Stone message in our church.This is a message:

St.THOMAS FORANE CHURCH THOOTHOOR , FOUNDATION STONE LAID BY MSGR.JOHN D BOSCO ON 29-09-2008 IN THE PRESENCE OF REV.FR.JOSEPH PRASAD .P.P(PARISH PRIEST THOOTHOOR)'

Is this church constructed newly or Is it a renevation? Please take an action as soon as possible.

[14-1-2012:9.7.29(IST)]
Any updates on the Meeting?..

Policy on visitor comments...
Thoothoor.com visitors can post comments on delegate messages, articles, etc. Such comments are individual's personal view or feedback on that subject, and hence they need not be true or correct.
While adding a comment, please use only presentable words. Also do use your own name. If you want to hide your identity, you can use Guest as your name. Never use personally abusing words in the comments.
Visitor comments are reviewed by Delegate Administrators to verify its acceptableness in general.
Visitor comments are not the the view of Thoothoor.com. If you find any problematic comment, please report them to us immediately with specific details. We will act on such concerns in a timely manner.
For Thoothoor.com Terms of Usage, please check the 'Helps' page.


St.Thomas Community Hall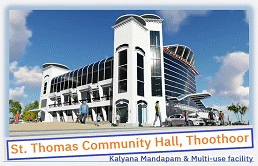 Parishes in Thoothoor Forane


Our Location Map