Delegate Message
Annual Meeting of KFDS (Kaniyam Thoothoor) on 7th Jan 2012

Back

-


Added @ 4-1-2012:21.57.45(IST)

Dear KFDS Members,

The annual meeting of Kaniyam Fishermen Development Society (KFDS) will happen at 5 pm on Saturday 7th January 2012. The ongoing activities and other plans will be discussed in this meeting. Hence I request all members of KFDS to attend this meeting without fail. Members can contact me for more details on this.

Thank you,
Mr. Jeen Felix (Sherrin), Secretary, KFDS.


| | | |
| --- | --- | --- |
| Rate this message! | | |

Comment/Feedback on this Delegate Message

[16-1-2012:21.24.50(IST)]
Could you guys ask the reason to the Ex Parish Priest and the committee members ? I can't digest 400 Year Old church record simply throw away for the current renovation.How and why the Vicariate Vicar approved this ??

[16-1-2012:21.17.3(IST)]
Dear Kaniyam Members: I want to inform one big issue which i saw in my recent visit in our native. I am very schocked for seeing the Foundation Stone message in our church.This is a message:

St.THOMAS FORANE CHURCH THOOTHOOR , FOUNDATION STONE LAID BY MSGR.JOHN D BOSCO ON 29-09-2008 IN THE PRESENCE OF REV.FR.JOSEPH PRASAD .P.P(PARISH PRIEST THOOTHOOR)'

Is this church constructed newly or Is it a renevation? Please take an action as soon as possible.

[14-1-2012:9.7.29(IST)]
Any updates on the Meeting?..

You are invited to . . .
join the "what-next" evolution of the website!
2 DAYS LEFT

click here


What is New in Thoothoor.COM?
Thoothoor Parish page is updated !

ENLARGE GO


St.Thomas Community Hall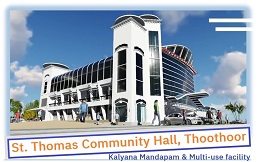 Parishes in Thoothoor Forane





Our Location Map