Delegate Message
New Full Video of Independence Day Celebrations across Thoothoor

Back

-



Last Updated @ 16-8-2011:8.50.19(IST)

The 65th Independence Day of India is celebrated in Nethaji Library Thoothoor (NLT), and in St. Thomas Community Hall by the Supplementary Education on 15th August 2011. Thoothoor parish priest Fr. Sanu Ouseph hoisted the national flag in both th eplaces. Many Thoothoorians and well wishers attended the function and devoted salute to the national flag. Sweets were distributed to everyone after hoisting the flag.

Below URL contains the full video of this function.

URL-1: http://www.youtube.com/watch?v=0zJ6-x2ggsA&feature=player_embedde .....

Rate this message!


Visitor Comment is DISABLED for this

The reason could be one of the following

This owner(s) do not want to yield any visitor comment.
The comments for this may be collected in a different section or forum
This does not require any further visitor comments.




Comment/Feedback on this Delegate Message

[24-8-2011:22.18.3(IST)]
Vry Nc VDO.....Thnxxxxx

[16-8-2011:22.17.12(IST)]
Very good to see independence day video. Thank you Fr. Sanu for joining hand with real people who have the right spirit of progression. Former priest joined hand with bullies.

[16-8-2011:13.13.35(IST)]
Agkee chiripavarkal chirikkattum
Adu aanava chirippu
kaalam varum nalla neram varum
appo chirippathu yaar
azhuvathu yaar
yarukku therium.
thiyel eragki vettaan
athu chudumena thriyamal
eithavan elaimarai kaayaka
pavam ambuvin nelai thaan?
?????????????????????????

Happy indepenedance day
Dear All Indians.

[16-8-2011:12.59.18(IST)]
Aairam kaikal maraiththalum
aathavan maraivathillai...
aairam kaikal kudinalum
NLTyai asaika mudiyathu...
eravil kedaiththathu suthanthiram
adu thesaththukku perumai
eravinel urasinar NTLyai
avarkazhukku kaththirukuthu kazhi...

[15-8-2011:21.57.25(IST)]
So quick video. thank you Frederic

Policy on visitor comments...
Thoothoor.com visitors can post comments on delegate messages, articles, etc. Such comments are individual's personal view or feedback on that subject, and hence they need not be true or correct.
While adding a comment, please use only presentable words. Also do use your own name. If you want to hide your identity, you can use Guest as your name. Never use personally abusing words in the comments.
Visitor comments are reviewed by Delegate Administrators to verify its acceptableness in general.
Visitor comments are not the the view of Thoothoor.com. If you find any problematic comment, please report them to us immediately with specific details. We will act on such concerns in a timely manner.
For Thoothoor.com Terms of Usage, please check the 'Helps' page.


St.Thomas Community Hall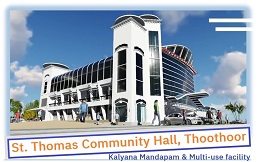 Parishes in Thoothoor Forane


Our Location Map