Delegate Message
Awardee's list for ITPET Awards'2011

Back

-


Added @ 28-6-2011:16.26.49(IST)

ITPET (IT Professionals and Engineers of Thoothoor) is giving awards to academic achievers since 2006, and these awards would be distributed during St. Thomas feast mass every year. The list of shortlisted awardee's for ITPET Awards '2011 are given below.



ITPET Awards '2011
Grade & Position
Name
Father
Mother
Mark Scored
Native
HSC 1st-Thoothoor Level
Miss.Dowrinal
Dadin
Rani
1082/1200
Thoothoor
HSC 2nd-Thoothoor Level
Miss.Reeja Rexy
Rexy
Baby
1079/1200
Thoothoor
SSLC 1st-Thoothoor Level
Miss.Cajorin Mary
Esakias
Jaqulin Mary
461/500
Thoothoor
SSLC 2nd-Thoothoor Level
Mr.Amal Raj
Stephen
Lilly Mary
442/500
Thoothoor
HSC 1st -Forane Level
Miss.Bensi Benni Gaspar
Gaspar Benni
Maglin Sibi
1188/1200
Thoothoor
SSLC 1st -Forane Level
Miss.Jefi Rajan
Rajan
Lourdammal
482/500
Poothurai
State Second In French
Miss.Bensi Benni Gaspar
Gaspar Benni
Maglin Sibi
198/200
Thoothoor
PHD
Dr.Jain John
John Rose
Albertammal
-
Thoothoor
PHD
Dr.Antony Raj Gomez
Gomez
Jospin Mary
-
Thoothoor



All IT Professionals and Engineers from Thoothoor are part of ITPET. If you are an IT professional from Thoothoor but not part of ITPET yet, please send a mail to: itpet.thoothoor@gmail.com to join with it.For more details please visit the URL 1.

Email-1: itpet.thoothoor@gmail.com (Note: Email-id displayed here is script protected from web crawl programs)
URL-1: http://www.thoothoor.com/v5/home_itpet.asp

| | | |
| --- | --- | --- |
| Rate this message! | | |

Comment/Feedback on this Delegate Message

[6-7-2011:19.24.50(IST)]
Award distribution went successfully.Ph D holder only not come to receive awards.

[2-7-2011:10.55.41(IST)]
Congratulations to all Award winners and sincere thanks to all the members of ITPET to promote quality education and encourage the achievers from our community. In future, it could be better, if the winners from St. Jude's college, get the awards like this.

[1-7-2011:4.55.42(IST)]
Congratulation for all the prize winners and wish you all success for your career..


St.Thomas Community Hall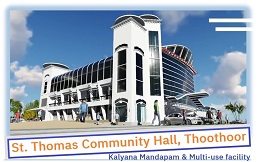 Parishes in Thoothoor Forane



Our Location Map