Delegate Message
Updated Photo Album of NLT's 20th One Day Football Tournament

Back

-



Last Updated @ 8-5-2011:15.35.20(IST)

The photos of 20th One Day Football Tournament of NLT (Netaji Library Thoothoor) are available. These photos are given to us by Mr. Arul Seelan Bosco and Mr. Urmance. Thanks to both of them for helping us in this. We are still waiting for some more photos and videos from Mr. Frederic and the same will be published as soon as we receive them.

Please use URL-1 or URL-2 to view the photos. URL-1 displays all the image titles with link to view each photo. URL-2 displays all photos in the same page (around 50 photos and 3+ MB size).

URL-1: http://www.thoothoor.com/v5/ViewAlbum.asp?album=nl .....
URL-2: http://www.thoothoor.com/v5/ViewAlbum.asp?album=nl .....

Rate this message!


Visitor Comment is DISABLED for this

The reason could be one of the following

This owner(s) do not want to yield any visitor comment.
The comments for this may be collected in a different section or forum
This does not require any further visitor comments.




Comment/Feedback on this Delegate Message

[11-5-2011:1.9.20(IST)]
Dear thoothoor people
Can I ask a question to thoothoorians? Does u think that tournament was conducted successfully? Is this way to treat guest players and conducting the tournament? Who was responsible in case foreign player got hurt? Why can't able to protect guest player?
It was ridiculous.
Do you know guys, we had great momentum to conducting football tournament for 20 years without any problem and I don't think there is another place they are having such great event except chennai league and it's never easy too but now we had lost our momentum because of the way thoothoorian's behaved uncultured. I've seen football match everywhere in tamilnadu and kerala and there were sometimes audience get inside the ground and attack the player during action but In thoothoor, I never ever heard or see such kind 'kaddumirandithanama' behave from thoothoorian for the past 19 years in the thoothoor stadium but this year we had.
I really sad and tears to register such bad comments about my home soil. Now I felt ashamed about my home town for having such kind uncultured people. I think the time to our people think how to bring back our successful momentum. Try to show our unity to rest of the world soon. So guys let's hope everything going to be fine.
I wrote without any intension to spoil my soil's image before anyone and only for awareness to thoothoorian's and they have to keep go with their "Keth" and unity.
Please excuse me if I made any wrong.
Regards,
Well wisher.

[8-5-2011:19.36.57(IST)]
Thank you very much dear admin for your kind action.We are always hiddenly help you to do a betterment of our website services.We hope you are taken everything positively.

[8-5-2011:15.45.34(IST)]
Updating this album with additional photos. Thanks to Arulseelan for sending us these photos with better coverage of teams, guests, audience and the overall tournament. If someone have the photos of tournament march, flag hoisting, etc... please send them to us.

[7-5-2011:21.3.31(IST)]
thanks for the photos, i have been waiting for this to show to my friends here. happy to see African students playing in various teams in our village. thanks for the update. keep up the good work.

[7-5-2011:19.26.15(IST)]
Dear Well wisher,

Thank you very much for querying about that, much appreciate it. In fact, I missed to put a note in the message that the current photo collection is only the later part of a tournament. Sorry about that. But now I have updated the message with this fact.

We are waiting for other videos/photos from Mr. Frederic, which we will be publishing as soon as we receive them. Hopefully the next set of videos/photos will have more interesting views :)

We completely understand your concern, and assure that your point is well noted, thanks.

[7-5-2011:15.46.30(IST)]
Admin,
Any intention to hide NLT-A /NLT-B team players photo. We dont find any such kind of photo.Apart from this all photo's are looks good.

Policy on visitor comments...
Thoothoor.com visitors can post comments on delegate messages, articles, etc. Such comments are individual's personal view or feedback on that subject, and hence they need not be true or correct.
While adding a comment, please use only presentable words. Also do use your own name. If you want to hide your identity, you can use Guest as your name. Never use personally abusing words in the comments.
Visitor comments are reviewed by Delegate Administrators to verify its acceptableness in general.
Visitor comments are not the the view of Thoothoor.com. If you find any problematic comment, please report them to us immediately with specific details. We will act on such concerns in a timely manner.
For Thoothoor.com Terms of Usage, please check the 'Helps' page.


St.Thomas Community Hall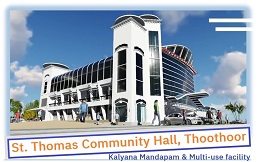 Parishes in Thoothoor Forane





Our Location Map