Delegate Message
NLT's 20th One Day Football Tournament – Result

Back

-


Added @ 26-4-2011:19.59.31(IST)

The 20th One Day Football Tournament of NLT went on successfully on the Easter Sunday, 24th April 2011. Calicut team and Palakkad team together won the championship title of this 20th One Day Tournament. Earlier in the morning, the tournament march started from NLT at 9am and passed via St. Thomas Community Hall, St.Thomas Nagar, St. Jude's College, and finally reached Pius XI HSS ground at 10am. The march was powered by the traditional Tabla music team (Chenda Melam). NLT president Mr. Maria Vijayan welcomed the guests, teams, well-wishers, and the football audience. Nithiravilai Police station Inspector Mr. Jesuraj hoisted the national flag, and followed by that the matches started at 10.30am.

After the league matches, the quarter finals happened between (a) Calicut vs Malabar Sevens, (b) Vallavilai SASC vs NLT-B, (c) Palakkad vs Kasarcode, and (d) NLT-A vs Idea7 Trivandrum. In the first semi final between Calicut and Vallavilai, both team scored equal goals even after the penalty shot opportunity. Finally the winner is selected by toss in which Calicut team entered the final. Again in the second semi-final between NLT-A and Palakkad, both team scored equal number of goals even including the penalty shot opportunity. Thus Palakkad team won the toss and entered the final. The final match was commenced by Mr. John Jacob, MLA of our constituency. In the final match between Palakkad and Calicut, both teams didn't put any goal till the end. Thus the umpires declared both teams as Champions of the tournament.

There were some unfortunate stir occurred around the ground this year. The police force and well-wishers helped NLT in controlling this, and thus there were no impact to the tournament except for a 30 minutes break during the semi final match.

Mr. Theerthose (District football coach) and his team of umpires helped NLT in conducting all the matches successfully. Danger Boys gang from Thoothoor performed a beautiful dance in the ground to entertain the audience during the semi-final match. The audience strength was very huge until the semi finals, but was less for the final match as both Thoothoor teams didn't enter the final. The awards and trophies were issues by Dr. Albaris from Thoothoor. Rajive TV telecasted the complete tournament with a 60 minutes delay. Photos of the tournament will be published soon.


| | | |
| --- | --- | --- |
| Rate this message! | | |

Comment/Feedback on this Delegate Message

[28-4-2011:23.0.44(IST)]
Congrats Netaji friends. you are great always and leader.

[27-4-2011:20.22.59(IST)]
Very nice to see the report.The speciality of 20th tournament is 'EVERY MATCH HAS THRILLED AND SPORTIVE'.Very hard to predict match results before starting the match.GREAT ENTERTAINMENT.Highly Appreciated to the organising team especially VIJAYAN ANNAN & SHERIN.

[27-4-2011:17.44.6(IST)]
Thanks for detail news of tourlament. Feeling of seeing tournament directly.

[27-4-2011:13.6.4(IST)]
Good to see the report. Admin has demonstrated his neutral and unbiased attitude once again and the way it has been presented needs a hug! Hats off to NLT for the show.


St.Thomas Community Hall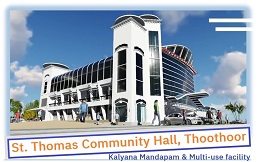 Parishes in Thoothoor Forane


Our Location Map