Delegate Message
20th One Day Football Tournament of Nethaji Library, Thoothoor (NLT)

Back

-


Added @ 6-4-2011:23.22.42(IST)

NLT members and office bearers have started the preparations for the 20th One Day Football Tournament which is to be held on 24th April 2011 on Easter Sunday. On this Day the Tournament procession will start from Nethaji Library at 7am towards the Play ground. At 8am, the national flag will be hoisted by the chief guest in the play ground and followed by that the matches will start. The teams to be participated in the 20th One Day Tournament are Trissur, Kasarcode, Malapuram, Kottaikal, Malabar 7, Idea 7 Trivandrum, Vaniayakudi, Udaya Parithiyur, Neerodi, Vallavilai, NLT A, and NLT B. In order to exhibit more talents from our forane, Vallavilai team has been given a chance to play in the tournament this year.

NLT office bearers are finalizing the chief guests, and other schedules. Those details will be published once finalysed. For more details or for any other sponsorship related queries, please contact Maria Vijayan (9894051380) or Sherrin (9443500721).


Rate this message!


Visitor Comment is DISABLED for this

The reason could be one of the following

This owner(s) do not want to yield any visitor comment.
The comments for this may be collected in a different section or forum
This does not require any further visitor comments.




Comment/Feedback on this Delegate Message

[24-4-2011:11.43.32(IST)]
this time for NLT

[15-4-2011:12.41.16(IST)]
Best wishes on 20th One Day Football Tournament. The perseverance shown in conducting the event for the past 2 decades is really great. Hope our people will have an eventful day and the sports persons will have a good platform to demonstrate their sportive spirit.Congrats to NLT members and office bearers.

[15-4-2011:10.14.36(IST)]
all the best NLT .... work hard and make us enjoy the day as usual....

[14-4-2011:22.15.39(IST)]
Dear Friends, We are expecting more Entertainment than previous years, All the Best

[12-4-2011:16.44.57(IST)]
THE WAY NLT PLAYING IMMENSE ROLE FOR YOUNG TALENT OF TN AND INDIAN FOOTBALL.DONT GIVE IT UP AND KEEP DO BETTER.WE'LL BE BACK YOU ALWAYS.NLT A GOING TO FIRE AND NLT B ALWAYS ROCKING.WISH YOU ALL SUCCESS.

[7-4-2011:20.1.19(IST)]
Expecting a good Show from NLT A,and NLT B....

[7-4-2011:19.33.57(IST)]
One more Chance to prove how strong is our unity and laid one more Diamond in NLT's Crown.

[7-4-2011:18.36.50(IST)]
All the best to all netaji players and work hard we expect good performence from you in this year ..........DO DO DO DO MORE OR DIE

[7-4-2011:13.24.53(IST)]
Congrats. Who is the chief guest this year?

[7-4-2011:0.33.11(IST)]
another year to shine, congrats. but what happen to the Nigerian Team this year.

Policy on visitor comments...
Thoothoor.com visitors can post comments on delegate messages, articles, etc. Such comments are individual's personal view or feedback on that subject, and hence they need not be true or correct.
While adding a comment, please use only presentable words. Also do use your own name. If you want to hide your identity, you can use Guest as your name. Never use personally abusing words in the comments.
Visitor comments are reviewed by Delegate Administrators to verify its acceptableness in general.
Visitor comments are not the the view of Thoothoor.com. If you find any problematic comment, please report them to us immediately with specific details. We will act on such concerns in a timely manner.
For Thoothoor.com Terms of Usage, please check the 'Helps' page.


St.Thomas Community Hall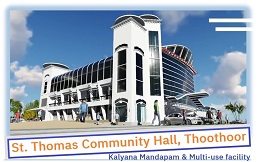 Parishes in Thoothoor Forane




Our Location Map