Delegate Message
Report and Photos of Career Guidance Program by KFDS

-


Added @ 11-1-2011:23.16.41(IST)

The Career Guidance Program by KFDS that is conducted by ''Turning Point'' group from Nagercoil went through successfully with more than 170 student participants from many places such as Erayumanthurai to Neerodi, Nithiravilai, Kanjampuram and other nearby places. The students were happy about this seminar as they could understand and clarify their doubts on planning higher education. All the attendees were served snacks box and coffee during break time. Please visit the below link (URL-1) for the photos of this program.

URL-1: http://www.thoothoor.com/v5/ViewAlbum.asp?album=kfds20110105

| | | |
| --- | --- | --- |
| Rate this message! | | |

Comment/Feedback on this Delegate Message

[12-1-2011:9.30.50(IST)]
very good. much appreciate for reporting and photos. wishes to continue these type of program for our youngsters.

[12-1-2011:0.33.27(IST)]
Let us congratulate the organisers and give support to such events.

Thank you all . . . for your suggestions on the "what-next" evolution of the website!

WaTCH THiS SPaCe!


What is New in Thoothoor.COM?
Thoothoor Parish page is updated !

ENLARGE GO


St.Thomas Community Hall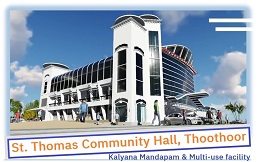 Parishes in Thoothoor Forane



Our Location Map