Delegate Message
TPCAC's next 'Mukkuva' seminar in Thoothoor in collaboration with NLT on 3rd Oct 2010

Back

-


Added @ 27-9-2010:3:15:50 AM

TPCAC (Tamil Nadu Pudhuvai Coastal Artists' Collective) which is conducting serious of seminars in coastal areas is conducting their 3rd seminar event in Thoothoor on 3rd Oct 2010 at 2.30 pm in NLT. TPCAC is organizing this 3rd event in collaboration with Nethaji Library (NLT). The major topics to be covered in this seminar are (1) The history of people's movements in coastal areas, and (2) The traditional work wisdom of mukkuvar. More details about this event can be referred in URL-1.

With such ongoing seminars and data collection exercises, TPCAC is planning to release a magazine/book over a period of time that can give the complete picture of our past and background. When spoke to Dr. Vareethiah over phone, he pointed out that TPCAC which initially concentrated on coastal artists program later realized the need for making the coastal people aware of their background and potential. According to him, knowing ones historical background and potential would give the braveness to our people to think beyond and record achievements wherever they are. Attached is a document (URL-2) from Dr. Vareethiah that gives more detail about this mission.

As a request, visitors can send in their opinion and suggestions to Dr. Vareethiah to his email id (see below). If you have some photographs, history, information, stories that can exhibit our people's history, please send them to him and contribute to this noble mission.

Email-1: (Note: Email-id displayed here is script protected from web crawl programs)
URL-1: http://www.thoothoor.com/dLoads/TPCAC_ThoothoorEvent_3rdOct2010_N .....
URL-2: http://www.thoothoor.com/dLoads/Mukkuvar History Seminars_Article .....

Rate this message!


Visitor Comment is DISABLED for this

The reason could be one of the following

This owner(s) do not want to yield any visitor comment.
The comments for this may be collected in a different section or forum
This does not require any further visitor comments.




Comment/Feedback on this Delegate Message

[16-10-2010:7:05:01 AM]
Its a incredible service ! where ever we stay we can come to know what is happening around our village inclusive.I extend my appreciation to the administrator from my bottom of the heart and expecting more updated news . Its really awesome job

[1-10-2010:3:25:24 AM]
Good. Hearty appreciations for this 'selfless' effort.

[29-9-2010:10:22:18 PM]
Appreciations to the organizers. All the best for the seminar.

[29-9-2010:12:51:21 AM]
It is a marvelous and noble endeavour and step to uplift our fishermen community for the unity and prosperity. Many many wishes and congratulations, including Dr. Vareethiah.

Policy on visitor comments...
Thoothoor.com visitors can post comments on delegate messages, articles, etc. Such comments are individual's personal view or feedback on that subject, and hence they need not be true or correct.
While adding a comment, please use only presentable words. Also do use your own name. If you want to hide your identity, you can use Guest as your name. Never use personally abusing words in the comments.
Visitor comments are reviewed by Delegate Administrators to verify its acceptableness in general.
Visitor comments are not the the view of Thoothoor.com. If you find any problematic comment, please report them to us immediately with specific details. We will act on such concerns in a timely manner.
For Thoothoor.com Terms of Usage, please check the 'Helps' page.


St.Thomas Community Hall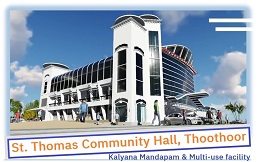 Parishes in Thoothoor Forane





Our Location Map