Delegate Message
NLT's 19th One Day Day-Night Football Tournament ended with a memorable result

Back

-



Last Updated @ 4-4-2010:3:32:29 PM

Nethaji Yellow team won the Winners Trophy in NLT's 19th One Day Day-Night Football Tournament. Udaya Paruthiyoor team came as runners. There were 12 teams participated in this tournament such as Kovalam FC, Trichur Gymkhana, Nethaji Blue, GVJ Kerela, Idea Sevens Trivandrum, Malappuram Super Studio, Kottaikal Safana, Neerodi St. Nicholas, Malabar Sevens, Udaya Paruthiyoor, Calicut MFA, and Nethaji Yellow. Teams entered semi finals where Idea Sevens Trivandrum, Udaya Paruthiyoor, Nethaji Blue and Nethaji Yellow.
     In the first semi final, Udaya Paruthiyoor defeated Idea Sevens in the tie breaker for 5-4. Nethaji Blue and Nethaji Yellow teams played in the second semi-final amidst the high tensed and enthusiastic audience weather, in which Nethaji Yellow team defeated Blue team with a goal score of 2-1. In the energetic final match, Nethaji Yellow team defeated Udaya Paruthiyoor with a goal score of 1-0 to win the trophy.
     Earlier in the morning, Sri. Rajendra Rathnu IAS (District Collector) inaugurated the tournament. Other guests felicitated the tournament were Sri. Paul Suthanthara Dhas (Kanyakumari district Sports Officer), Sri. Subrahmaniam (Proff., Physical Edu. College, Chennai), Fr. Eugene (Italy), Sri. Dikkarthoose (Thoothoor Panchayat President), Mrs. Delma Vargheese (Ezhudesam Town Panchayat President), Sri. John Joseph (Thoothoor Indian Bank Manager), and many other well wishers of NLT.
     Thoothoor parish priest Fr. Joseph Prasad and Asst. parish priest Fr. Andrews were present to encourage the tournament. Mr. Theerthoose (District football coach) and his team of umpires helped NLT in conducting all matches successfully. NLT president Mr. Maria Vijayan thanked all who have helped for the tournament especially Mr. Dennis, Mr. Jeen Felix and Mr. Denisten Estheppan for their committed work throughout this tournament. Rajive TV live telecasted (30 minutes delay) the entire tournament. Thoothoor.com will publish the photos and videos sooner.


Rate this message!


Visitor Comment is DISABLED for this

The reason could be one of the following

This owner(s) do not want to yield any visitor comment.
The comments for this may be collected in a different section or forum
This does not require any further visitor comments.




Comment/Feedback on this Delegate Message

[30-4-2010:8:18:41 AM]
very excellent fotos, thanks alot.........

[7-4-2010:3:51:17 PM]
please uplode our church & NLT football photos

[6-4-2010:4:18:31 PM]
Happy to hear...your excellent news! Congratulations

[6-4-2010:3:46:18 AM]
Please Upload the Videos of the NLT's 19th Football Tournament.

[6-4-2010:1:50:36 AM]
It was a great achievement for the organizers point of view. There were no crash's in the audience side and I could see that everyone from all corner enjoyed in this tournament. Three Cheer's !!! to the team player's and organizers.

[5-4-2010:5:41:13 PM]
Why have you conducted our football tournament as kerala based one? its seems like that.

[4-4-2010:11:15:37 PM]
I am very happy to see an excellent hard work of our people here. I appreciate your good service, unity and talents. I am proud of you all. good . congratulation.

[4-4-2010:11:10:58 PM]
Good, to be appreciated

Policy on visitor comments...
Thoothoor.com visitors can post comments on delegate messages, articles, etc. Such comments are individual's personal view or feedback on that subject, and hence they need not be true or correct.
While adding a comment, please use only presentable words. Also do use your own name. If you want to hide your identity, you can use Guest as your name. Never use personally abusing words in the comments.
Visitor comments are reviewed by Delegate Administrators to verify its acceptableness in general.
Visitor comments are not the the view of Thoothoor.com. If you find any problematic comment, please report them to us immediately with specific details. We will act on such concerns in a timely manner.
For Thoothoor.com Terms of Usage, please check the 'Helps' page.


St.Thomas Community Hall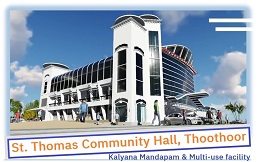 Parishes in Thoothoor Forane





Our Location Map